A group backed by billionaire philanthropist Sean Parker released a
major, viable new initiative
to legalize marijuana in California in 2016.
Called the Control, Regulate, and Tax Adult Use of Marijuana Act, the measure would end cannabis prohibition in California. The measure would establish a seed-to-sale system of commercial regulations. Here's what's inside the initiative, which was filed by noted environmentalist Michael Sutton and phyiscian Donald Lyman.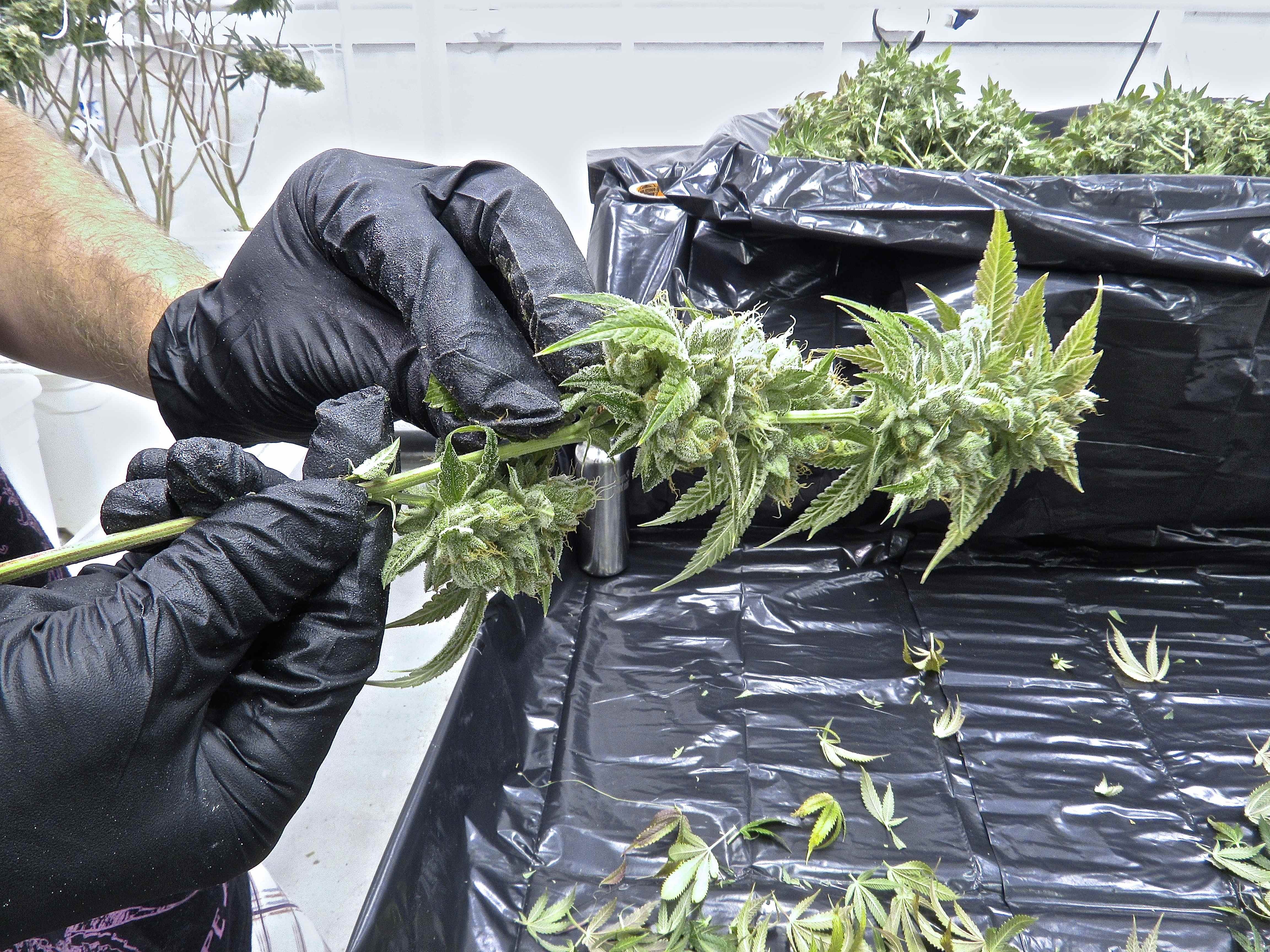 Personal Possession
– 21 years of age and older.
– one ounce of bud, four grams of hash.
– can grow six plants at home.
"Marijuana and marijuana products involved in any way with conduct deemed lawful by this section are not contraband nor subject to seizure, and no conduct deemed lawful by this section shall constitute the basis for detention, search, or arrest."
[jump]
Taxes Are 15 percent at Retail

"Effective January 1, 2018, a marijuana excise tax shall be imposed upon purchasers of marijuana or marijuana products sold in this state at the rate of fifteen percent (15%) of the gross receipts of any retail sale by a dispensary or other person required to be licensed."
And $9.25 per ounce wholesale ($2.75 for trim). It also brings back and fully legalizes industrial hemp, and brings back the cannabis tax stamp.
"The board may prescribe by regulation a method and manner for payment of the cultivation tax that utilizes tax stamps or state-issued product bags that indicate that all required tax has been paid on the product to which the tax stamp is affixed or in which the marijuana is packaged."
Tens of millions of dollars in tax proceeds are earmarked for drug prevention services, medical research, wildlife preservation, and community corrections.
Bans
No local bans on personal indoor grows. Fresno patients, you are not forgotten.
Cities and counties have wide latitude on allowing cannabis commerce and what types. But it takes a local majority vote to "completely prohibit the establishment or operation of one or more types of businesses licensed under this division".
No smoking in public. And It remains illegal to drive a vehicle while intoxicated by any drug.
Fines
Break the new law and fines start at $100, with diversion for juveniles. Drug diversion might get pretty groovy. "The drug education program required by this section for persons under the age of 18 must be free to participants and provide at least four hours of group discussion or instruction based on science and evidence-based principles."
The Regulatory System
It goes with the newly created medical cannabis regulations. A new state agency would be named the Bureau of Marijuana Control, and the chief of the BMC and its appeals panel would not be allowed to have any interest in cannabis companies. The twelve licensing types look similar to medical regulations. Expect lengthy regulations and plan reviews for extraction, processing, and other facilities, including their water use plans.
About a half-dozen state agencies would handle different aspects of regulation, exactly like the new medical pot regulations. An advisory committee would fill in the blanks with regard to all the regulations.
"The advisory committee members shall include, but not be limited to, representatives of the marijuana industry, representatives of labor organizations, appropriate state and local agencies, public health experts, and other subject matter experts, including representatives from the Department of Alcoholic Beverage Control, with expertise in regulating commercial activity for adult-use intoxicating substances. The advisory committee members shall be determined by the director."
The law is also anti-monopoly. The bureau could withhold licenses that "allow unreasonable restraints on competition by creation or maintenance of unlawful monopoly power."
The law is also pro-moderation. You could lose your license if you "encourage underage use or adult abuse of marijuana or marijuana products."
And the law is anti-clustering. Licenses may be withheld in high-crime areas with a cluster of cannabis licenses.
No: price-fixing; loss-leading; bribing; or other commercial funny business.
And no licensees near schools and other sensitive uses.
License Priority
Existing, licensed entrants have priority. This is huge.
"A licensing authority shall give priority in issuing licenses under this division to applicants that can demonstrate to the authority's satisfaction that the applicant operated in compliance with the Compassionate Use Act and its implementing laws before November 1, 2015, or currently operates in compliance with Chapter 3.5 of Division 8."
Local cities and counties will give the state a green list of their priority licensees.
Who Can't Get Licenses?
Finger-printing required for a license. Potential disqualifications for a license include "an offense that is substantially related to the qualifications, functions, or duties of the business or profession for which the application is made."
Exceptions can be made if "granting the license would not compromise public safety. The licensing authority shall conduct a thorough review of the nature of the crime, conviction, circumstances, and evidence of rehabilitation of the applicant, and shall evaluate the suitability of the applicant or licensee to be issued a license based on the evidence found through the review."
They definitely want to weed out applicants with "violent felony conviction[s]", "serious felony conviction[s]", "a felony conviction involving fraud, deceit, or embezzlement" or human trafficking of minors or drugging of minors.
Underground cannabis dealers, can go legit.
"A prior conviction for possession of, possession for sale, sale, manufacture, transportation, or cultivation of a controlled substance is not considered substantially related [to license qualifications], and shall not be the sole ground for denial of a license. Conviction for any controlled substance felony subsequent to licensure shall be grounds for revocation of a license or denial of the renewal of a license."
Branding
We're going to get trademarked and protected "Humboldt" appellations.
"The bureau shall establish standards for recognition of a particular appellation of origin applicable to marijuana grown or cultivated in a certain geographical area in California. (b) Marijuana shall not be marketed, labeled, or sold as grown in a California county when the marijuana was not grown in that county. (c) The name of a California county shall not be used in the labeling, marketing, or packaging of marijuana products unless the marijuana contained in the product was grown in that county."
Water Protections
Commercial growers must survive a water audit by several state agencies.
"If a watershed cannot support additional cultivation, no new plant identifiers will be issued for that watershed. Cultivation will not negatively impact springs, riparian wetlands and aquatic habitats. The department shall establish a program for the identification of permitted marijuana plants at a cultivation site during the cultivation period. A unique identifier shall be issued for each marijuana plant. The department shall ensure that unique identifiers are issued as quickly as possible to ensure the implementation of this division. The unique identifier shall be attached at the base of each plant or as otherwise required by law or regulation."
Expect licensed testing labs, for tested and labelled clean pot. And here's your new state-mandated pot product warning:
"GOVERNMENT WARNING: THIS PRODUCT CONTAINS MARIJUANA, A SCHEDULE I CONTROLLED SUBSTANCE. KEEP OUT OF REACH OF CHILDREN AND ANIMALS. MARIJUANA PRODUCTS MAY ONLY BE POSSESSED OR CONSUMED BY PERSONS 21 YEARS OF AGE OR OLDER UNLESS THE PERSON IS A QUALIFIED PATIENT. THE INTOXICATING EFFECTS OF MARIJUANA PRODUCTS MAY BE DELAYED UP TO TWO HOURS. CONSUMPTION OF MARIJUANA PRODUCTS IMP AIRS YOUR ABILITY TO DRIVE AND OPERATE MACHINERY. PLEASE USE EXTREME CAUTION"
Edibles
"Marijuana products shall be: (1) Not designed to be appealing to children or easily confused with commercially sold candy or foods that do not contain marijuana."
Ten milligrams of THC will be the dose per serving. "Delineated or scored into standardized serving sizes if the marijuana product contains more than one serving and is an edible marijuana product in solid form."
Advertising
Pot ads are mostly for adults, the law reads. "Any advertising placed in broadcast, cable, radio, print and digital communications shall only be displayed where at least 71.6 percent of the audience is reasonably expected to be 21 years of age or older, as determined by reliable, up-to-date audience composition data."
And advertisers have to tell the 'truth'.
"All advertising shall be truthful and appropriately substantiated."
"No licensee shall: (a) Advertise in a manner that is false or untrue in any material particular … [or] tends to create a misleading impression."
"No licensee shall publish or disseminate advertising containing any health-related statement that is untrue in any particular manner or tends to create a misleading impression as to the effects on health of marijuana consumption. A specific health claim will not be considered misleading if it is truthful and adequately substantiated by scientific or medical evidence; sufficiently detailed and qualified with respect to the categories of individuals to whom the claim applies; adequately discloses the health risks associated with both moderate and heavier levels of consumption; and outlines the categories of individuals for whom any levels of consumption may cause health risks. Such required information must appear as part of the specific health claim and in a manner as prominent as the specific health claim."
And Sorry, No More Freebies, Dispensaries
:
"No licensee shall give away any amount of marijuana or marijuana products, or any marijuana accessories, as part of a business promotion or other commercial activity."
But Lounges Are A-Okay
,
Provided that "access to the area where marijuana consumption is allowed is restricted to persons 21 years of age and older; (2) Marijuana consumption is not visible from any public place or non-age restricted area; and (3) Sale or consumption of alcohol or tobacco is not allowed on the premises."
Here's some
reaction
to news of initiative.