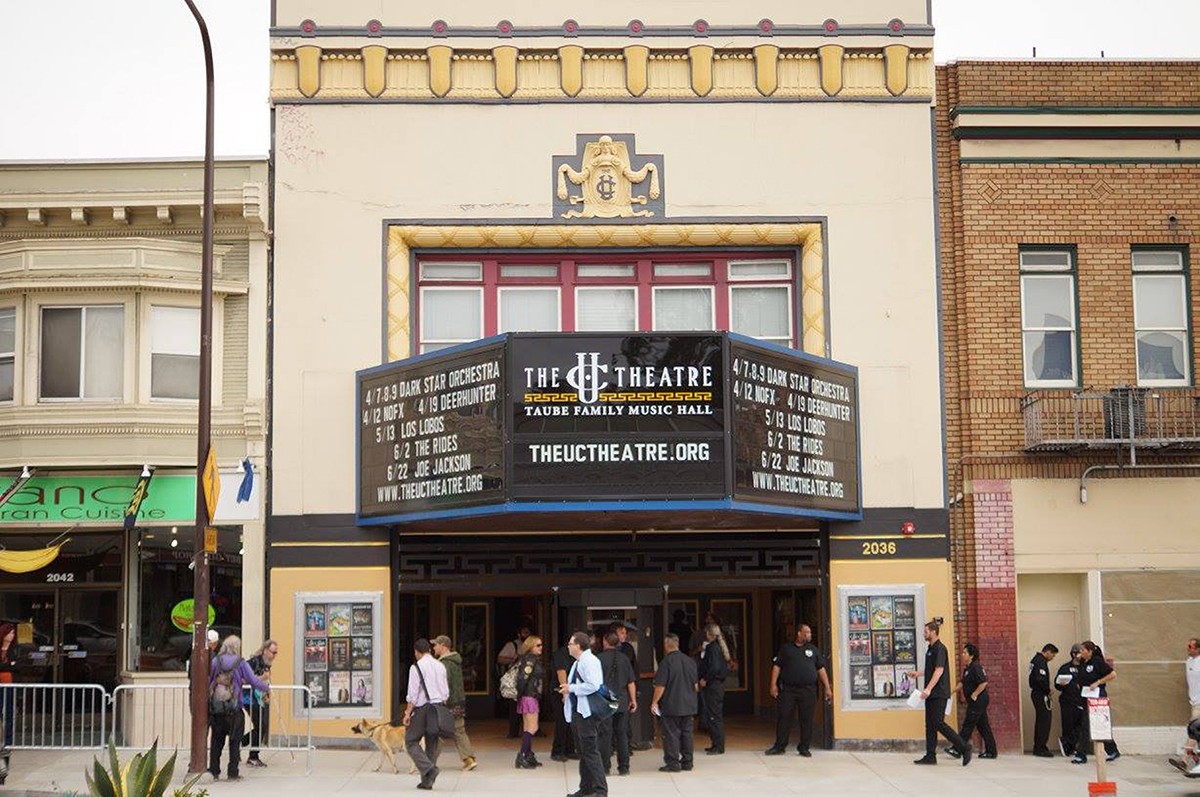 For years, live music on this side of the Bay Bridge played proverbial second fiddle to San Francisco. Major touring acts, often booked by agents on the other side of the country, only knew to care about (admittedly stellar) venues such as The Fillmore or the Great American Music Hall. And East Bay bands regularly blitzed through the tolls to perform at all sorts of smaller-capacity bars and clubs in the city. The underground music scene in Oakland thrived, and Berkeley's small bar-and-club show circuit did well. But, in general, the East Bay was locked out. There was a ceiling.
But in recent years, the industry's evolved dramatically. As the newly opened UC Theatre's general manager Matthew "Smitty" Smith put it, the East Bay is "starting to crack that nut" and significantly alter the Bay's live-music landscape.
He and other venue owners and bookers who spoke to the
Express
this week cited a nearly explosive brick-and-mortar East Bay music boom. This is in part due to the arrival of new venues, of all sizes, but also an influx of younger residents with more disposable income (possibly "gentrifiers," possibly working-class folk displaced from San Francisco).
Either way, "we now have this string of really quality venues in the East Bay, spaces that are run by respectable, independent business owners," Smith explained. "The East Bay, in my mind, is its own market," no longer younger sibling to S.F.
In fact, the veteran promoter of more than a decade went so far as to call the East Bay "a better place to play than San Francisco."
Bias aside, there are others in the industry who echo his fervor for Oakland and Berkeley's resurgent live-music offerings.
Sarah Sexton, founder of Oakland Indie Mayhem, and who has been booking gigs in the Bay for years, said that she's seeing "artists at the touring level that are starting to request dates in Oakland now, which would have been unheard of" even a few years ago. "And that's a true sign of things changing," she added.
"Once we get to the point that the agents are sold on it, then we're going to see another whole round of change," Sexton predicted.
Sexton, who says she books fewer gigs these days (plug: her next show is for the Cold Beat record release at Starline Social Club on April 28), described what she perceived as a "shift" in the live-music scene: from shows that formerly went down in warehouses and below-the-board spaces to art galleries and mid-sized venues, such as Starline, Eli's Mile High Club, The Golden Bull, The Night Light, and The Legionnaire Saloon.
"And I think it's sustainable," she added. "I think it's about having the right talent buyer, and treating people right."
Billy Joe Agan owns and operates Eli's Mile High Club, a spot that in recent years re-opened and is expanding beyond its legacy as a blues hub for Black musicians (though you can still catch the blues on Mondays) or punk and metal acts.
"Oakland used to have nothing but abandoned places and DIY warehouses, more than you could choose from," Agan recalled. "I would say about 10 years ago this time, I could ride my bike around and go to three or four house shows in a night."
He was part of that scene for years. "But [the underground venues] all kind of thinned out," he said. And, now, bars and venues are working to serve as safe and affordable spaces for shows that otherwise would've happened at those DIY venues.
Agan also observed that the regional scene is "centralizing" in Oakland, and that city leaders and even policy wonks who work on music and arts issues have, thankfully, been "pretty receptive and supportive" of arts spaces, including galleries and smaller venues.
"I think that Oakland has a huge chance to capitalize on that, and have a new thing come out of it, so we'll see what happens," he said.
With this new influx of show-goers comes of course an injection of more money into the live-music world. A case in point is Cornerstone Craft Beer & Live Music, a new 500-ish person venue, restaurant, and beer garden that will open its doors at Shattuck and Durant avenues in Berkeley this weekend. Owner Alex Popov says the fact of the matter is that "the East Bay is becoming a lot more sophisticated." And, now, more people are wiling to travel from San Francisco to the East Bay for a show. "They're fine with paying a higher ticket price, but they expect a better performance," he explained.
Enter Popov's venue, which he says will showcase everything from guitar music to beats, including a benefit for 924 Gilman this month — headlined by The Offspring! — and an after-party for Mad Decent's stop at The Greek Theatre this summer. (They'll be a test-run gig this Saturday, April 8, at 9 p.m. if you care to stop through.)
This live-music surge hasn't been without growing pains. A major issue is, no secret, the displacement of many longstanding East Bay denizens — working-class folk, DIY musicians and artists, Black residents. This has led to these communities often on the outside-looking-in when it comes to live shows.
In particular, hip-hop, and specifically "cloud rap" music. "It's literally the biggest music scene in Oakland right now … and yet it is kind of hard for them to get regular shows at venues," Agan explained. (Look for more the local hip-hop and rap scene's challenges in an upcoming
Express
story.)
But Smith said that, when it comes to gentrification and displacement, the East Bay learned from S.F.'s failures. "I think that we're going to do a better job taking care of our artist communities," he explained. (Worth noting that UC Theatre will host a hip-hop touring gig this week; see page 50 for the details.)
Ultimately, everyone agrees that the new live scene is here to stay — and grow even further. As Smith summed up:
"There's less and less reasons to go to San Francisco if you live in Oakland."
Learn more: TheUCTheatre.org, ElisMileHighClub.com, Facebook.com/CornerstoneBerkeley.