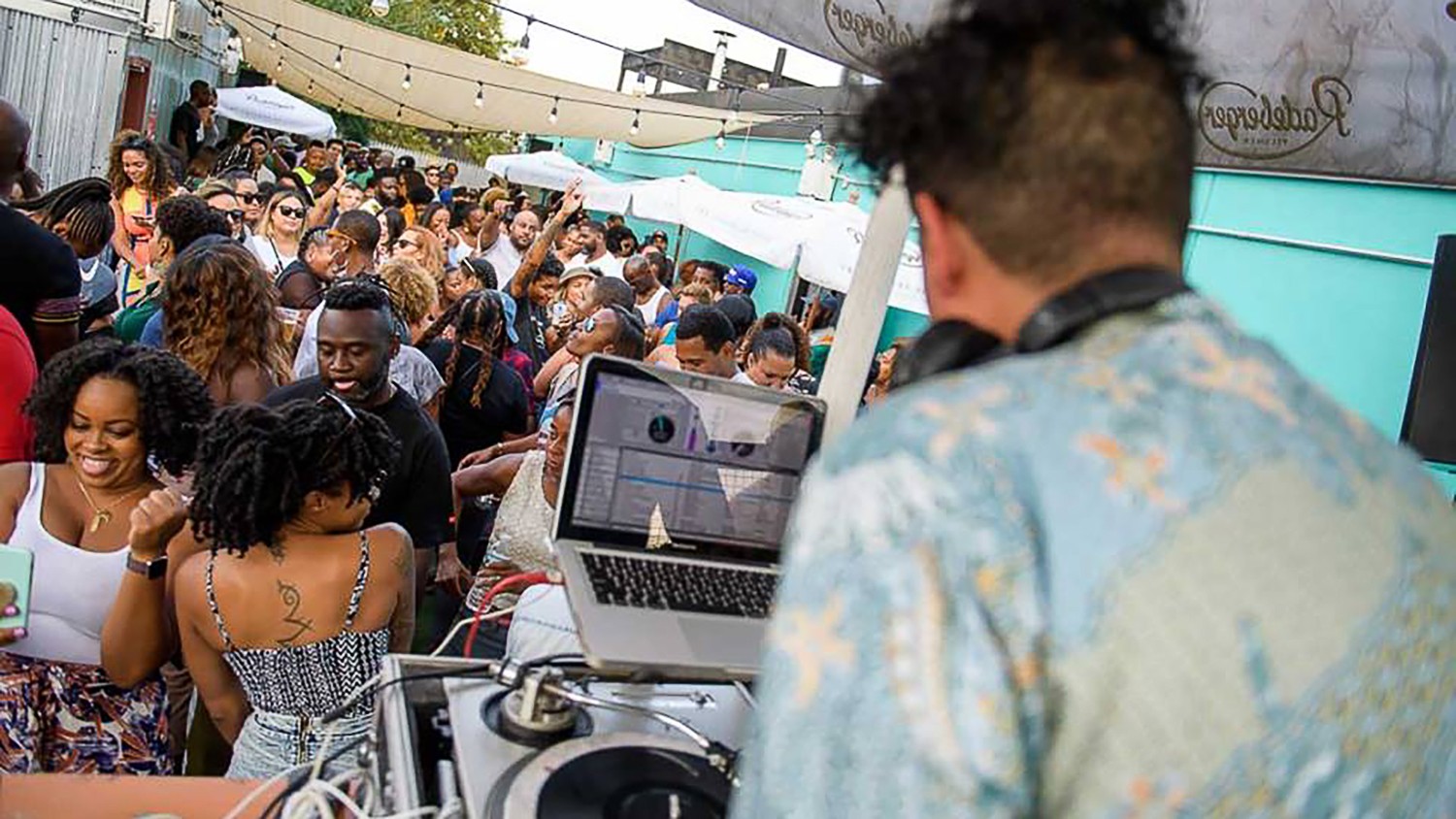 If you're an old-school party-goer from Oakland, then you've probably heard of Wonway Posibul. The Grammy-nominated songwriter, emcee, and DJ from San Francisco — whose real name is Juan Amador — has been showing Oakland love since long before others took notice.
Back in November 2006, when there were fewer dance venues in downtown Oakland, Amador and DJ Joe Quixx started a Tuesday night party at the then-Easy Lounge on Lakeshore. It was known as Makossa, and it was the perfect excuse to stay and party in The Town.
"[The song] 'Soul Makossa' was one of Quixx's favorite records growing up. When we started the party, he felt like that song encompassed all the vibes and influences we were playing," Amador said. "Makossa also literally means 'dance' in the Douala language, so it was the perfect fit."
For over five years, Amador and Quixx kept the party going, with some successful nights and others not so much. For various reasons, the parties stopped in Oakland — but Amador always intended to bring Makossa back to where it all started. His dream is finally coming true when the Makossa Cookout Oakland makes its awaited return on Saturday, Sept. 29 at 7th West in West Oakland.
Much like its name, Makossa is a dance — a daytime soiree where an eclectic mix of DJs will be playing everything from mainstream radio hits to old-school songs to underground tracks you've never heard of. Like with any good cookout, an abundance of scrumptious dishes will be on the table for when you want to take a break from dancing. But the underlying reason for the existence of this party is to build community.  
Back when Makossa was happening on Tuesday nights, Amador wasn't able to transition the Makossa party to a weekend slot and make it grow. A friend in New York offered him the opportunity to bring the party to the East Coast. "For two whole summers, I flew myself out there," he said. "I don't even know how. I was really broke."
Makossa Brooklyn took off as a monthly summer party and has been a staple in the borough for nine years. Amador never forgot his love and appreciation for Oakland, though, and in between networking and growing the Makossa Cookout in Brooklyn — and as more bars and lounges started opening in Oakland — he and the rest of the Latin Soul Brothers, (Joe Quixx, Seevi Wunder, Joe Franko, Baby Tiger, El Feo, and Spesh Boogie) landed one of their longest standing residencies: First Fridays at Era Lounge, which has been going strong for more than eight and half years.
Since the renaissance of Oakland's nightlife, Amador has also seen other opportunities come his way: the Constellations parties at Starline Social Club on the second Thursday of the month, along with DJs Nina Sol and heyLove; and the FWD! party on the fourth Friday of the month at the recently opened Hello Stranger. "There were times in my life where I was gigging six nights a week, broke as hell," he recalled.
While Amador was still figuring out the perfect location to have Makossa in Oakland, he found an opportunity to bring it back to the West Coast, but in Los Angeles — Makossa LA has been going strong since 2015.
Coast to coast, the parties were buzzing with success, but there were other musical projects that Amador wanted to explore.
Actor and emcee Tommy Shepherd, Jr., who is a friend of Amador's, reached out to him as they were both participating in Campo Santo, a multi-cultural theater ensemble from San Francisco. Shepherd was looking for a DJ with stage performance skills, and Amador fit the bill. The project involved writing and producing kids' music with Alphabet Rockers, for which Shepherd is the music director. Alphabet Rockers' latest album, Rise Shine #Woke, scored a Grammy nomination for best children's album last year. One of the songs that Amador wrote was "Walls," which pushes against the anti-immigrant rhetoric brought by the Trump administration. "I wrote the song about kids not being scared of all the stuff being said and to be proud of coming from another place," he said.
The mere nomination was unexpected. "You're in the same building as the Elton Johns, the Beyonces, and the Kendricks." Amador said. "It's a part of you that says, 'Am I supposed to be here?' And another part that says, 'Yeah man, you deserve to be here. We are here among these people for a reason.'" The most rewarding sentiment for Amador was that "you're representing your hometown, family, your friends, people you went to school with. I'm holding it down for the Bay, Oakland, Frisco, Pittsburg, Nicaragua — it just hit me."
It is his Bay hustle mentality that, despite the multitude of projects that he has had going on, his idea of bringing Makossa back to the place where it started never derailed. This edition will be the only Makossa in Oakland for the rest of the year, and based on the turnout, Amador will decide on how frequently to hold the parties in the future.
"I've been waiting," Amador said. "We've been trying for five, six years, and finally everything lined up."
While Amador is proud of the notoriety that the Makossa name now has, he is even more eager to bring it to the Oakland masses. "This isn't about the money," he said. "It's about building community, in the face of everything that is happening in the Bay right now. This is the time to get together, as Brown people, as Black people, whoever is down with those folks, you can join the cookout."  
Saturday, Sept. 29, 2-9 p.m., free with RSVP before 4 p.m., $10 after, 1255 7th St., Oakland, MakossaCookout.com/OAK


[embed-1]
The print version of this story misspelled Nina Sol's name. The online version has since been corrected.