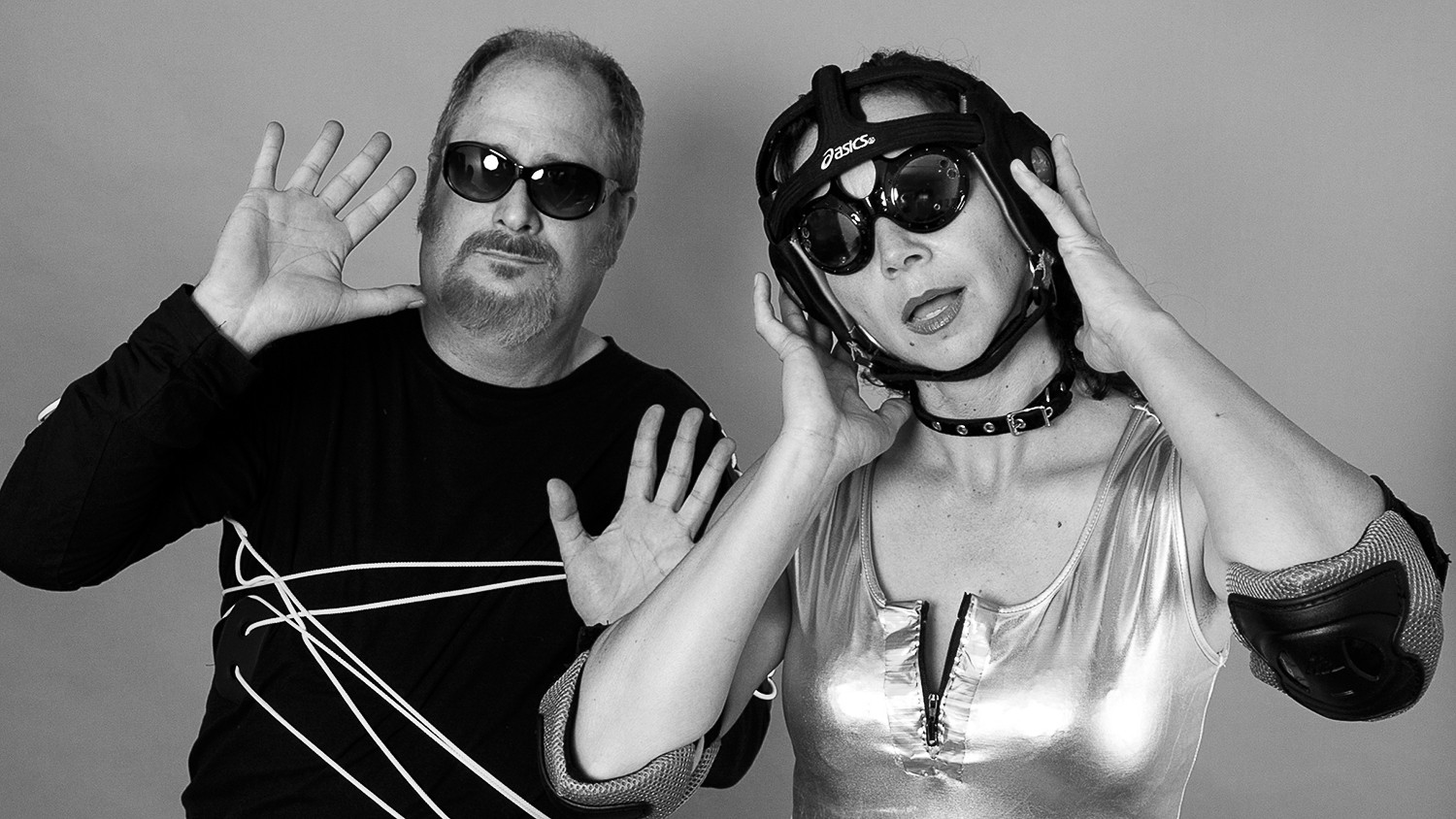 Omnesia once had a gig at the now-defunct Blakes on Telegraph in Berkeley where singer Medella Kingston appeared on stage and swiftly stunned both her audience and bandmate.
A tall woman with an alluring presence, Kingston toyed with her femininity that night in secret; she tucked her hair into the back of a tuxedo, donned a fake soul patch, and produced an androgynous act that, according to her bandmate Matthias Miller, managed to arouse the entire gender spectrum within the venue.
"She walked like a man, talked like a man, and sang like a man," said Miller, who goes by M2 on stage. "And then after each song — again not telling me — she took her clothes off until at the end of the show she was in her underwear. Then she was a woman."
"I didn't warn you?" Kingston said, grinning as they both recall the story.
"No, but I was like, 'Let's get behind this,'" he said. "And that's her, I don't know what she's going to be on stage. I don't know if she'll be an East German disco diva or if she's going to throw in more overly feminine stuff. That's half the fun"
Sitting together in the shaded umbrella grove behind a Berkeley cafe on a recent Sunday afternoon, Kingston, in a white cowboy hat, and Miller, sporting a King Crimson T-shirt, share a "platonic musical marriage," as they define it. They complement each other's obsessive creative tendencies and encourage themselves to plow further into their artistic expression.
"He said to me when we first started making music that people don't say, 'I went to hear a show,' they say, 'I went to see a show,'" Kingston said. "It's a visual experience, so let's mine that and be visually interesting."
Gender fluidity and the convoking of characters are common attributes in Omnesia's music, a blend of prog rock and electronica peppered with irresistible pop melodies. Picking up where male-female duos like Eurythmics and Everything but the Girl tapered off, Omnesia have been recording and performing throughout the Bay Area since 2004.
Now, they're on the eve of self-releasing their second full-length album, World on Fire, an excellent 14-song collection that straddles pop music and pensive social commentary about love, technology, death, and even sex robots. It comes out Friday, Oct. 5.
"My goal for this album was to create pop as art," Miller said. "When I think 'pop as art,' I think of XTC and bands like that, where you're trying to create a construction of chords that resonate with normal human beings. I'm big on ear candy. And sonically, I wanted to marry electronic music with analog bass, drum, and guitar."
Kingston is the chief lyricist and frontwoman while Miller arranges the luscious layers of guitars and melodies. Working out of his music studio in Oakland, he'll develop a sonic framework to present to Kingston, sometimes with suggestions for which persona in her toolbox might work best for the song: the sex goddess! "Trailer park Tami!" The Marlene Dietrich, indolent person!
For lyrics, she'll tailor them so that small words ask big questions, whether in her reflection on a bygone, technology-less innocence as heard in the title track or in the surreal futurism of "Sexbot," where Kingston imagines an assembly line producing pleasure robots as a commentary on an imminent future where high-tech sexual options contrast with real relationships.
They met after Kingston responded to his post on Craigslist looking for a singer and bonded over a mutual love of '80s music such as Kate Bush and Nina Hagen. ("Talk about personas — she's the queen of personas!" Miller said of Hagen.) They're also both East Coast natives — she's from Long Island and he's from Upstate New York. Miller's father, a manager for AKG Acoustics, once brought him along when he delivered a microphone to his hero, Frank Zappa, and their family relocated to Los Angeles before his teens. Kingston came to California after earning her master's degree in elementary education from the University of Massachusetts Boston. Coincidentally, they both ended up moving to the Bay Area in the same year — 1993.
Kingston lives in Richmond with her partner, two dogs, and a cat and teaches middle school humanities at a local private school. Last year, she published her debut novel, People Fish, and is currently working on another book. Miller used to deal in tech business and met his wife on an early edition of Match.com where he wooed her with vivid descriptions of the meals he'd cook. Their 16-year-old daughter is a student at Oakland School of the Arts, and earlier this month he dropped her off at Oracle Arena for a concert by the Korean pop superstars BTS. (He wrote her a K-pop song that she approves of and Kingston will sing on Omnesia's next album.)
Following a change in his career, Miller is currently supporting himself by driving for Lyft, and while he's quickly self-deprecating, he does admit that ride-sharing allows for novel interaction.
"It's hard to make connections with fans on social media, but to look behind you and see people nodding their heads has been really fun," he said.
Recently, he had a club DJ in his car who, upon hearing Omnesia's cover of Kate Bush's "Running Up That Hill," asked if he could retool their version into a club remix.
"There has been an ability to make contact with people who might have an impact on what we're doing," he said.
Kingston compares her vocals to cilantro — "You either like it or you don't," she said — and her deep delivery, much like her persona on stage, tends to sway between gender lines, leaving listeners to their own interpretations.
"It's interesting, there's a puzzlement," Miller said, mentioning his Lyft listeners. "If you don't tell people beforehand this is a female singer, 80 percent of white people go 'That's a great, unusual dude singer.' Whereas 90 percent of people of color go, 'It's a girl — are you high?'"

[embed-1]