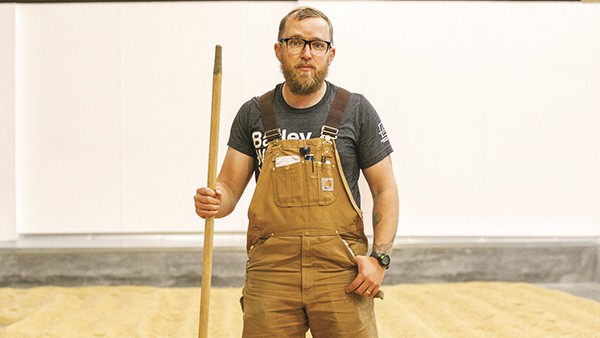 For the majority of the craft brewing industry's existence, beer's staple ingredients tended to come from the same few regions: Hops usually came from the Pacific Northwest, malt from the Midwest, and yeast from Canada.
But what's happened with the food movement is finally trickling down to beer, with an emphasis on raw ingredients and a newfound ability to source locally. And that farm-to-glass mentality has hit the East Bay.
For local brewers, the biggest roadblock — finding locally produced malt — was dismantled last summer when Admiral Maltings took shape. Located in Alameda, it's California's first post-Prohibition malting facility. Admiral works with farmers in Yolo County to grow barley and then turns that grain into what brewers need through an old-school, labor-intensive process known as floor-malting. The malt germinates slowly on the floor and gets turned by hand before entering the kiln. And since Admiral makes each batch of malt from one farmer and one specific field, it's extremely identifiable in a way that no other commercially sourced malt is.
"We do believe there is a terroir of barley — soil and climate all contribute to the flavor," owner Ron Silberstein said. "Our goal would be to have a Bay Area terroir, so instead of breweries who order malt from Belgium or Idaho, we have something that has truly notable character."
So far, Admiral has collaborated with about 50 breweries and distilleries, including roughly a dozen from the East Bay. For the brewing community, getting to work with Admiral is hugely exciting.
"It's like when you're 18 and you can finally drive a car," said Joseph Gudino, marketing director of Ale Industries. "It's this feeling of empowerment, doing things the way you want to do them. It's almost like you're one step closer to your final form."
Brewers have slightly more options for sourcing the other building blocks of beer. While there isn't the landmass in the East Bay to grow acres and acres of hops, there are young hop farms in Northern California, including United Hops Farm in Yolo County and Hops-Meister in Lake County.
On the yeast side of things, there's The Yeast Bay in San Leandro. A molecular microbiologist by trade, Nicholas Impellitteri launched the company in 2014 after isolating yeast for his own home-brewing and finding a community of fellow homebrewers who wanted more options. He was surprised when commercial brewers found him — not only locals like The Rare Barrel and Fieldwork Brewing Company but also breweries overseas. Through word of mouth, his business has been scaling up exponentially, with 100 to 200 percent sustained growth year over year, he said.
"A lot of new yeast companies are making large investments in manufacturing, so they have to sell what everyone is already selling and poach business away," Impellitteri said. "Generally, 10 percent of a company's yeasts are original; 90 percent of what we offer is totally unique to The Yeast Bay."
Instead of buying his own manufacturing equipment, Impellitteri contracts with White Labs in San Diego. That way, he can do what he loves, which is finding new yeast strains — especially wild yeasts — that create new flavors. He's particularly pleased with his latest Brettanomyces strain, which has tropical aromas of guava and pineapple.

Thanks to local yeast, Luke Janson estimates that 100 percent of his brews at Roses' Taproom, the five-month-old brewery in Temescal that he opened with his wife, Hillary Rose Huffard, use at least one local ingredient. They also source chamomile, yuzu, and other herbs from Oaktown Spice Shop; extracted coffee from Black Medicine; and bourbon barrels from Home Base Spirits. One of their favorite beers started out as a German dark lager and got aged in a Seven Stills whiskey barrel with two pounds of blackberries that Huffard foraged in Redwood Regional Park. It fits their hyper-local ethos in general, even if sourcing so many local ingredients means higher expenses and more logistics.

"I think you get a return on your investment tenfold," Huffard said. "It is more complicated than shooting an email to a company across the country and getting a shipment two days later, but what you get in return is a relationship, exposure, and the benefit of just knowing that you're cultivating something strong and vibrant."
"You also just get a much better quality product," Janson added.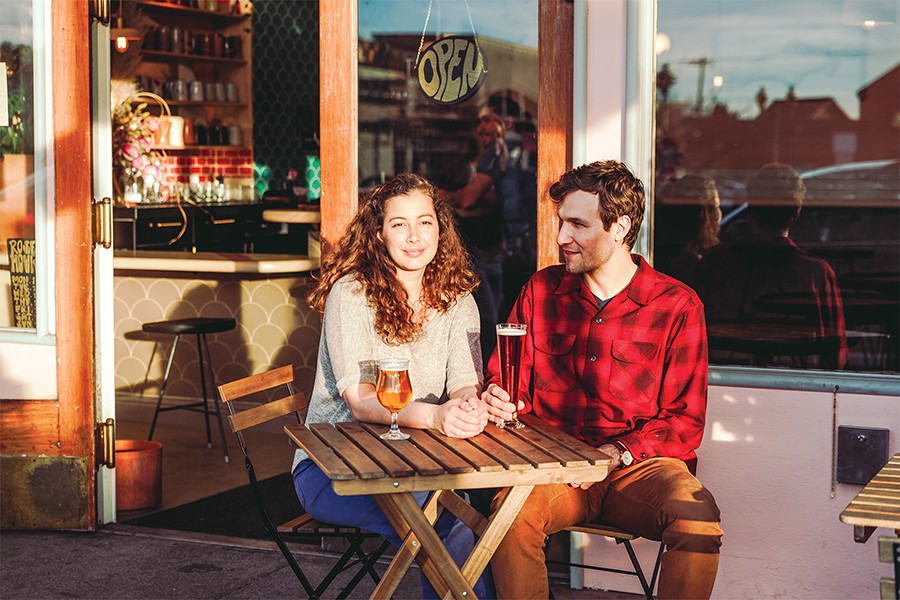 Beyond beer, Roses' Taproom also keeps locality in mind when it comes to its food and aesthetic. Much of the menu stems from a collaboration with Paul Canales of Duende, and Huffard makes sure there's always something with a seasonal focus from the farmers' market. She also forages flowers and greenery for the space from shrubs in Oakland and Alameda — nothing from private property, she swears — and maintains a nifty membership program known as "the mug club," in which customers get to sip beer out of a ceramic mug made by a local artist.
Ale Industries, which has been operating in Oakland's Fruitvale district for four years and in Concord for five years prior to that, is another East Bay brewery that emphasizes local ingredients and relationships. It regularly sources ingredients from roughly eight local suppliers, and two of them are based within two blocks of the brewery. Cold brew coffee is supplied by its next-door neighbor, Red Bay Coffee, and organic pineapple juice comes from Voila Juice.
Marketing director Gudino acknowledged, however, that working with so many vendors can occasionally result in the sort of miscommunication or situational problems that wouldn't likely happen with a big, industrial company. One time, Ale Industries ordered cocoa nibs from Oakland Chocolate Company for an iced mocha-esque brew. It was an unusually large order with a tight timeline, so the cocoa nibs arrived partially processed with fragments of husk still intact.
"All it meant was we had to remove the husks by hand ourselves, but those are the little challenge that arise," Gudino said. "We have found that it's almost always both more personally rewarding and financially rewarding to opt for local suppliers."
Outside of the beer itself, Ale Industries built a relationship with Burma Love, a San Francisco post of Burma Superstar, brewing the restaurant's house beer in exchange for Burma supplying the brewery with used fry oil. After filtration, the fuel gets used to power the brewery's boiler, which creates all the heat needed for the brewing process.
"When it comes down to it, the biodiesel fuel costs us a little more than it would just to go get gasoline," Gudino said. "It would be cheaper but it's not the right thing to do."
On a much smaller scale, Oakland homebrewer Tim Decker is attempting to make beer using exclusively local ingredients. He sources fruit from regional farmers, spices from Oaktown Spice Shop, malt from Admiral, and isolated strains from The Yeast Bay. He even captured his own wild yeasts from the Oakland hills.
Branching off of his beer blog and podcast, AltBrau, Decker plans to launch a crowdfunding campaign this year in the hopes of finally starting his own commercial brewery. His inspiration for locality isn't the East Bay, though, but Belgium. He loves brewing barrel-aged sours and idolizes Belgian lambic producers.
"Their whole thing is to make a beer that represents a time and place," he said. "When people think of these rare, wonderful, sour lambic and gueuze beers from Belgium, they think of Cantillon and they think it's in the beautiful countryside. In reality, it's in an urban area. With AltBrau, I want to take the local focus, that attitude, but do it in Oakland and show you can make really rustic farmhouse-style, nuanced beers in urban areas."
Will Decker be able to maintain that local focus on a commercial level? With new brewing products and ingredients constantly appearing on the market, it's entirely possible.
"It's still exceedingly difficult to make a true, hyper-local, estate beer," Janson said. "But that's changing. … It's happening quickly and it's happening here. We have just about everything in the Bay Area."