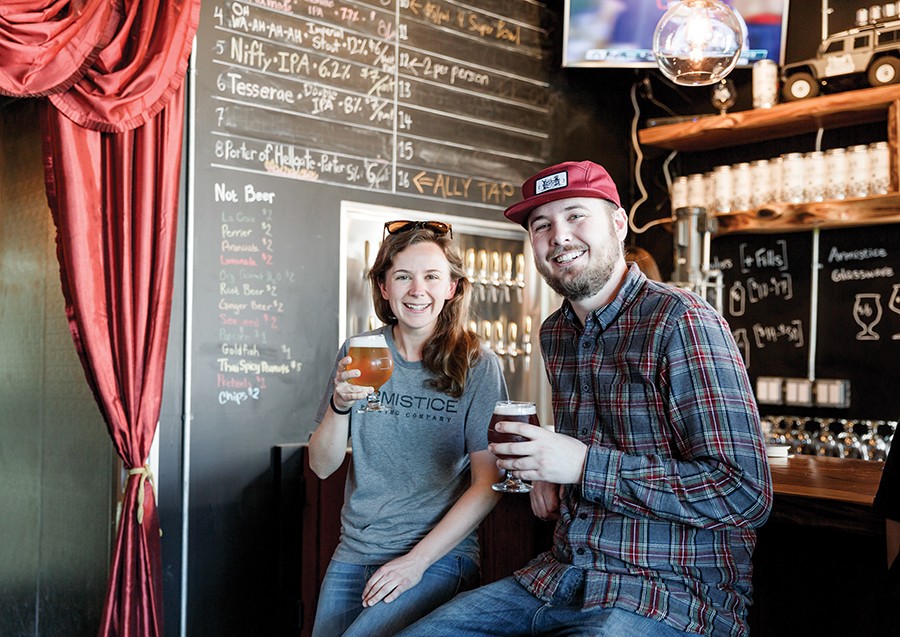 For the first time since Prohibition, it's now possible to do a serious beer crawl through Richmond.
The city's first brewery, Benoit-Casper Brewing Company, unveiled its Iron Triangle taproom in late 2016, and within a year, Richmond was suddenly home to four commercial breweries.  
As other East Bay cities such as Oakland, Berkeley, and San Leandro became increasingly crowded hubs for craft beer, brewers searched for an underserved market. With its bounty of industrial warehouse space and more affordable rents, Richmond quickly became an obvious choice for hopeful brewery owners.
Armistice Brewing Company is the latest entry, having opened in August 2017. For their brewery, siblings Alex and Gregory Zobel looked all over California before landing on Richmond.
"I moved here within three weeks of touring Richmond," Gregory said. "We really fell in love with the city."
And despite the rapid succession of breweries opening, multiple owners said they're having trouble keeping up with demand. Already, Armistice faces a bottleneck in its brewhouse and is making expansion plans.
"Richmond is thirsty," Gregory said.
Located in Marina Bay, Armistice has a distinct feel among Richmond's breweries. The cozy, two-level taproom features seafoam green walls, hanging plants, and floral print pillows — a far cry from the standard industrial-chic look of most East Bay taprooms. That's because the Zobels view their taproom as a gathering space and a primary rationale for starting the brewery in the first place. The reason for that dates back to their old sibling rivalry, a relationship they realized they needed to mend after their mother was diagnosed with cancer. In 2012, Gregory got Alex a gift, a peace offering of sorts: her first one-gallon homebrew kit.
"The only stipulation was we had to brew it together," Alex recalled. "We brewed it in my apartment and totally fucked it up. It was horrible beer, but we totally caught the bug."
The pair eventually moved into a red barn in Napa to take care of their mom full-time, diving into homebrewing as a means of distraction.
"Beer really brought us together. It was our armistice, so to speak," Alex said. "That's why we really decided to create a space. We're not interested in sending our product out. We really want a safe, welcoming space where people can get to know their neighbors, maybe have a beer with someone who is totally different from them."
Now, faded redwood from that barn lines their taproom — a constant reminder of their roots.
Stylistically, Armistice is the most experimental of Richmond's breweries. Alex and Gregory handle all the brewing and avoid duplicating recipes. Since opening, they've brewed 38 unique beers and only repeated two. The lineup leans heavily on hoppy IPAs but Armistice will often have a saison and session beer on tap, too, and they're not afraid of incorporating unusual ingredients like lemongrass and galangal.
A few months before Armistice got going, Michelle Baker formally launched her commercial brewery, Origin Brewer. Origin is a tiny nano-brewery in Baker's backyard — and an extremely sustainable one at that. Built from reclaimed and salvaged materials with help from Arkin Tilt Architects, an ecological design firm, it notably collects and reuses rainwater. Given its size, there's no taproom.
For now, Baker only distributes to Cato's Ale House in Oakland and Caffe Sapore in San Francisco — an English mild ale and IPA, respectively. She's interested in brewing more goses, porters, and stouts down the line, but for now, Origin is a one-woman show. And Baker maintains a full-time job. "It was an idea as a retirement plan, something I wanted to do after I leave my career," she explained.
Baker plans to build up Origin slowly. In five years, she hopes to distribute to neighborhood bars, cafes, and restaurants by bike.
One month before Origin came East Brother Brewing Co., Richmond's largest brewery, located on an industrial stretch outside Point Richmond. Founders Chris Coomber and Rob Lightner are longtime friends and neighbors in Marin. At a certain point, Coomber became an avid homebrewer and Lightner became an avid drinker of Coomber's beers.
"A lot of homebrewers try different styles all the time," Lightner said. "Chris would brew the same ones over and over again, which ultimately led to our approach."
At East Brother, you'll always find the same five flagship beers: a Vienna-style red lager, a golden IPA, an oatmeal stout, a red IPA, and a pilsner. They're all balanced, smooth sippers that go down easy. For Beer Week, East Brother will release some different, surprise beers for the first time.
Before opening in December 2016, the plan was for East Brother to be a production brewery, but since they had the space, Coomber and Lightner opened a roomy taproom with a clean, classic feel as well. Despite its remote location, the taproom has proven to be more popular than its owners ever expected. Soon, they plan to start hosting live bands and a weekly recreation league for folks to compete in pool, Ping-Pong, bocce, and corn hole.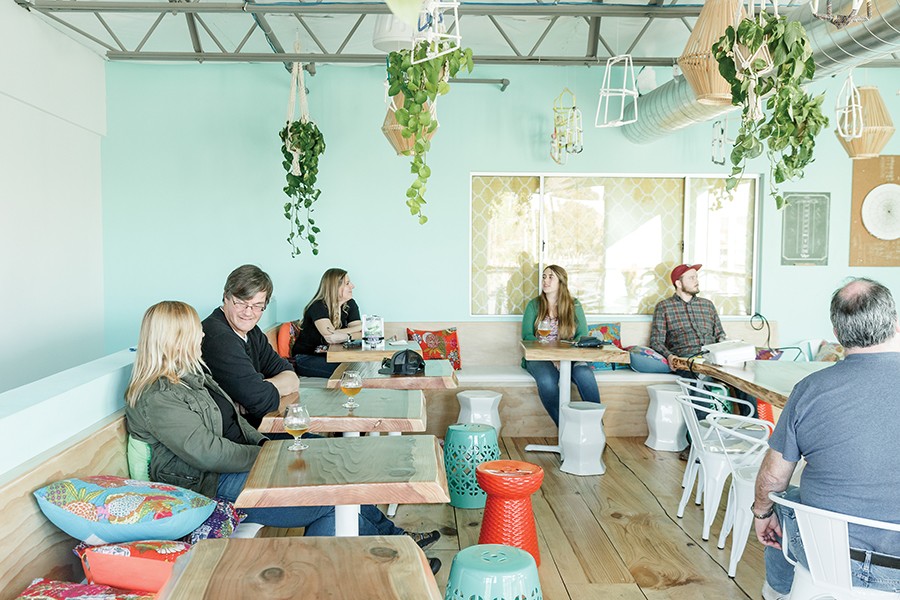 Still, unlike Armistice, distribution is definitely important for East Brother. Right now, you can find East Brother cans in bars and grocery stores in the East Bay, Marin County, and San Francisco. In the long run, Lightner hopes East Brother will have a presence across California.
"We're not out to blanket the entire market and be in every bar and restaurant," he said. "We just want to have a reasonable business, provide jobs for some folks, and get our kids through college."
Richmond's oldest brewery, Benoit-Casper, started in 2014, though its founders Marc Benoit and Chad Casper didn't even realize their warehouse space could also house a taproom until two years later. It's the smallest taproom of the bunch and only open three days a week. The focus is on distribution, though unlike East Brother, Benoit-Casper is more concerned with getting into bars and restaurants than liquor store aisles.
Style-wise, Benoit-Casper head brewer Tim Claire said he's always brewing Belgian, German, and hoppy American styles. Claire plays around a bit, but the flagship beers are a pale ale, saison, double IPA, and Belgian-style tripel. Owners Benoit and Casper both maintain their day jobs and live in Santa Clara and San Rafael, respectively.
With a population of roughly 110,000, Richmond may seem to have a saturated craft beer market. But Alex of Armistice isn't worried about future breweries moving in, particularly given how well the current group is doing right now. "The phrase you always hear is, 'A rising tide floats all ships.' That's even more the case here because we're all so differentiated," she said.
She is, however, worried about gentrification. Shortly after opening Armistice, a Starbucks moved in across the street. Breweries and coffee shops are widely seen as harbingers of neighborhood transitions — and Richmond's new ferry terminal is scheduled to open this year, potentially bringing even more San Francisco commuters to town. Alex hopes Armistice can be "on the right side of it" through their emphasis on creating a safe space, hosting community events for free, and donating $1 of a designated beer to a local nonprofit such as RYSE Center or Urban Tilth. They call it "the ally tap."  
"We want to uplift the people who were here already," Gregory said.
And as brewers look to expand operations, Richmond is already not so affordable anymore. That has less to do with gentrification than legal marijuana, though. Weed companies are buying up loads of warehouses in Richmond — the same sort of spaces breweries tend to use.
"We'd like to stay in Richmond because we're Richmond's first brewery, but we've looked around Richmond and we don't know if that's going to work," Claire of Benoit-Casper said. "Rents are going up because of the whole legalization of marijuana. Those guys can pay anything for a space."
Claire said Benoit-Casper will keep its Richmond taproom open even if it launches a bigger brewery elsewhere. Meanwhile, Armistice sees its expansion strategy as opening a few taprooms around California in a similar fashion to Fieldwork Brewing. The Zobels emphasized they wouldn't close down the original Armistice, though. They love Richmond way too much.
"When we opened this place, I was delighted to see so many different kinds of people come in here," Alex said. "We have women who come in here just to do work alone. We have Latinx folks, African Americans, Southeast Asians — I think it's a more accurate picture of who is actually drinking craft beer today."