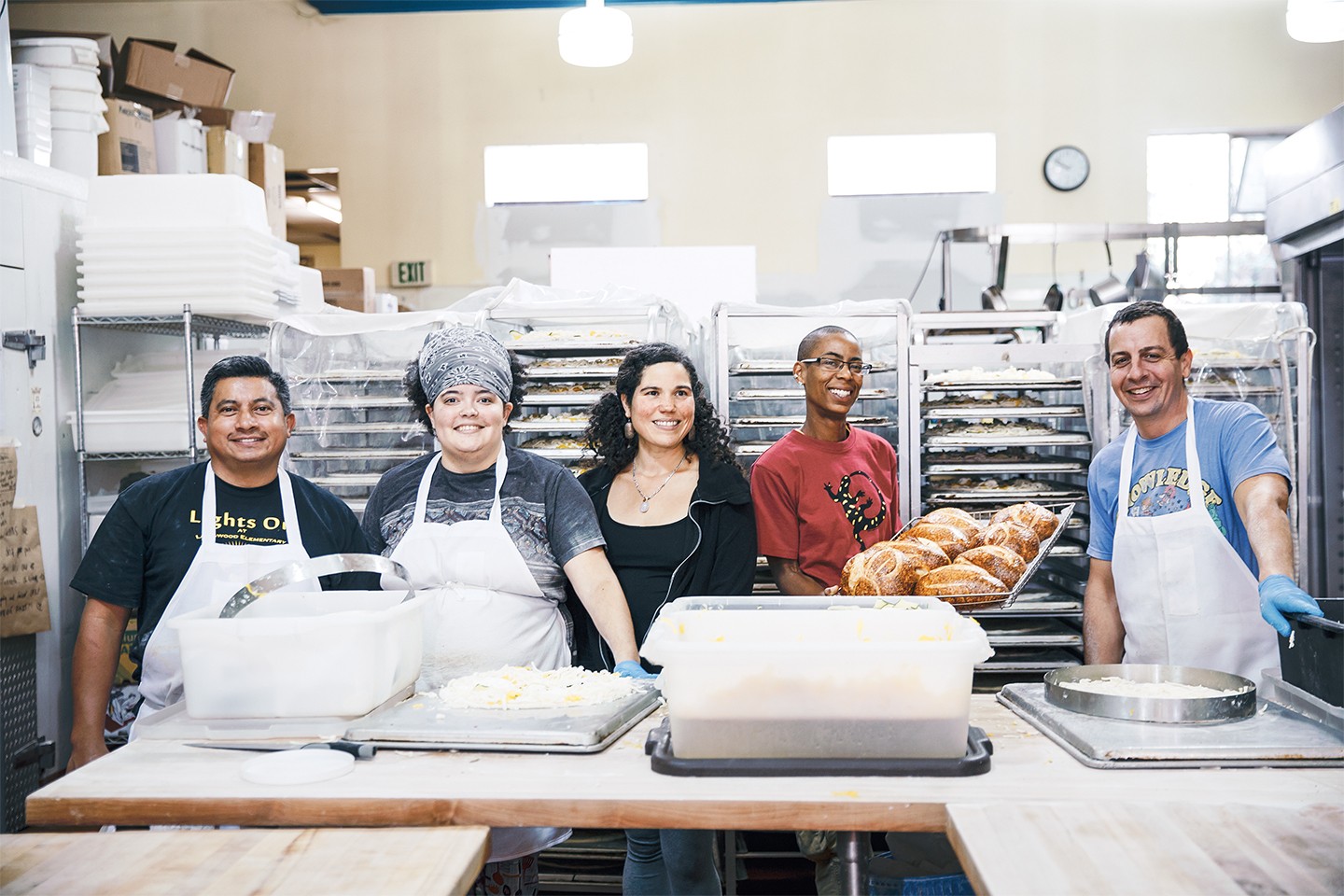 Walk up to Cheese Board (1512 Shattuck Ave.) in Berkeley, and more than likely you'll wait in line for a slice of pizza with a sourdough crust and seasonal vegetables. A jazz band will be playing. Folks from the neighborhood will run into one another and chat like old friends. And if you're a regular, you'll probably also know the faces behind the counter. Turnover rates at restaurants are notoriously high, but at co-ops such as Cheese Board, employees tend to stay — and some say it could be the future for sustainable food businesses in the East Bay.
Considered the mothership of many co-ops in the Bay Area, the Cheese Board Collective opened in 1967 as a small cheese shop by Elizabeth and Sahag Avedisian, who had both spent time in a kibbutz in Israel and were inspired by the country's tradition of cooperative living. In 1971, the Avedisians sold the shop to their six employees at cost and, all together, turned it into a worker-owned cooperative. Their model has been wildly successful and spawned other co-ops, including six Arizmendi pizzerias and the Juice Bar Collective (2114 Vine St., Berkeley). On an average day, Cheese Board's pizzeria sells 600 pies, and on the weekends, upwards of 1,000.
Cooperatives are back on people's minds as the local restaurant industry feels the squeeze of rising minimum wage, commercial rent increases, and worker turnover that's higher than ever before.
"The selfish capitalism model is not working," said Delia Desmond, who has been a worker-owner at Arizmendi on Lakeshore for the past 17 years. "Capitalism could look like this. We could share."
A worker-owned cooperative typically has a formal structure of equality, where there's no division between bosses and workers — everyone is a boss. Worker-owners, sometimes called "members," typically earn more than minimum wage, receive better-than-average benefits, and split profits at the end of the year. Business decisions are made collectively.
Fourteen years ago, Mahasin Munir applied for a job at Arizmendi on Lakeshore, not even realizing it was a co-op. Still, she said she could "just feel the energy was instantly different." Clearly, others felt it, too. There were three positions open — and 200 applicants.
At the Lakeshore Arizmendi, workers all make $25 an hour, plus healthcare, dental, and paid time off. At the end of the year, worker-owners split the profits based on how many hours they worked during the year.
Not all food co-ops have stuck around, but considering that there are only a few locally, the success rate seems pretty high. The Swallow Collective, a restaurant at the former Berkeley Art Museum andPacific Film Archive, lasted two decades and included member Ruth Reichl, the nationally renowned chef and food writer. It, too, was funded and launched by former Cheese Board folks. Berkeley's Nabolom Bakery is a child of the Cheese Board family and endured 40 years as a worker-owned business, though it now operates as a traditional bakery.
But a co-op may not be for everyone.
"It's not easy being the boss, the customer service rep, the janitor, the repair person, the re-supplier, and more all in one, but that's what it means to work at a collective," said Andrea Willems, a worker-owner of Juice Bar Collective, which opened in 1975.
It requires being a leader, and many are more accustomed to a top-down model.
"Some people are used to giving up their power," Munir said. "There's more responsibility and you've got to work harder."
Despite its challenges, Desmond says she sees a resurgence of interest in co-ops largely because worker-owner turnover is extremely low. The majority of the Lakeshore Arizmendi's current 30 worker-owners have been there for more than 13 years. Since Desmond started in 2000, the number of owners has doubled and sales have quadrupled, she said.
Desmond ultimately stuck around because of the co-op model. The single mom works part-time as a cashier, bookkeeper, and human resources manager.
"It's made a very big difference in my life," she said. "It's a rare kind of stability in this economy. I'm able to survive in the Bay Area working 22 hours a week."
But even with better working conditions, worker-owners are not immune to rising residential rents and the threat of displacement.
"Many members are moving out further and are not a part of the community in Berkeley," said Steve Sutcher, who has been a part of the Cheese Board Collective for 38 years. That's worrying since a quarter of current members are more than 60 years old and nearing retirement. "Younger folks, even working with these much better wages, can't afford a home here in Berkeley." 
Meanwhile, seasoned co-ops continue to support newer ones. For example, Cheese Board donated to Mandela Foods' efforts to expand its cooperative grocery store (1430 7th St.) in West Oakland. Arizmendi's Munir consults with other co-ops and is working with Mandela as well.
James Berk, who grew up in West Oakland, started working at Mandela when he was in high school. "The goal has always been to hire people from the community," he said. "When everything goes right, it's more empowering than a traditional business. It's more like a family, because we built this together."
In their monthly meetings, they discuss ways to make the business fair and healthy for everyone. Mandela hopes to expand into a new, 3,000-square-foot space in 2018, where it would also possibly include a clinic and bank.
Despite Cheese Board's prominence over the past 50 years, many people still don't know what a co-op is — and that remains a key reason why we don't see more of them. Munir, though, says that once you're in the co-op world, you're hooked. She even plans to start a housing co-op to serve low-income folks in the Bay Area.
"I definitely think co-ops are the wave of the future," Munir said. "Everyone needs to step up and be leaders."