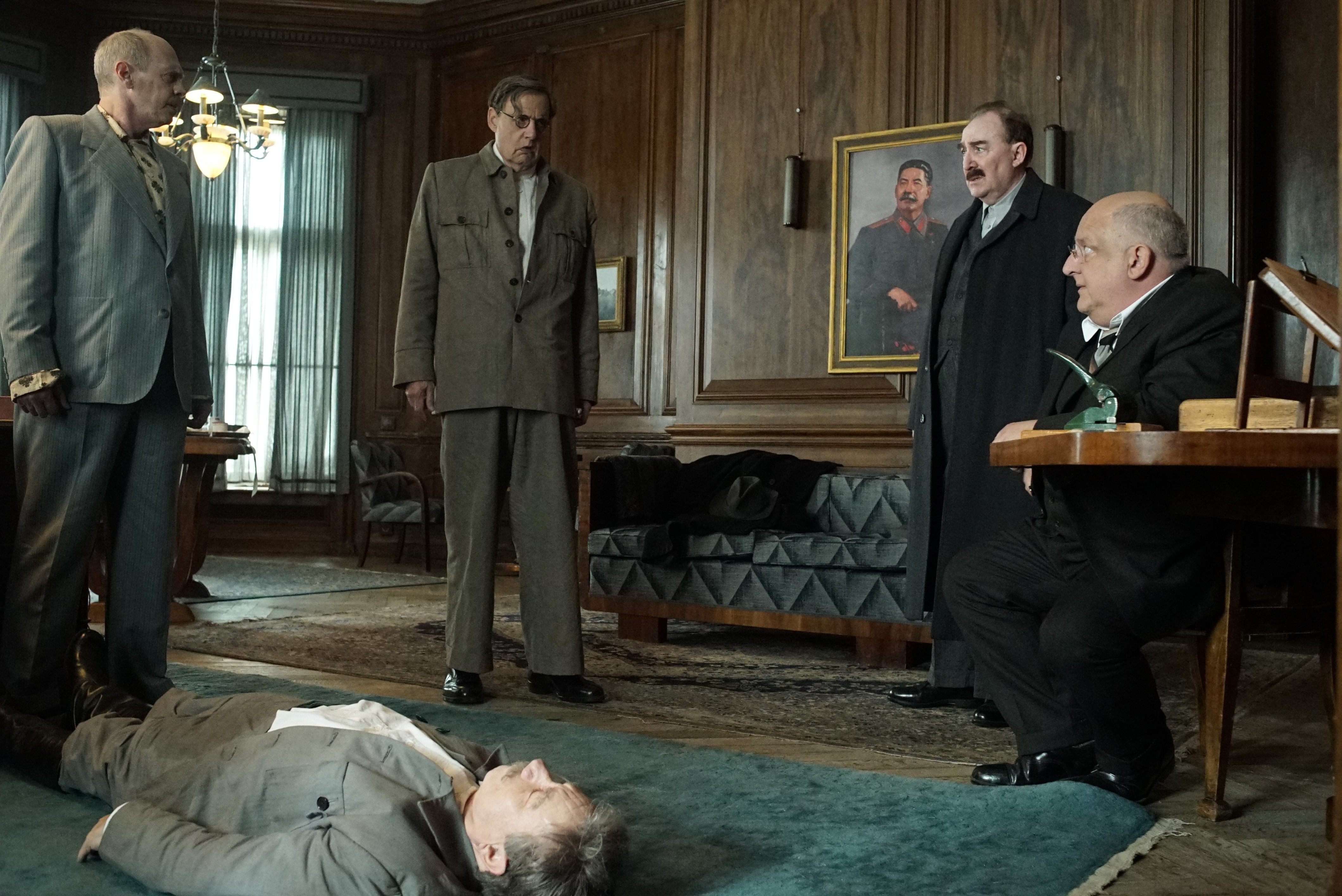 From its title, we might surmise that Armando Iannucci's new film is not exactly being pre-sold as date-night entertainment. Maybe it should be. "Hmmm," teased director Iannucci from the stage of the Alamo Drafthouse Cinema in San Francisco, as he introduced a preview screening of The Death of Stalin. "A story about a delusional narcissistic dictator? Who dies?"
Iannucci didn't have to say much more than that, although he did mention his film is now banned in Russia. Everybody in the audience knew who he was talking about, even though there is more than one despot who currently fits the general description. Perhaps The Death of Stalin — a rollicking, hellaciously witty black comedy about the demise of Soviet Premier Joseph Stalin, one of history's most prodigious mass murderers — is exactly what young lovers, and the rest of us, need to see to help us make sense of our topsy-turvy 21st-century situation. Even if the political satire eventually fails to soothe our nerves, it's amusing to watch buffoonish old revolutionaries stumble around in a panic.
They're in a panic because everybody in the Soviet Union was in a panic for more than 30 years under Stalin's bloodthirsty rule. To his great credit, filmmaker Iannucci — he wrote the screenplay with David Schneider, Ian Martin, and Peter Fellows, based on a comic book by Fabien Nury and Thierry Robin — doesn't spend any time at all explaining what happened before the film begins in the early spring of 1953 in Moscow. The Russian Revolution, Lenin, Trotsky, the famines, the gulag, the Great Patriotic War Against Fascism (aka WWII), and the incessant party purges are all left unreferenced except in the hurried dialogue among Stalin's inner circle, the Central Committee, terrified for their lives and naturally prone to error. Ridiculous killers, just what we're looking for.
Mouthing the sardonic rapid-fire lines, Iannucci's cast escorts us through a gold mine of characterization. Steve Buscemi runs away with the movie in the role of Nikita Khrushchev, who in real life ended up running away with the government. Buscemi plays Khrushchev as a variation on his reliable Brooklyn corner boy persona, a mile-a-minute motormouth hustling in the power-struggle scrum. Scots native Iannucci, whose In the Loop and cable series Veep rank among the very smartest political comedies, wisely lets each actor create his or her character in his or her chosen accent, with a strong "street" flavor. Thus, Khrushchev becomes a New York con man while Jeffrey Tambor (as it happens, the subject of sexual harassment allegations), playing Stalin loyalist Malenkov, comes across as a chicken-hearted urban American opportunist, and Jason Isaacs' Field Marshal Zhukov behaves like a Liverpool head-banger.
Michael Palin, who knows a thing or two about political allegory (Brazil), portrays cocktail namesake Molotov as a burnt-out bureaucrat, and both Andrea Riseborough and Rupert Friend spend most of their time hyperventilating as Stalin's anxious offspring. Concert pianist Maria Veniaminovna Yudina is portrayed by former Bond Girl Olga Kurylenko as a single-minded avenger of past misdeeds. But the most chilling performance in the otherwise wacky ensemble belongs to English actor Simon Russell Beale as NKVD chief Beria, master of the torture chambers and midnight executions. The darker the deeds, the harder Iannucci treads on the absurdist pedal.
The idea is that Stalin's cronies are simultaneously afraid to speak their minds yet anxious to push their rivals out of the picture. No one trusts anyone, so each new conspiracy flits in and out of existence in a matter of seconds. Meanwhile the great dictator himself, as played by TV veteran Adrian McLoughlin, is so satiated with his life-or-death power over his subjects that a smuggled-in threat is enough to make him drop dead. Many people die onscreen in this laugh-to-keep-from-crying Punch & Judy show, but the ironically minded Iannucci steers even the scariest moments into mock-lowbrow slapstick. The hint that he and the writers are dropping is that if we can guffaw at these monsters, we can deal with anything. See The Death of Stalin and face the future unafraid.
The Death of Stalin
Directed by Armando Iannucci. With Steve Buscemi and Simon Russell Beale. Now playing.