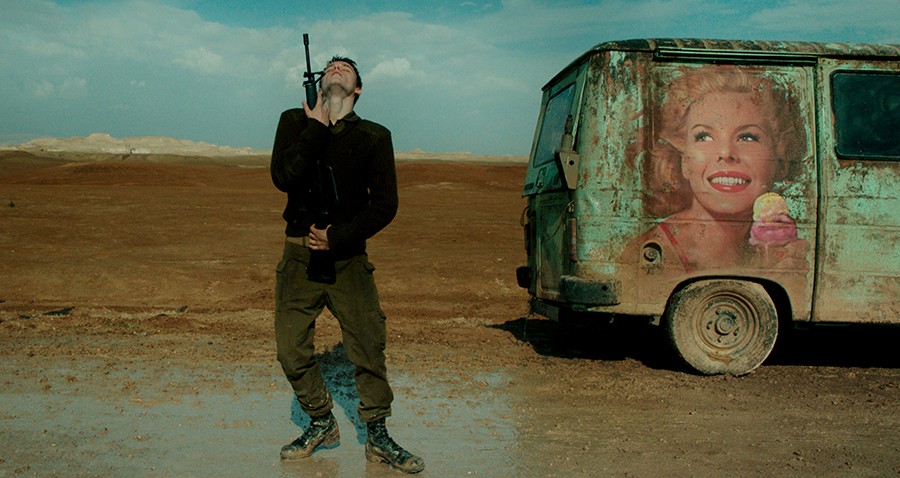 Foxtrot is an unusual type of war movie by American standards, but that's mostly because the state of Israel's apparently endless struggle for survival shapes its screen entertainment just as thoroughly as everything else in that country's orbit. Israeli soldiers don't die in far-off places no one can find on a map — they perform their missions, for the most part, inside their own country. And so, when Michael Feldmann (Lior Ashkenazi) and his wife Daphna (Sarah Adler) first get word that their son Jonathan (Yonatan Shiray) has been killed in the line of duty in the Northern District, it's the rough equivalent of an American family losing a service member stationed in Utah.
Writer-director Samuel Maoz — maker of the superior tank warfare drama, Lebanon — is not concerned here with heroism, fierce firefights, indictments of the military system, or any other commonplaces of American war adventures. He approaches the story of Jonathan Feldmann from an art-film perspective, grounded by Ashkenazi and Adler's performance as the anguished parents, and by heavily stylized impressions of life in hostile territory, where Jonathan and his comrades man a remote desert security checkpoint.
Other reviewers may reveal Foxtrot's plot twists, but not me. In flashback, Jonathan is revealed to be a thoughtful young man consigned to a life of rigid routine, fear, fantasies, utter boredom, and the occasional stray camel. He and his mates live in a repurposed shipping container and tell each other bedtime stories, such as the one about Miss January 1970. When one of them lapses into a fantasy of learning to dance the foxtrot with his rifle, we can see it's his way of coping with a desolate slog through a wasteland.

[embed-1]

Meanwhile, not too far away (the distance from, say, Nazareth to Tel Aviv is about 65 miles), Michael and Daphna process their grief in the midst of their ongoing marital difficulties, in hushed tones, at a slow, deliberate pace. Actor Ashkenazi, seen on U.S. screens last year in Joseph Cedar's Norman, is especially good as a father with longtime parenting issues, righteously raging against the machine, perhaps to cover up his own feelings of failure. Michael and his brother Avigdor (Yehuda Almagor) are atheists, and the army's habit of sending a military rabbi to assist grieving families irritates them. The news of Jonathan's death reopens the wounds between Michael and Daphna, almost as if their relationship were the main event, not the death of their son. Ashkenazi, Adler, and filmmaker Maoz take full advantage of that irony, with their stormy relationship in sharp contrast to the impersonal soldiering. Maoz understands both of these emotional theaters of war intrinsically. Foxtrot is recommended.

Foxtrot
Written and directed by Samuel Maoz. With Lior Ashkenazi and Sarah Adler. Opens Friday.