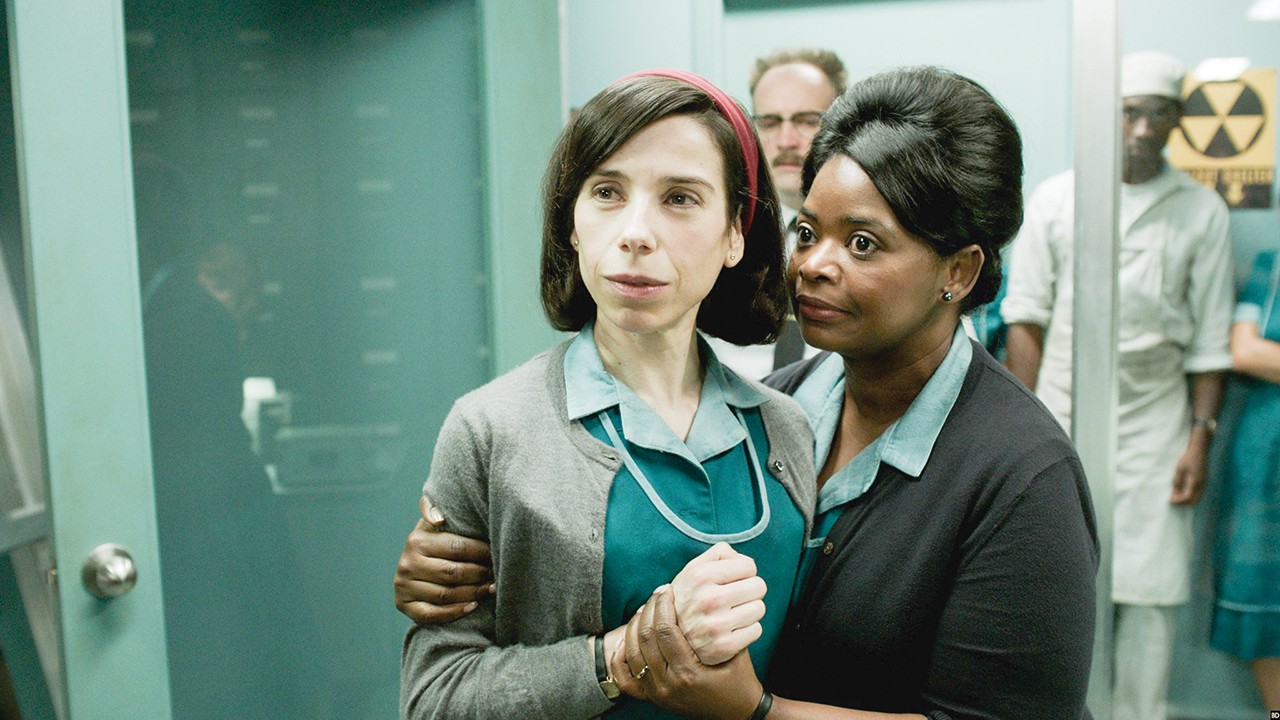 Entertainment-biz experts and film industry analysts have been tearing their hair out for the past 12 months because of poor business. Box office receipts, particularly during the summer tent pole season, were exceptionally anemic. "Surefire hits" weren't. People simply aren't going to the movies like they did before, and with an array of competing platform choices at their disposal, audiences stayed away from sticky-floored mall multiplexes by the thousands.
Short of admitting that too much big-studio product consists of stale sequels and carelessly conceived star vehicles, observers have blamed everything from the weather to Rotten Tomatoes for the light turnout. No genre is safe: Comedy, horror, fantasies, action, and romances have underperformed compared to past years. But don't despair. While box-office numbers are generally lousy, that doesn't necessarily mean that fresh ideas have evaporated, nor that enterprising filmmakers are not finding new ways to tell unique stories.
Pay no attention to what the commentators say, nor what real-life political thorns intrude into our lives as we sit in dark rooms dreaming about galaxies far, far away. 2017 at the movies has been one of the most dynamic periods in recent memory, a true bumper crop year for exciting films bearing a remarkable number of important cultural through-lines. Here, then, is a clutch of reasons to be encouraged about the future of cinema, the Ten Best Movies of 2017 (in no special order):
Get Out
Dolores
Dunkirk
The Florida Project
A Fantastic Woman
Lady Bird
Three Billboards Outside Ebbing, Missouri
LA 92 and Let It Fall: Los Angeles 1982-1992
The Shape of Water
Phantom Thread
(The number eight spot pairs two different documentaries focusing on the same subject: The 1992 "Rodney King Riots" in Los Angeles. Both docs are excellent and deserve to be discussed together, so this year's Ten Best comes with a bonus choice.)
It's tempting to draw parallels between the lackadaisical popularity of theatrical movies in general and the rise of streaming, cable TV, and other video platforms. A multiplicity of viewing options is replacing the quaint old movie house, and even the basic idea of screened entertainment is open to question. It's a brave new world. The robots are now among us, and we'll have to learn how to live with them. However, familiar stories about human beings, their lives, and their feelings are still available to work their tenuous magic. For now. We just have to know where to look.
There's a strong case for labeling the past 12 months the Year of the Woman. Six of our 11 choices feature strong female protagonists. (And although it didn't make our list, Wonder Woman was one of the year's successes, breaking several box-office records, including the highest-grossing opening weekend for a female director.) The award-bait performances by Sally Hawkins (The Shape of Water), Saoirse Ronan (Lady Bird), Frances McDormand (Three Billboards Outside Ebbing, Missouri), Daniela Vega (A Fantastic Woman), and juvenile ball of fire Brooklynn Prince (The Florida Project) are only half the story. Each of these five films — I reviewed all of them except A Fantastic Woman in earlier editions of the Express — reflects its reality from a female point of view.
McDormand's combative Mildred Hayes from Three Billboards is probably the easiest to relate to, despite the inner pain she flaunts. Her daughter was raped and murdered, and no one else in her small town seems to care. So, she decides to take care of it herself. Writer-director Martin McDonagh, the UK-moveover who made In Bruges, hits a career high with this clockwork crime yarn, backed by superlative role-playing from McDormand, Sam Rockwell (as Ebbing's nastiest police officer), Woody Harrelson, John Hawkes, Caleb Landry Jones, and Peter Dinklage. McDormand has a specialty in take-charge small-town women ever since Fargo, and she gives the avenging Mildred one of her very finest sendoffs. Filmmaker McDonagh appears to be hitting his stride, as does actor Rockwell. McDormand and Harrelson, of course, have been in their rarefied character grooves for quite some time.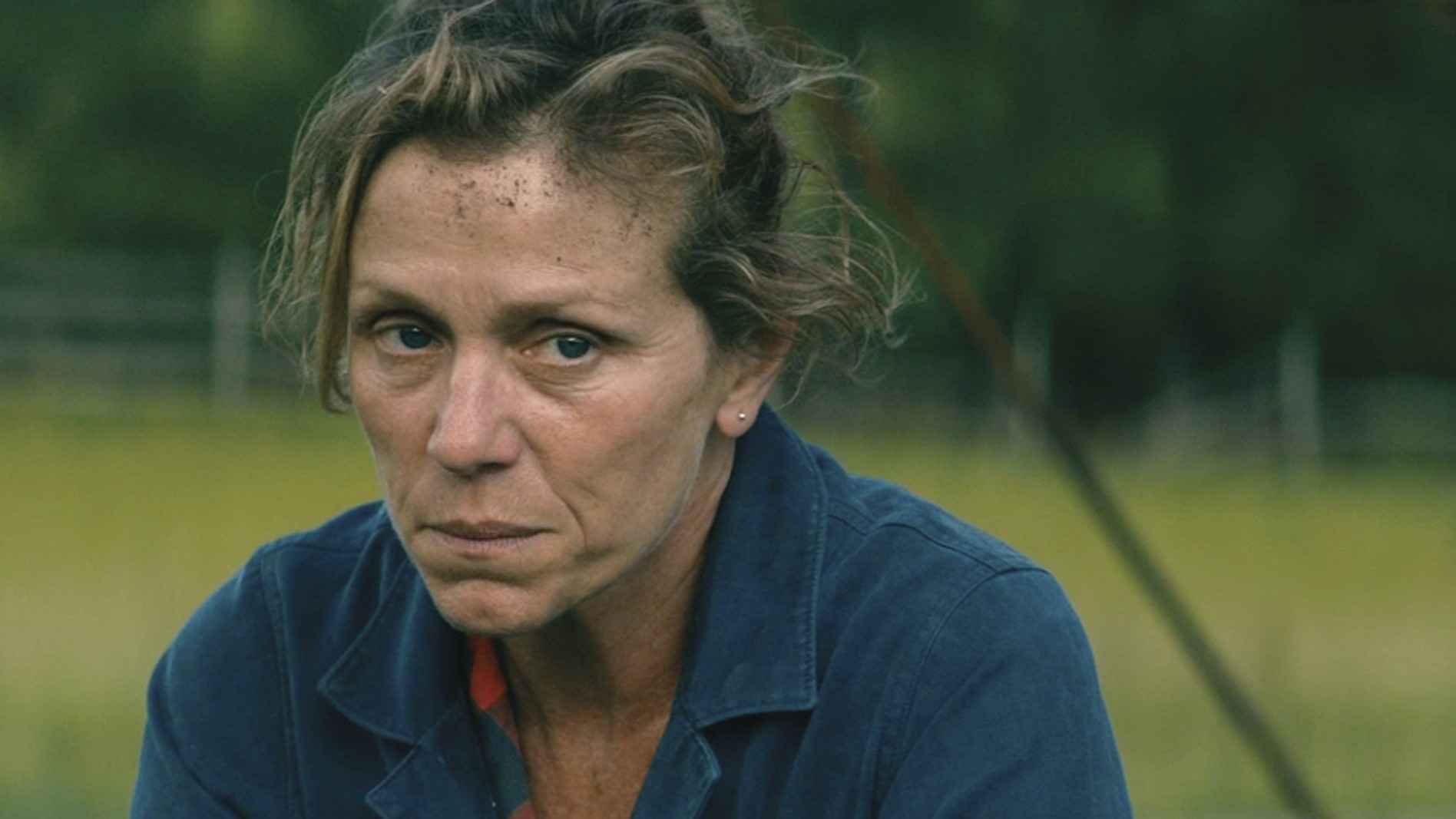 Fantasy maestro Guillermo del Toro has always had a sentimental streak in him, all the way back to his Mexican-produced Cronos (1993). But The Shape of Water is more than sentimental; it's a full-out love story, between a lowly cleaning woman (Hawkins) and the pitiful-but-terrifying amphibious being (played by actor Doug Jones) she meets at the research lab where she works. Hawkins' mousy Elisa Esposito, who masturbates in her morning bath while dreaming of romance, is a natural distillation of other Hawkins roles, in Mike Leigh's Happy Go Lucky and Aisling Walsh's Maudie (another of this year's most interesting pics). She's the wallflower with hidden reserves of passion. Add to that a resolute sense of justice in the face of Michael Shannon's hideous Strickland, who prods and tortures the Amphibious Man in order to serve his military masters. Scary and sweet, with a tenderness only a master of grotesquery could produce.
Lady Bird represents the flowering of two of the movies' brightest talents, actress-turned-filmmaker Greta Gerwig (Frances Ha) and Irish international actress Saoirse Ronan (Brooklyn). The scene is Sacramento in the '90s, where teenager Christine "Lady Bird" McPherson is in the final stages of living at home with her nagging mother (Laurie Metcalf, in another brilliant turn) and navigating Catholic high school. Next year is the year Lady Bird hopes to make her big break for the East Coast. But first she conducts experiments with love and self-fulfillment — the full coming-of-age package, equipped with Gerwig's spirited dialogue and Ronan's melancholy yet willful yearning. Gerwig will undoubtedly go on to act, write, and direct other films with her trademark wised-up wistfulness, and Ronan is already on her way to becoming the Millennials' Meryl Streep, but we'll always have Lady Bird to remind us what it looks like to catch lightning in a bottle.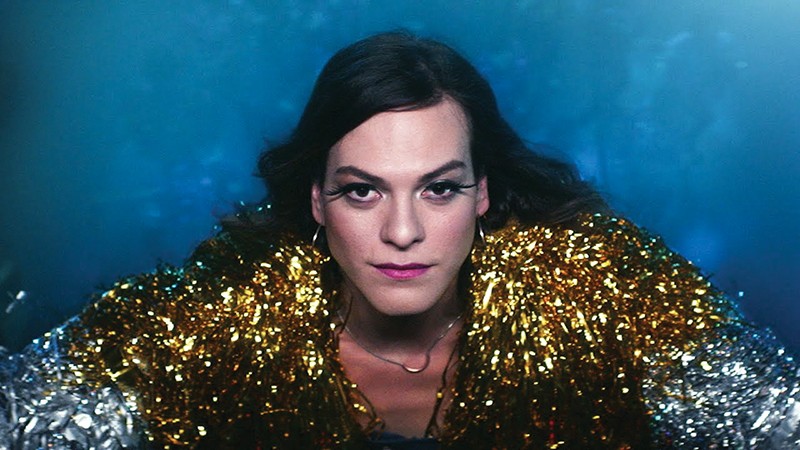 From its title, we might imagine
The Florida Project
to be a public-works documentary set in the bumptious Sunshine State. But no, filmmaker Sean Baker, whose
Tangerine
— the saga of a Los Angeles transgender streetwalker — was one of last year's most entertaining films, was only playing games with us. The ramshackle motel on the outskirts of Orlando's Disney World where dwell 6-year-old Moonee (the aforementioned Ms. Prince) and her loosey-goosey mother Halley (Bria Vinaite) is more like a housing project than a tourist trap. Moonee and her pals run loose through the beat-out neighborhood and Halley turns tricks to supplement her income as a street-corner perfume saleswoman. Welcome to Hard Luck City, U.S.A. Writer-director Baker's screenplay could have been monumentally depressing, but he weaves strands of rough humor into the life and times of the Magic Castle Motel — where the harried manager (Willem Dafoe, in top form) actually does his best to make sure his subsidized guests are safe and sound. Little Brooklynn, with the face of a Shirley Temple combined with the chutzpah of a car thief, steals every scene she's in.
The leading lady of Sebastián Lelio's A Fantastic Woman is Marina Vidal (Vega, in an astonishing performance), a transgender woman who sings in night clubs while studying classical voice in her hometown of Santiago, Chile. Marina is in a long-term relationship — at least it seems that way — with a middle-aged man named Orlando (Francisco Reyes), with whom she shares a flat. But then one night Orlando dies of a heart attack and everything changes. The family of her partner, outraged by her very existence, does quite a bit more than just turn their backs on Marina — she gets locked out of their flat, forbidden to attend the man's funeral, and physically assaulted by Orlando's relatives. Director Lelio's screenplay, written with Gonzalo Maza, at first appears to be a straightforward domestic melodrama, but as we discover Marina's personality we see that she is indeed a fighter. Lelio is also responsible for the glorious Gloria (2013), which profiles the emotional redemption of a woman of a certain age, looking for love. The new film operates on the same against-all-odds wavelength. Marina, who shadowboxes to stay in shape and dreams of Iguazu Falls, is determined to forge her own destiny. It's as simple as that.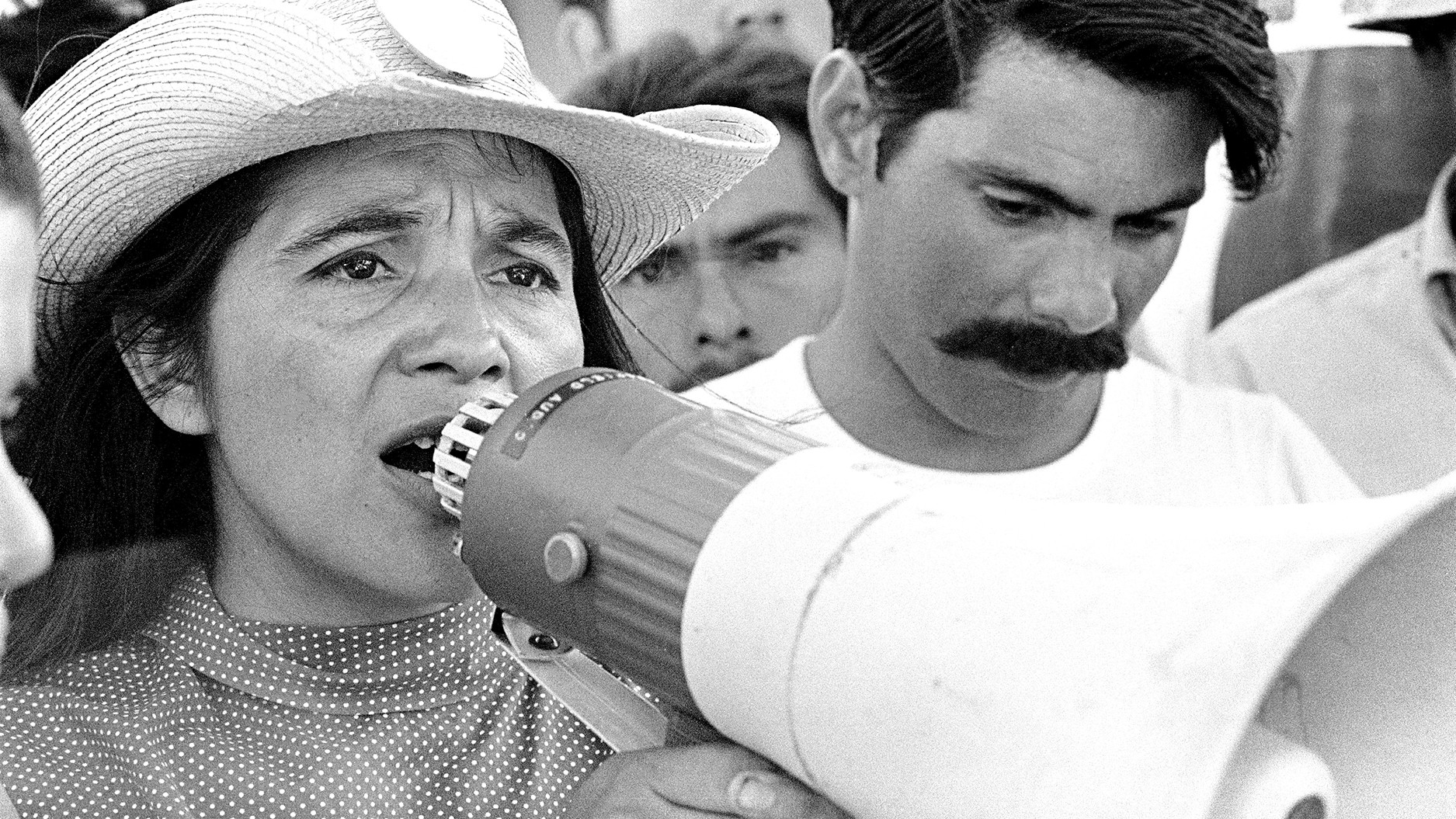 In one of his protest songs, John Lennon once declared: "Woman is the slave of the slaves." That lyric comes to mind when watching Benjamin Bratt's documentary Dolores, a stirring profile of one of America's true heroines, labor leader and civil rights activist Dolores Huerta. As recounted using talking heads and vintage newsreels, Huerta was one of the founding organizers behind the National Farm Workers Association, and took part in endless strikes, boycotts, and marches alongside César Chávez – but somehow always was relegated to standing in Chavez's shadow. Until now. The key takeaway in Bratt's insightful doc is that on top of her years struggling for human rights, Huerta faced added prejudice for being an outspoken woman in a traditionally men's world. All this while giving birth to 11 children, many of whom testify about their mother on camera. Anyone who cares about workers' rights — hell, anyone who has ever eaten a California grape — can relate to Huerta's inspiring story.
In addition to these female-centric titles, there was also the continuing renaissance of big-screen films by and about African Americans. One of the most thrilling developments in the latter category is Jordan Peele's horror/thriller hybrid Get Out. With its tale of a wary but hopeful young urban Black man (Daniel Kaluuya, in a world-class performance) visiting the country home of his white girlfriend's (Allison Williams) parents, writer-director Peele sets in motion two fields of electrifying tension. The awkward racial angle is omnipresent — these people are whiter than white — but then there are the odd characters our hero meets at the family gathering. Smart dialogue, sweaty-palm suspense, and Peele's talent for balancing the terrifying with the humorous make Get Out one of the year's happiest surprises. It's almost hard to believe that this is his first directorial effort. It'll be hard to top.
The past year also saw at least three World War II historical dramas centering on Britain's entry into the war: Jonathan Teplitzky's Churchill (with Brian Cox in the title role); Joe Wright's heavily publicized Darkest Hour, with its powerhouse portrayal of Winston Churchill by Gary Oldman; and Christopher Nolan's Dunkirk, which approaches one of the war's most dramatic crises from a radical perspective, as a series of hair-raising events on and around the title French beach. For its sheer audacity, as well as for the understanding that comes with total immersion in a vast, complicated situation, we'll go with Dunkirk.

We wouldn't ordinarily think of Nolan, who made all those Batman movies, as the ideal artist for a film about one of the most crucial events in British history. But he fooled us. A writer-director enamored of contorting narratives to produce a visceral emotional effect, Nolan sees the drama of the evacuation of Dunkirk as a linked chain of individual predicaments, etched onto a canvas as wide as the English Channel. What a spectacle, orchestrated to the nth degree, with wonderful portrayals (and appropriately chaotic violence) all dissolving into a panoramic portrait of war. Acting kudos to Mark Rylance, Tom Hardy, Cillian Murphy, Kenneth Branagh, Fionn Whitehead, Aneurin Barnard, Harry Styles, James D'Arcy, and Jack Lowden. We do not glimpse a single German — this isn't about them. Dunkirk is an entirely new kind of war movie, and a triumph for Nolan. It's hard to imagine anyone else who could have made it.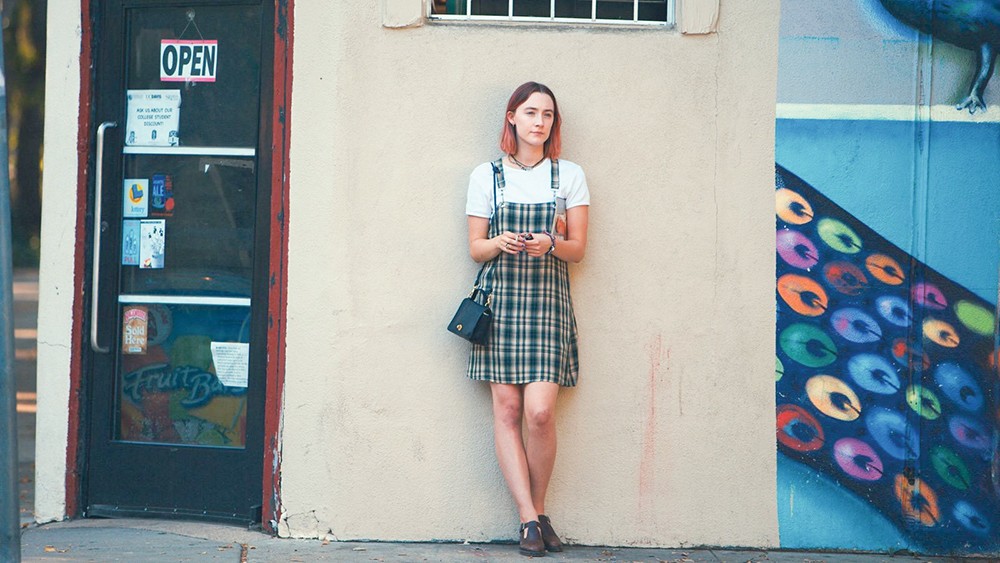 Paul Thomas Anderson's Phantom Thread arrived on our radar late in the year. It's scheduled to hit Bay Area theaters in mid-January, and we'll have a full-scale review of it then. Without giving away too many plot points, it's the story of an English fashion designer (Daniel Day-Lewis), the warp and woof of his everyday career, and his relationship with a young woman (Vicky Krieps) who comes to work at his London townhouse workshop. Day-Lewis' portrayal of fashionista Reynolds Woodcock fits snugly into his gallery of eccentric personas, but it's filmmaker Anderson's point of view that really captivates us. This ostensible romantic drama of costumers and their cloistered little world is actually a thumbnail study of the philosophy of aesthetics. Details later, in these pages.
Every year there are good movies that get overlooked for review, either because of jammed-up release schedules or obscure subject matter or any one of 100 reasons. Some of these may, in fact, be hidden masterpieces. It's up to the diligent reviewer to search out and see these films, and there are many. This year, a pair of social-problem documentaries was released into art houses with little fanfare. They both covered the same subject: the 1992 "Rodney King Riots" in Los Angeles. John Ridley's Let It Fall: Los Angeles 1982-1992 and Dan Lindsay and T.J. Martin's LA 92 ought to be considered side by side as two of 2017's very finest films.
Let It Fall, from director Ridley (he exec-produced 12 Years a Slave), adopts a broad cultural and institutional focus. As its subtitle suggests, the film takes the long view of tensions between the Black community and police that had been brewing for at least 10 years before Rodney King was pulled over and beaten by LAPD officers. The police as well as South Central Los Angeles residents step up to the mike. We learn about the racist attitudes of police Chief Daryl Gates, the two types of police chokeholds, the rise of PCP, the PR-24 metal baton, the crack epidemic, the Latasha Harlins shooting, et cetera. Gang violence broke out of the ghettos and innocent people were killed, but such shootings were nothing new in South Central. "The only services they get are encounters with the police," opines former city official Linda Griego. "The floor was gonna drop. It was just when." When the floor does drop, the pic rolls out harrowing news footage of the violence, with special attention paid to police response (or the lack thereof) on the first day, April 29, 1992. In retrospect, we remember the thoughts of the religious-minded Bobby Green, who tried to save motorists pulled from their cars by angry mobs.
LA 92, which employs only archival footage with no talking heads, has some of the same riot brutality shots, but also camera work from private citizen sources, along with radio tapes. It's set to a somber classical and opera music score. Filmmaker Martin notes: "We had no interest in using hip-hop music to set a South-Central mood." One of the film's most poignant pieces of tape shows a female Korean shopkeeper standing in the broken window of her store, repeating "This is America!" as looters pick through the rubble. Also notable are the on-the-scene reactions of ordinary people to the King police beating trial verdict, from the openly bigoted to the despairing. Lindsay and Martin's doc is more or less a tone poem on the subject of civil unrest. It flows. LA 92 and Let It Fall: Los Angeles 1982-1992 follow on the heels of last year's monumental documentary profile, O.J.: Made in America to offer an enlargement of the discussion. Both are highly recommended for those who dare to delve beneath the surface.
According to Statista.com, 733 movies were released in the US and Canada in 2016. The figure for 2017 should be about the same, maybe slightly higher. As a reviewer with a weekly space I have looked at 253 of the 2017 titles, as of this writing. Ten Best formulations used to take in only theatrical releases — but nowadays films can open theatrically and on streaming channels simultaneously, or solely online. With releasers such as Amazon, Netflix, and Grasshopper in addition to the traditional "majors" and "indies," the field of movies eligible for year-end awards has grown by leaps and bounds. It would take a team of reviewers to cover every movie that plays Bay Area theater and computer screens in a year.
What this means is that any year-end list can really only represent the most praise-worthy of the movies a reviewer can manage to see in a given year. So, it's idiosyncratic in the best of cases. The point is, loosen up and look around. There are good movies everywhere, not just at the local theater — although there's something to be said for the shared entertainment experience, with the style of quirky programming lucky East Bay movie lovers can find at the Rialto Elmwood, the New Parkway, and the BAMPFA for museum-quality programming. Support your local art houses and your local film festivals, but don't forget the streamers. Good luck hunting.