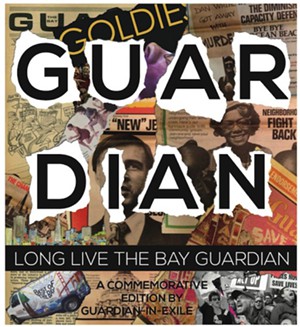 The recently shuttered alt-weekly, the San Francisco Bay Guardian, will be "raising hell" one more time as they release their final commemorative issue on Thursday, January 22. The 48-year-old paper closed in October due to money issues and changes in management.
See Also:
The San Francisco Bay Guardian to Close After 48 Years
You Can Help Save the San Francisco Bay Guardian
[jump] Immediately after the paper shuttered, its staff and supporters created the Guardian-in-Exile Project, a crowdfunding campaign to create one last issue, to raise money to preserve the Bay Guardian's considerable archives, and to let journalists have the last word.
The paper is a slim 24 pages (
a PDF edition can be found here
 and
here
) and will be distributed in bookstores and other locations around San Francisco, and as an insert in the quarterly print publication of the San Francisco Public Press, a nonproft media organization that sponsored the Guardian-in-Exile. Here's a list of locations where you can
pick up the print edition
.
"The sudden shutdown of the Guardian shocked us and our community, but we knew right away that it wasn't over yet," top editor Steven T. Jones told
AAN
. "Immediately, we went to work securing our archives, looking for ways to continue the Guardian, and producing a final issue. We wanted to report on the circumstances of our demise, bring some perspective to the important role the Guardian has played, lay out possibilities to revive the Guardian, and say goodbye to our readers, at least for now."
The issue is beautifully designed by art director Brooke Ginnard, and includes an examination of what led to the Guardian's demise (by Jones and news editor Rebecca Bowe), its history (by Jean Dibble and Bruce Brugman), and articles examining what this year meant for the progressive movement (by Chris Cook and Joe Fitzgerald Rodriguez). On the lighter side is a guide to drinking while unemployed by Broke-Ass Stuart, the gloriously weird music scene (by Emily Savage), and SF's sex scene taking a turn for the vanilla (by Krissy Elliot).   
"So much talent has flowed through the Guardian over the last five decades, and we were down to a really great core crew of writers and editors by the end," Jones told
AAN
. "We're happy to have the opportunity to showcase their amazing work one more time. Will it be the last time? You'll have to wait until Jan. 22 to find out — we may still  have some more news to print and hell to raise." 
Follow @annapulley on Twitter.