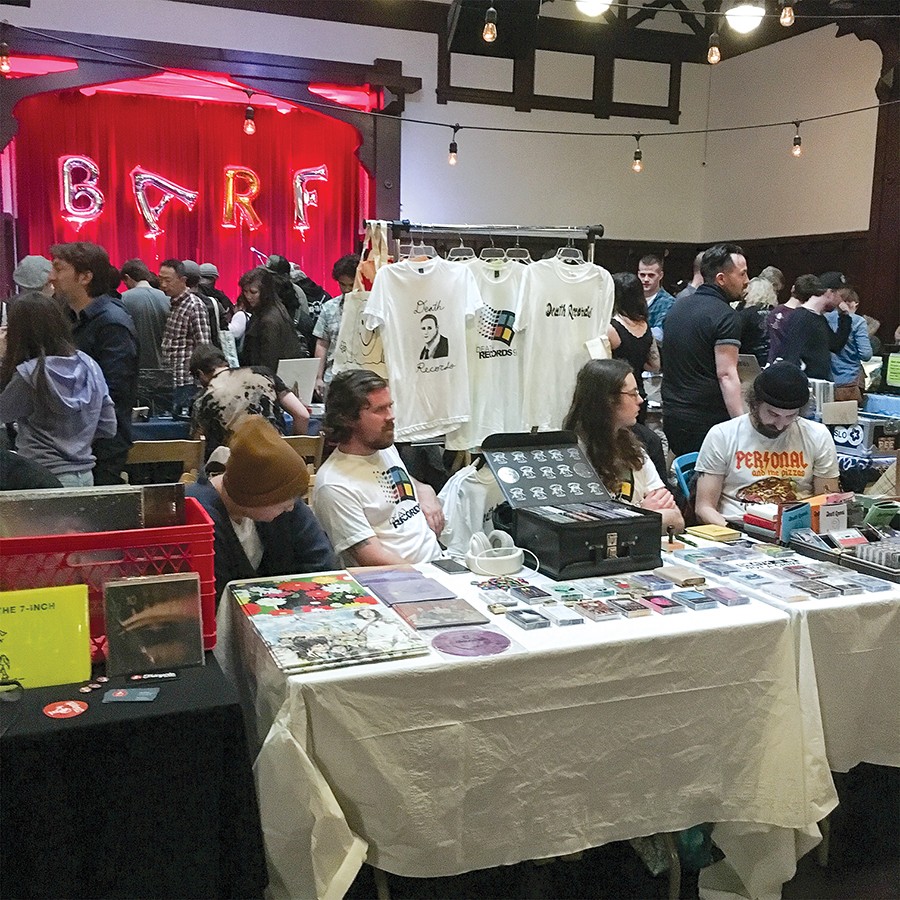 The 40-some independent labels participating in this year's Bay Area Record Fair reveal a lot about the local music industry in 2017, particularly how practices fall along genre lines. Upstart punk and rock labels — almost all of them established at first by musicians to release their own music — couple cassette releases and online streaming via platforms such as Bandcamp, selectively choosing titles to manufacture at greater cost on vinyl. And the near-total lack of hip-hop labels reflects independent rappers' preference for self-releasing material online with the help of digital distribution services.
Indeed, in hip-hop parlance, "album" and "mixtape" — in recent years used to loosely distinguish between for-sale and freely downloadable titles — have been mostly supplanted by the term "project," which refers to something you can both stream for free on Soundcloud and pay to download on iTunes. Yet "project," in rock circles, still means a recording or songwriting vehicle that's separate from an artist's primary band or moniker.
To most of the label proprietors tabling at Cafe du Nord and the Swedish American Hall on Sunday, Nov. 19, for the fourth record fair in three years, terms such as "EP," "LP," and even "cassingle" still refer to a release's physical attributes — the width of a piece of vinyl, say, or the length of some magnetic tape. "I wish I had more people to talk to when I was starting a label," said cofounder Jessi Frick, adding that her goal is to create greater camaraderie within the local music industry. "This can be a resource."
Frick, who also works as a music publicist, started Father/Daughter Records with her dad in 2009, and, in recent years, it's been one of the few small, local operations to consistently upstream unheard-of signees to larger indie labels — as in the cases of Mutual Benefit, Diet Cig, and Happy Diving. (This year, the label severed ties with perhaps its biggest success, PWR BTTM, after a member of the group was accused of sexual assault.)
The Bay Area's lack of industry infrastructure relative to cities such as Los Angeles, New York, and Atlanta is a persistent topic of conversation across genre lines, though Frick pointed to the national ascent of Oakland songwriter Melina Duterte's indie-rock outfit Jay Som as a welcome counterpoint, noting that the group has also brought attention to its local peers. "I think people starting new labels will keep elevating the Bay, too," she said.
The record fair features familiar names such as Flenser, the Bay Area's foremost metal label; Tompkins Square, the roots-oriented archival label; and Alternative Tentacles, the longest continuously operated punk label in the country. But it's the newest labels participating this year that have released many of the finest local titles of 2017.
Vacant Stare, operated by Mall Walk bandleader Rob Miller, this year released cracked post-punk titles by two side-projects of his own, Fatal Glitch and Dry Erase. Processional Cross, founded by Jeff Day of Never Young and Crush, started in early 2017 with the release of Crush's Last Crush. Most recently, the label released Hobby Limit, the strongest title yet by San Francisco songwriter Taylor Vick as Boy Scouts, which couples easygoing melancholy and quiet eruptions of melody that will appeal to fans of Jay Som.
Sam Cruz, who drums in Tony Molina's band and fronts Toner, among other projects, founded Smoking Room to release a cassette by a short-lived hardcore group of his own. He hand-drew the art and lettering, photocopied the covers, and assembled the tapes, and he's done the same for nearly every release since: Petheaven's bleary-eyed, downcast Fruit of Paradise; Toner's breathy, spritely Killing Pace, and GLO's skeletal Shade.
The low cost of tapes enables labels such as Smoking Room to spotlight artists with little pedigree or preexisting fanbase, or willingness to tour. Cruz said that GLO's Shade is his favorite Smoking Room title of 2017, adding that the North Bay songwriter cold-pitched him online before she'd even begun playing live. "She was even like, 'I don't think you'll like it,'" he said. "I love it. It's soul, slow-jams, but homemade — and you can feel that."
One outlier at the record fair is Text Me Records, established by Different Fur Studios owner and engineer Patrick Brown as an outgrowth of his production and publishing company, which has released roughly 30 titles since forming in March — all online. They include Mars Today's pop-soul full-length Bits & Pieces, which boasts a single nearing 2 million Spotify streams; and the similarly well-performing Julia Lewis production "On the Regular," featuring lithe, reggae-influenced music beneath honeyed vocals from locals Mr. Carmack, Elujay, and Rexx Life Raj.
Brown said he owns 6,000 CDs and not a single CD player. "I think focusing on CDs or vinyl for our records wouldn't service the artists well," he said, adding that, at the record fair, he'll be selling branded apparel. "Our Text Me merch flies off the shelf, and anyone who wants to support more directly can purchase through our Bandcamp."