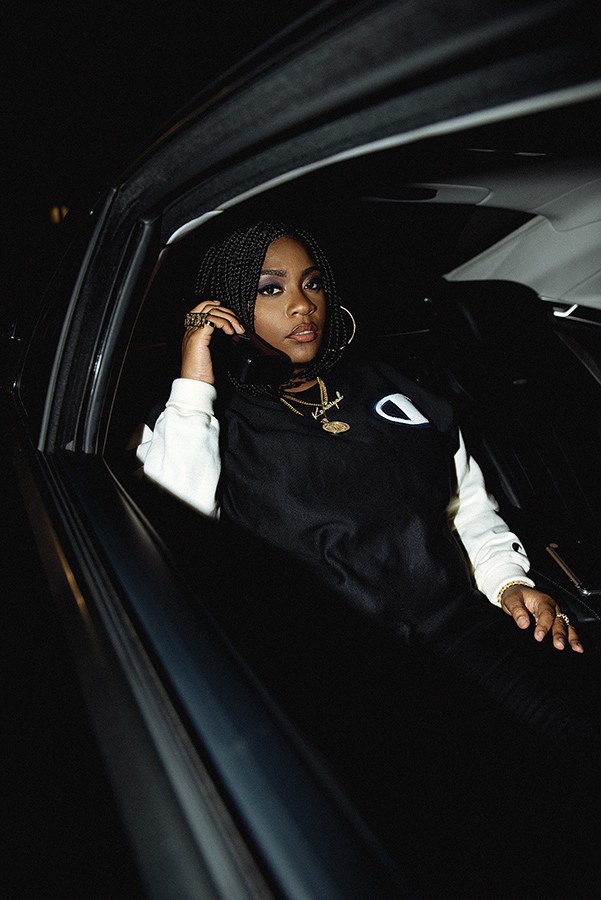 This year has been rough for Kamaiyah, the Oakland emcee with honeyed hooks and throwback swagger who garnered accolades, cosigns, and connections throughout 2016.
In March, she was the only woman among XXL Magazine's "Freshman 10," a closely watched list of emerging artists that this year also included XXXTentacion, the Florida rapper accused of imprisoning and assaulting his girlfriend. A recent GQ piece called her outfit "perfect for blending into a bowl of jelly beans," among other food references spared female artists with conventional celebrity body-types. But most frustrating, to judge by her exasperated social-media missives, is the protracted delay of her major-label debut.
Kamaiyah, 25, was working as a security guard before the late-2015 release of "How Does It Feel?," a lithe, subtly tuneful production that complements her nimble flow. The chorus goes, How does it feel to be rich? Within months she seemed poised to find out. Her first mixtape, A Good Night in the Ghetto, attracted fervent praise, and she appeared on the hook of YG's salty, Drake-featuring single, "Why You Always Hatin?" (That she was relegated to singing the chorus seemed typical of the industry's condescension to female rappers.) She also inked a deal with Universal Music Group subsidiary IGA Records.
In April, Kamaiyah tweeted "Don't Ever Get It Twisted #Comingsoon" above cover-art depicting her seated, stoic face framed by braids, on a wicker chair in the style of Huey Newton, and pinned it to the top of her profile. The album, though, hasn't arrived; she's said on social media that it's delayed due to sample clearances, mentioning in an interview that it was originally slated for release as early as March, likely to coincide with the XXL Magazine feature. "Shit is different once you sign a deal trust me," she tweeted of the delays, suggesting that the holdup reflects her label's abandonment of its signee.
How cruel that an artist whose breakout single asked how it'd feel to be rich so soon encountered the trappings of upstart fame and the prejudices of the public eye. And yet Kamaiyah didn't stop releasing music in 2017, she dropped great stuff on her own terms: two new songs with music videos and, just this month, the mixtape Before I Wake (which bumped the Don't Ever Get It Twisted announcement from its pinned-tweet mantle). All of the material evinces resilience. Before I Wake finds Kamaiyah savaging or sashaying around the haters. I just swag past you, she raps on "Playa In Me." Pass right through.
The Damien Sandoval-directed music video for "Build You Up," a Tony! Toni! Toné!-sampling anthem released in July, is an ecstatic tribute to Oakland, maybe the best since Lil B's "No Black Person Is Ugly." On BART, Kamaiyah recruits a crestfallen stranger for pizza at Cybelle's on Broadway, followed by a celebration in front of the Grand Lake Theatre. E-40 raps beneath the same marquee in the video to Willie Joe's "I'm From the Bay Bruh," but Kamaiyah and crew, in loud jumpsuits à la Missy Elliott, wear it better.
The video for "Successful," meanwhile, is more conventional: bottles, convertibles, and product placement for Beats by Dre. She said she released the song over label objections, lending weight to the otherwise effervescent hook: They don't wanna see me successful.
Before I Wake, a ten-song mixtape surprise-released Nov. 7, takes up similar themes: status insecurity, romantic betrayal, mental health, and, especially on the front-end, tenacity and persistence. A Good Night in the Ghetto evoked a house party anticipating a mansion-party; Before I Wake is relatively sober, a reassessment. It's also full of what seem like strategic references; sampling TLC's "Creep" as well as Tha Dogg Pound's "Some Bomb Azz (Pussy)," Kamaiyah elevates the female agency that's stifled in so much of the West Coast gangsta-funk she mines for moods and melodic inspiration.
Announcing the release, Kamaiyah wrote that 2017 "has been extremely hard," mentioning depression, the death of a brother, and feeling "creatively…trapped." She suggested that Before I Wake was recorded and released independent of her label. "This is only the beginning." The cover features her suspended above outstretched hands, some clutching pistols. She might be falling, she might be flying away, but her eyes are to the sky, and she's smiling. Yeah I fucked up this summer/I didn't put out one damn song, begins "Slide (Bet)." But y'all hoes still ain't did nothin'/I smell my revenge coming.