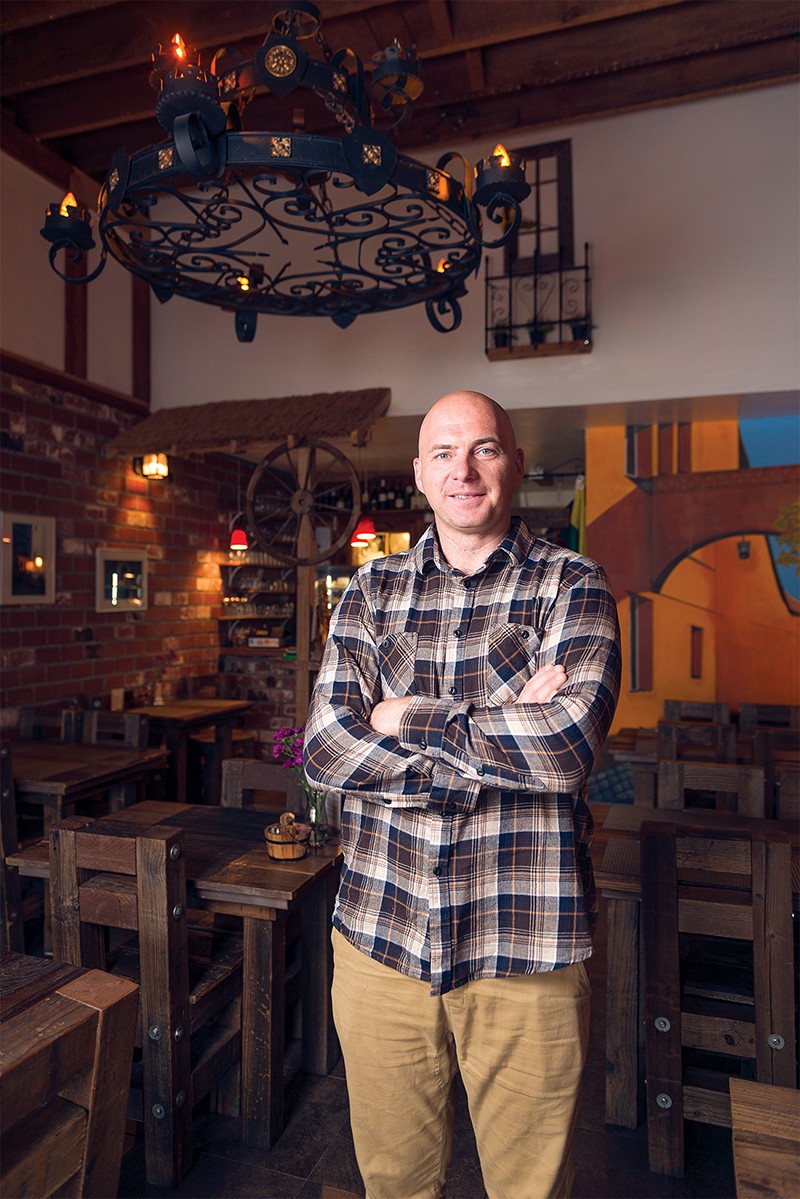 The very existence of Mama Papa Lithuania is unlikely. There are no other Lithuanian restaurants in the West, said owner Vaidas Sukys. The closest one is in Chicago. And Sukys' friends, safely ensconced in tech jobs, laughed at the notion of opening one in Alameda when he first started building the place years ago.
"I'm very anti-sheep mentality," Sukys explained. "I don't want to do what everybody else is doing. If everybody is doing IT, I would rather open a restaurant."
Sukys said he opened the restaurant because he felt a need to share his country — one that's rich in coastal waters, lakes, and woodlands, and in which migration has been a constant for centuries. Lithuania's original, pre-Christian diet of game, fish, honey, and berries fused with the food of those who have traveled through, abutted against, or occupied the small Baltic state, including the Vikings, the Germans, the Mongolians, and the Russians. According to Sukys, the food is a strong reflection of that complex history: "By having a restaurant, exposure [to the culture] is multiplied by a thousand times."
Sukys said his friends stopped laughing once they came and ate the homey, comforting, fresh food that his mother, a professional chef, turns out of the kitchen. They, along with other first-, second-, and third-generation Lithuanian Americans, come to Mama Papa's to soothe their homesickness with summer borscht,
cepelinai
 potato dumplings, and Lithuanian beer.
For those of us who have never been to Lithuania and have little connection to the country, the restaurant's lacy curtains; its heavy wooden furniture fit for Vikings; and its teas of mallow, oregano, and dog-rose — almost everything except the silverware and napkins — are unfamiliar and worth examining. Lithuania has its own way with potato dumplings, goulash, and pierogies, so those with Eastern European ancestry will see differences. Aside from Coke, the menu makes few nods to American tastes.
But when you open a Lithuanian restaurant in the United States, America and Lithuania can't help but come together. The resulting mix of blessings and challenges is similar to what you'd find at other ethnic mom-and-pops. Sukys explained that the locally-grown potatoes have too much moisture, so he sources his potatoes from Idaho and Washington. According to Sukys, the soil structure in that region, and the starch content of its potatoes, are closer to what exists in Northern Europe. Meanwhile, the meat here isn't as rich. And the buckets of foraged wild mushrooms that Lithuanian grandmothers sell on the street corners — such mushrooms cost upwards of $10 a pound here and are hard to afford. On the other hand, California-grown beets are excellent, and the garlic here inspired Mama Papa's fresh, crunchy, chili-pickled garlic sauce.
This natural fusion between Californian and Lithuanian ways goes beyond the cuisine. Mama Papa has a multiethnic waitstaff, and Sukys said he is inspired by the culture here — its diversity and uniqueness allow for new, pleasantly surprising discoveries every day.
In that sense, maybe the Bay Area isn't just a home for immigrants, but also a haven for those who want to break away from the herd.
"Lithuania has a really deep history that shows how people were mixing since day one," Sukys said. "San Francisco is a great place to express that."