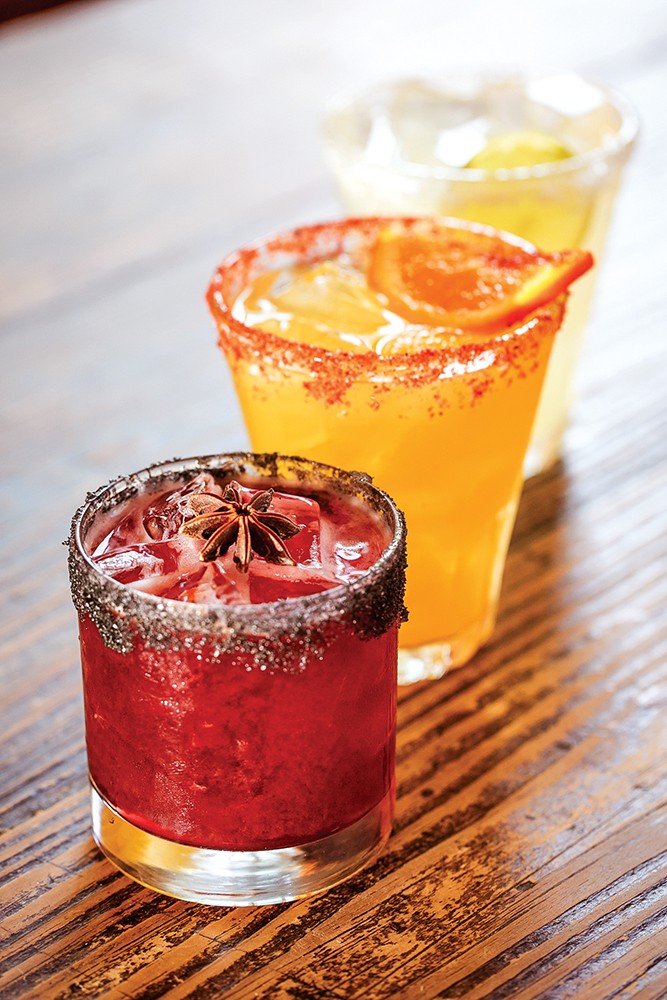 These days, the East Bay's Mexican food scene is represented not only by food trucks and taquerias, but also by hip downtown restaurants that challenge the stereotype of Mexican cuisine as being limited to cheap roadside fare such as burritos. In the kitchen, classically trained Mexican chefs pay homage to their culture by using quality ingredients and modern cooking techniques.
Behind the bar, that same level of care is finding its way into a cocktail near you, as Mexican-American bartenders seek to expand customers' experience of Mexico's most famous spirit: tequila.
In the United States, tequila has a reputation as party booze. Many Americans' first encounter with tequila was with Jose Cuervo — a notoriously cheap agave spirit — or when drinking foot-long margaritas while on vacation in Vegas. People swear off tequila due to the nasty hangovers, not realizing that the cheap booze they've been drinking is nothing like high-quality tequila.
Of course, now that tequila has become trendy, craft cocktail bars and upscale Mexican restaurants that stock tequila and mezcal almost exclusively are springing up all over the Bay Area. Many of these establishments aren't owned or managed by Mexicans, and they often employ non-Mexican bartenders who have little experience with Mexican culture, and whose tequila expertise consists mostly of a bunch of memorized facts. Meanwhile, the Mexican workers are kept in low-paying, back-of-the-house positions.
It should come as no surprise, however, that bartenders of Mexican descent are the ones who are doing some of the most interesting things with tequila. They are reshaping the spirit's reputation by educating drinkers on its fundamentals. And they have helped popularize mezcal, a lesser-known Mexican agave spirit.
At
Tamarindo
(468 8th St., Oakland), owner Alfonso Dominguez expresses his confidence in the appeal of tequila and mezcal by offering those two spirits at his restaurant-bar — and nothing else. This presents a challenge when serving drinkers who are dedicated to whiskey or vodka. But according to Dominguez, "As bartenders, this is what we do. We give them options and try to expand their horizons. If someone orders a negroni, we would make them a mezcal negroni. Then they would taste it and be pleased."
Local bartenders are also reclaiming the margarita. While the origins of the margarita are nebulous at best, Guadalajara native Esteban Ballesteros, a bartender at Bull Valley Roadhouse in Port Costa, says he didn't encounter the cocktail until he came to America. "Everything indicates that it was created along the border with the intention to please American customers that ventured to the other side. I have always seen it as an American drink," Ballesteros said.
In the same way that Mexican cuisine has been coopted by American chefs, the margarita has become the most popular American symbol of Mexican drinking culture. But customers at today's more ambitious drinking establishments expect their margaritas to be made with fresh-squeezed lime juice rather than the cloying sweet-and-sour mix commonly seen at chain restaurants.
At
Nido
(444 Oak St., Oakland), bar manager John Flores expands on the margarita by combining modern techniques and indigenous ingredients on his cocktail menu. "We have a circulator, and I'm infusing tequila with cilantro, cucumber, or
nopal
. I'm vacuum-sealing tequila with tamarind. That's how we can create a craft cocktail that's still true to the Mexican experience."
Like their counterparts in the kitchen, bartenders are moving away from big corporate brands and expanding their selection to offer craft tequilas that many people have never heard of: ArteNOM, Siete Leguas, Fortaleza. Much like craft whiskies, craft tequilas emphasize traditional rather than industrial practices. The production of these tequilas impacts local villages by creating jobs, supporting sustainable farming, and retaining money. Many craft tequilas have a story to tell about their village, their family, or their history. That story is something bartenders can use to connect drinkers to a new kind of tequila. As Flores put it, "It's exciting to take a Patron drinker and lead them to Siete Leguas."
[pullquote-1]As craft tequilas and mezcals become more popular, bartenders find themselves fighting the tide of "Americanization," as non-Mexican restaurateurs and mixologists take sudden interest in a spirit they had previously all but ignored. It's easy to forget that tequila was once viewed as a provincial drink for working-class people who couldn't afford imported French cognac.
But Mexican-American bartenders like Flores and Dominguez grew up in the culture and have a personal connection to these products. When they make a margarita, or create a new tequila-based cocktail, they're paying homage to those who came before them. They're carrying on Mexican traditions even as they add their own personality to the cocktails.
Dominguez says he also hires primarily Latino workers for all positions at Tamarindo, including higher-earning front-of-house positions such as bartender. These workers are ambassadors for the culture not just because of the products they serve but because of their personal backgrounds in the culture. Dominguez explained that for him, "It's about keeping culture rather than following trends."