A major national advisory body said this week that America's extremely high prison population cannot "be justified by social benefits" and "has reached a level where these high rates of incarceration themselves constitute a source of injustice and social harm."
The National Resource Council – which is the working arm of the National Academy of Sciences and the National Academy of Engineering – released 'The Growth of Incarceration in the United States: Exploring Causes and Consequences (2014)' online and in print Wednesday, and it is destined to become a go-to resource in the incarceration debate.
[jump]
Researchers from the NRC report an "unprecedented and internationally unique rise in U.S. state and federal prison populations, from 200,000 inmates in 1973 to 1.5 million in 2009."
"With the inclusion of local jails, the U.S. penal population totals 2.2 million adults, the largest in the world; the U.S. has nearly one-quarter of the world's prisoners, but only 5 percent of its population."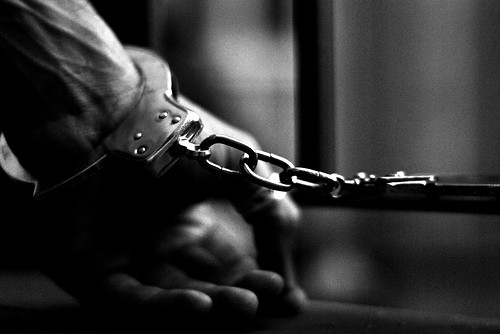 via Flickr Remuz78 with CC license
NRC adds heft to calls for drug law reform
"Nearly 1 in 100 adults is in prison or jail, which is 5 to 10 times higher than rates in Western Europe and other democracies."
Congrats, fellow Americans. We did it. Like mastering the atom, or walking on the moon, we've succeeded where others have come up short. We've put more people in more cages than any country ever in the history of the Earth. Land of the free, indeed!
IT'S THE DRUGS
Mandatory minimums, three-strikes laws, and the War on Drugs bear a large portion of the blame, the report finds. "The apparently low effectiveness of a heightened [drug] enforcement strategy resulted in a tenfold increase in the incarceration rate for drug offenses from 1980 to 2010 — twice the rate for other crimes."
IT'S RACIST
And the outcomes of the system are pretty racist, the report finds
"People who live in poor and minority communities have always had substantially higher rates of prison admission and return than other groups. Consequently, the effects of harsh penal policies in the past 40 years have fallen most heavily on blacks and Hispanics, especially the poorest, the report says. In 2010, the imprisonment rate for blacks was 4.6 times that for whites. This exceeds racial differences for many other common social indicators, from wealth and employment to infant mortality.
Of those incarcerated in 2011, about 60 percent were black or Hispanic.
· Black men under age 35 who did not finish high school are more likely to be behind bars than employed in the labor market.
· In 2009, 62 percent of black children 17 or younger whose parents had not completed high school had experienced a parent being sent to prison, compared with 17 percent for Hispanic children and 15 percent for white children with similarly educated parents. "
IT'S CLASSIST
And the system is class warfare writ large, the report indicates.
"Incarceration correlates with negative social and economic outcomes for former prisoners and their families, and it is concentrated in communities already severely disadvantaged and least capable of absorbing additional adversities.
"From 1980 to 2000, the number of children with incarcerated fathers increased from about 350,000 to 2.1 million — about 3 percent of all U.S. children. Further, men with a criminal record often experience reduced earnings and employment after prison, and housing insecurity and behavioral problems in children are hardships strongly related to fathers' incarceration, according to the report.
"Prisons are part of a poverty trap, with many paths leading in, but few leading out.
"Another major consequence of high rates of incarceration is their considerable fiscal burden on society, the report says. Allocations for corrections have outpaced budget increases for nearly all other key government services, including education, transportation, and public assistance. State spending on corrections is the third highest category of general fund expenditures in most states today, ranked only behind Medicaid and education."
IT JUST DOESN'T WORK
Which would all be fine an dandy if we were living in relative safety, which we're not.
"The report concludes that the increase in incarceration may have caused a decrease in crime, but the magnitude of the reduction is highly uncertain and the results of most studies suggest it was unlikely to have been large.
"In addition, the deterrent effect of increases in lengthy prison sentences is modest at best. Because recidivism rates decline significantly with age, lengthy sentences are an inefficient approach to preventing crime, unless they can specifically target high-rate or extremely dangerous offenders."
The study was paid for by the National Institute of Justice and the John D. and Catherine T. MacArthur Foundation, and the National Research Council review team included: chair Jeremy Travis, President, John Jay College of Criminal Justice, City University of New York; Bruce Western (vice chair), Professor of Sociology and Daniel and Florence Guggenheim Professor, Director, Malcolm Wiener Center for Social Policy, Kennedy School of Government, Harvard University; Robert D. Crutchfield, Professor, Department of Sociology, University of Washington, Seattle; Tony Fabelo, Division Director, Research Justice Center, Council of State Governments, Austin, Texas; Marie Gottschalk, Professor, Department of Political Science, University of Pennsylvania; Craig W. Haney, Distinguished Professor, Department of Psychology, University of California Santa Cruz; Ricardo H. Hinojosa, Chief Judge, U.S. District Court, Southern District of Texas; as well as other experts from Brown University, Princeton, New York University, Rutgers, Carnegie Mellon , Harvard, Temple, University of Minnesota, and University of Southern California.
The National Academy of Sciences, National Academy of Engineering, Institute of Medicine, and National Research Council make up the National Academies. They are private, independent nonprofit institutions that provide science, technology, and health policy advice under a congressional charter granted to NAS in 1863.