The knock against California cuisine has always been that it relies so heavily on the state's great agricultural bounty that chefs can get away with not really learning how to cook — that "rustic," as one prominent Bay Area chef tweeted recently, can too easily become a synonym for lazy. Having eaten enough proverbial beet-and-goat-cheese salads to last a lifetime, I can affirm that there's some validity to this critique. But at least a couple times a year, I happen upon a restaurant that reminds me of why California-style cooking — in all of its glorious simplicity — can be so great.
Funny that it would come at the hands of a relative newcomer to the Bay Area. John Griffiths — the chef at The Advocate, a new restaurant in Berkeley's Elmwood district — is a Michigan native who spent most of his career cooking in St. Louis. His last gig was as the head chef at The Kitchen, a "demonstration-style" fine-dining restaurant in Sacramento, where Griffiths was tasked not only with preparing a high-end five-course tasting menu every night, but also maintaining a steady, mic'ed-up banter with diners over the course of a four-hour meal. It was intense. "I wanted to get back to something more rustic — more of the moment, more relaxed," he said.
It's easy, then, to see why a place like The Advocate would appeal to Griffiths. The kitchen team, whose handiwork you can observe from the cozy, four-stool chef's counter, tends toward quiet contemplation. And while I did see one line cook pull out a pair of tweezers when plating a dish, the plates are stylish yet relatively unfussy — rustic, as Griffiths would say. Cocktails — like a purple concoction called the Microclimate, which my server likened to a health juice — are balanced and carefully crafted, but seem more wholesome than flashy. And while the menu features a smattering of North African and Middle Eastern flashes to keep things interesting, nothing is meant to push the envelope or to be overtly esoteric.
In the absence of a catchier narrative hook, let me just say this: The Advocate serves straightforward California cuisine and does it very, very well — better, in fact, than just about any other restaurant I've visited in the East Bay this year.
Similar to Penrose (Charlie Hallowell's fire-centric, North African-inspired restaurant in Oakland), The Advocate serves a selection of flatbreads, which sets the place apart from the area's deluge of pizza-heavy Cal-Italian restaurants. Made with a long-fermented dough, these flatbreads developed a surprising crunch and a gorgeous, leopard-spotted char from the wood-fire grill. While there were topping options that skewed toward the Middle East, the one I picked — sweet confit cherry tomatoes, basil, and burrata cheese — pretty much made for the most Californian pizza ever, flatbread designation notwithstanding.
Another appetizer of chickpea "fries" was perhaps the best rendition of this dish that I've had — more tender and less starchy than other versions, with a delicate, custardy interior that reminded me of a steamed egg or silken tofu. Each rectangular chickpea-flour cake had been infused with the juices and chopped-up flesh of cooked clams, so that each bite offered a little taste of the ocean.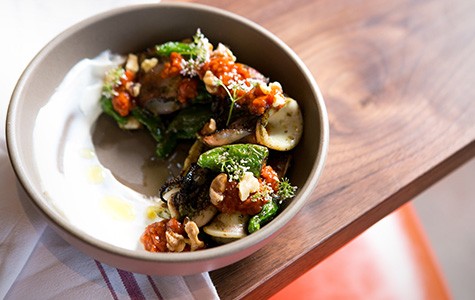 My favorite bite of all was the relatively pedestrian-sounding chicken liver toast, which my server convinced me to order despite my antipathy for the sadly over-toasted glorified crackers that so many restaurants list on their menu as "crostini." This was something different: a thick slab of wood-grilled levain, cut on a diagonal, with a smoky, charred-edge crunch and a soft, tender interior. On top was a pink, luxurious smear of whipped chicken-liver terrine, and, on top of that, a kind of salad consisting of almonds, charred herbs, and Bronx grapes — a tiny, intensely sweet varietal. It was wonderful. And if this is the savory, dinner-time analog to "$4 toast" (priced very reasonably at $8, I should say), then I can only hope the trend spreads far and wide.
None of the above dishes would feel the least bit out of place at Chez Panisse or Pizzaiolo or any of the other old-guard Cal-cuisine dining institutions. By design, the North African and Eastern Mediterranean flavors are more of an accent than a focal point — a way for Griffiths and his team to play around with interesting spices without laying any kind of claim on authenticity. A side of crispy potatoes was notable for its green-olive purée accompaniment, which evoked the flavors of a North African tagine — but even more so for the way the potatoes were infused with a smokiness that reminded me of kielbasa sausage. And a bowl of tender, smoky grilled squid was all the more delicious for having been topped with dabs of Griffiths' version of muhammara, a spicy and tangy Syrian red-pepper dip thickened with chopped walnuts.
As is often the case at restaurants of this ilk, the entrées tended to be slightly less exciting than the smaller plates. The slow-roasted pork shoulder, for instance, featured the very by-the-book marriage of pork and cooked fruit — roasted pluots, in this case — which was enjoyable enough, except that the meat was a touch too lean and dry. The chicken leg "al mattone" was much better: the leg had been deboned, flattened, and cooked — not literally under a brick, as the Italian name suggests, but instead beneath a couple of heavy skillets — until the skin crisped. Really, though, the chicken was more of a blank canvas for all of the other flavors on the plate: a bed of rich, oozy polenta and, arranged in a ring around the edge of the plate, an array of sauces and vegetables that included harissa (the Tunisian chili paste), ginger-grapefruit relish, grilled summer squash, soft-cooked sweet red peppers, and charred spinach. As I dipped and dabbed each forkful of meat, no two bites were the same.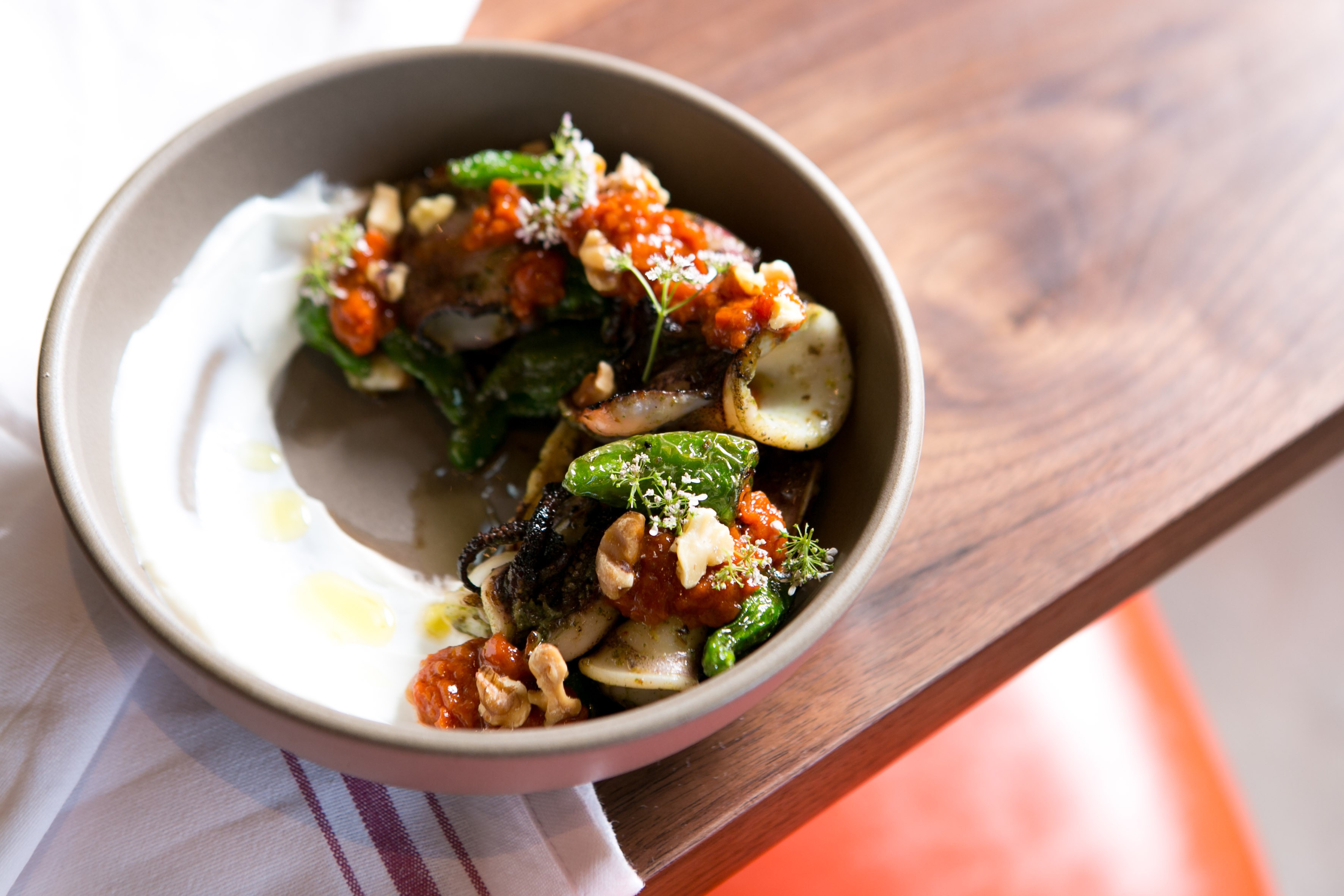 Say what you will about owners John Paluska and Andrew Hoffman (the folks behind Comal in downtown Berkeley), but damn if those guys don't know how to put together a handsome restaurant. Located in a former auto repair shop, The Advocate feels like a cross between a ski lodge and a church — high ceilings, skylights, and lots of exposed wood. Most of the tables are arranged, pew-like, in one long row that goes up the center of the restaurant toward the open kitchen in back, where flames shoot up several feet in the air through the grates of the wood-fire grill. Like Comal, The Advocate has a state-of-the-art noise-dampening system that makes it possible for diners to carry on a conversation using their "indoor" voices, even when the restaurant is at its buzziest and most-packed. (Another point in common with Comal: an automatic 20 percent service charge in lieu of tipping.)
All of which is to say that The Advocate is an exceedingly pleasant place to spend an evening — all the more so because, just two months after opening, the kitchen appears to be hitting on all cylinders.
One last sweet note: The olive oil cake was one of those modern-looking compositions that tend to dominate dessert menus at upscale American restaurants these days — the cake itself broken into bite-size chunks, served over a bed of sweet poached peaches interspersed with jagged shards of almond meringue that stood upright. It all tasted very good, but the best part of the dish was a quenelle of peach-leaf gelato that was made, Griffiths later told me, by steeping a large number of leaves in cold cream. As it turns out, peach-leaf gelato tastes almost exactly like almond tofu — proof, at the end of a meal that abounded with similarly delightful examples, that when a skilled chef cooks very simply, but thoughtfully and with great ingredients, the results can be nothing short of magical.