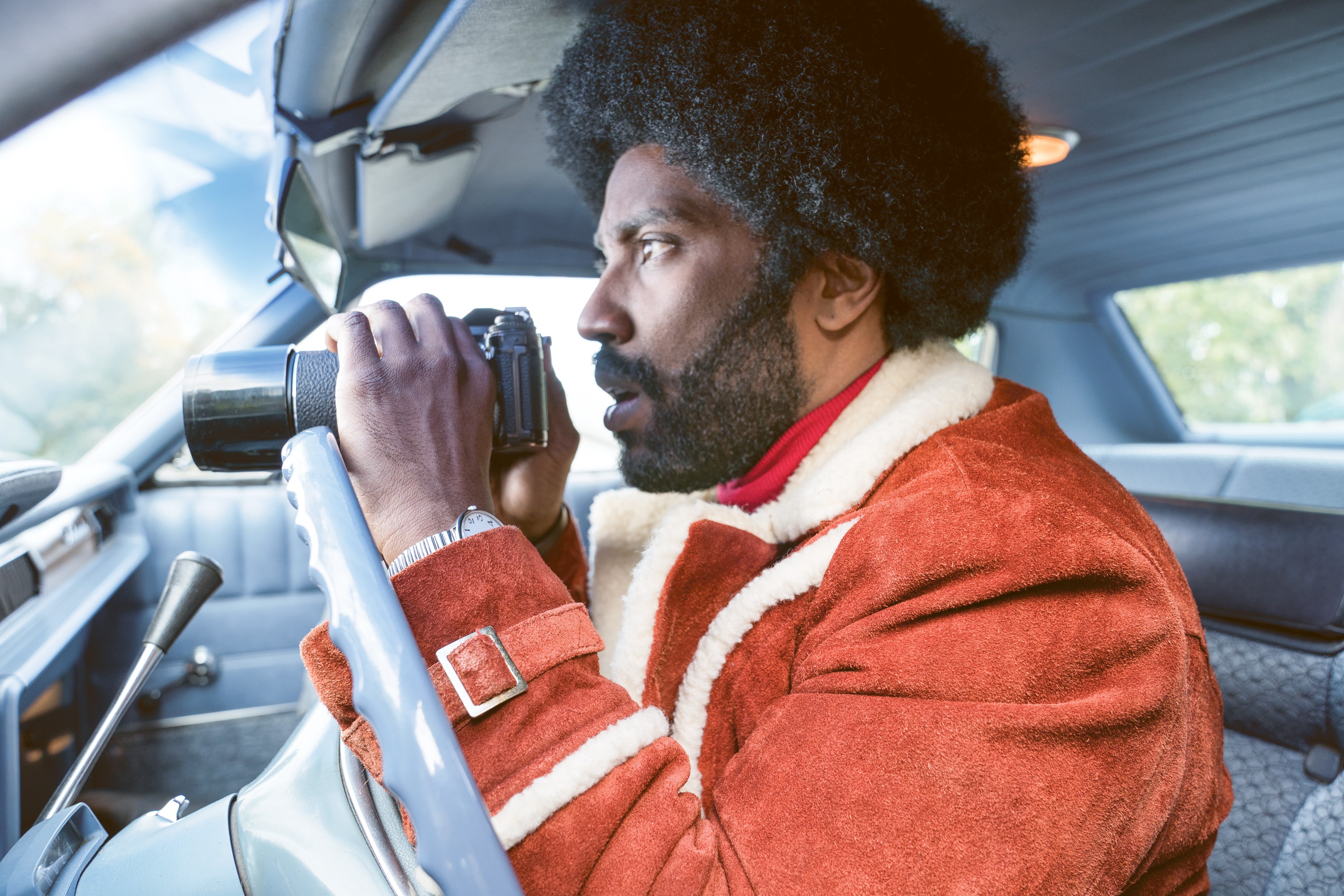 Too many movies, or not enough? 2018 has been a banner year for quality screened entertainment. It's as if all the filmmakers in the world were saving their best work for just this occasion. As a result, it's more difficult than usual to pick a formal roster of the "10 Best Movies" from such a surfeit of worthy candidates — the subject is too diffuse to adequately manage in one long list. So we've broken up the discussion into clusters (see below). In the long run, there is no such thing as too many good movies.
The past year is also notable as the time when the long-anticipated "multiple platform" release framework fully came into operation. Meaning that our favorite film might have played in a traditional brick-and-mortar theater — the hallowed "shared entertainment experience." Or been released online for streaming, or shown on cable TV, or sent straight to home video on disc (Blu-ray, DVD). Or it might have popped up on YouTube. Or any combination of the above.
More platforms mean more films. More films than any one human reviewer can process — although we are looking forward to reading robot reviewers in the brave new future. (Hah! Good luck with subjective meaning and value judgments, critbots.) According to The-Numbers.com, 1,209 films were released in the US and Canada in 2018. So, gentle reader, please take this year's roundup of noteworthy films not as the ultimate, iron-clad listing of the best movies, but as more of a starting point for inquiring cinemaniacal minds — something to chew on over a cup of holiday cheer with fellow film fanatics, or to be devoured along with a tub of popcorn at the multiplex. We may like to imagine we've already seen the finest movies out there, but it's flatly impossible to see everything.
In the meantime, old habits die hard. Everyone loves a list — anyone who says they don't is not to be trusted. To jump-start the critical nitpicking, here's the traditional-style list of the "10 Best Movies of 2018," in alphabetical order:
At Eternity's Gate
The Ballad of Buster Scruggs
BlacKkKlansman
Blindspotting
Cold War
The Death of Stalin
The Favourite
First Reformed
If Beale Street Could Talk
Roma
For the record, I reviewed (or will review) all of the above pics at length in the pages of the Express. Paul Schrader's First Reformed is the one that got away (I was on vacation), but I caught up to it.
It cannot be overemphasized that the 2016 Oscars So White protests and the movie industry's reaction to them elevated the quality of popular entertainment in this country. Piggybacking on such provocative 2016 and 2017 releases as Raoul Peck's I Am Not Your Negro, Barry Jenkins' Moonlight, Don Cheadle's Miles Ahead, John Ridley's Let It Fall: Los Angeles 1982-1992, Dee Rees' Mudbound, and Jordan Peele's Get Out, a wave of African-American writing, directing, and acting talent washed over American screens in 2018.
First and foremost in that wave is If Beale Street Could Talk, writer-director Jenkins' poignant, utterly gorgeous adaptation of James Baldwin's 1974 novel about the romance between a young Black man (played by Stephan James) and woman (KiKi Layne) in Harlem. My review of If Beale Street Could Talk can be found in my regular space in this issue. Aside from the blanket recommendation to always see every film that has Baldwin's name attached to it, here's some advice: Take the time to examine it frame by frame. It's that good.
Spike Lee, of course, has been conducting his own Let's-Make-More-Black-Films campaign ever since Joe's Bed-Stuy Barbershop: We Cut Heads in 1983. BlacKkKlansman is one of his very best, right up there with Malcolm X and Do the Right Thing. Lee's new film has all the makings of one of the funniest, bitterest, most socially conscious comedies of all time, but the inserts — a well-timed sprinkling of archival and newsreel images from this country's shameful past — leave no doubt about the real-world, 21st-century thrust of this true story, one Black man's mission to stop the KKK from having its way in his city. Lee won the Best Director award from the San Francisco Film Critics Circle two weeks ago, with he and collaborators also picking up the award for Best Adapted Screenplay, and Terence Blanchard honored for Best Original Score.
Carlos López Estrada, Daveed Diggs, and Rafael Casal's Blindspotting should hold a special place in the minds of anyone who has ever lived or worked in the East Bay. Police brutality, rampant gentrification, cultural appropriation, tribal one-upmanship, the never-ending need for street cred, the urban arms race, and the cariño of East Bay homies (Black, white, Latinx, etc.) for their kids and their best buddies all get their due in Blindspotting. The only pertinent Oakland issue left out of Diggs and Casal's ultra-Oaktown screenplay is the twin question of how hard to kick out the Raiders while hanging onto the A's.
Boots Riley's splendidly hallucinatory riff on another Oakland scenario, Sorry to Bother You, is audacious and imaginative enough to have made the 10 Best list in any year but this one. (We've concocted our own list of similarly "overlooked" flicks, further down the page.) But Riley's invigorating satire, plus the playing of actors Lakeith Stanfield and Tessa Thompson, deserve celebration. They're Black voices that until now haven't broken through to the mainstream very often. We could say much the same about Ryan Coogler's landmark Black sci-fi extravaganza Black Panther, far and away the highest-grossing film referenced here. Or George Tillman's The Hate U Give. Or Reinaldo Marcus Green's Monsters and Men, or Steve McQueen's Widows, or Yann Demange's White Boy Rick. Or Justin Simien's highly entertaining Dear White People on Netflix. All of the above truly matter.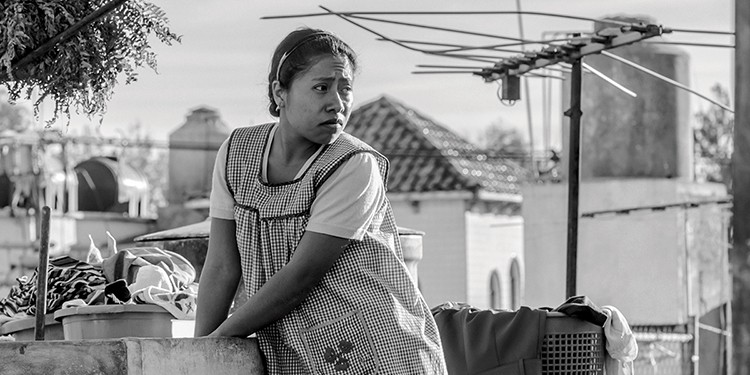 On the subject of Alfonso Cuarón's magnificent Roma, the reason it resonates so strongly with audiences is the same reason all of his films seem so uncannily familiar and yet so startlingly original the first time we lay eyes on them. Cuarón is taking us on a tour of the human condition. As seen through his humanistic lens, the story of the family and their housemaid in 1970s Mexico City is of a piece with, say, the dystopian vision of Children of Men or the hopes and dreams of A Little Princess. Even Gravity's outer-space life-and-death adventure is not exempt from Cuarón's pessimistic yet compassionate plea for life-affirming solidarity in the face of chaos. Here's a little experiment: Watch Roma with the sound off. You'll discover a marvelous silent movie, with none of the plot nuances missing. It reminded us of F.W. Murnau's Sunrise.
A similar spiritual inspiration flows through First Reformed, writer-director Paul Schrader's profound character study of a tormented clergyman (Ethan Hawke, in one of the year's most indelible performances). Schrader, the narrative force behind Taxi Driver, Raging Bull, American Gigolo, Mishima, and The Last Temptation of Christ, never seems to stray very far from the concerns of his cinematic avatars Yasujirô Ozu, Robert Bresson, and Carl Theodor Dreyer. First Reformed is a case in point, an American story with a Scandinavian tilt.
Actor Willem Dafoe portrayed Jesus Christ for writer Schrader and director Martin Scorsese, and now in At Eternity's Gate he tackles another iconic seeker, Vincent van Gogh. A visual and thematic kaleidoscope by artist-turned-filmmaker Julian Schnabel, the portrait of the legendary but notoriously mixed-up Dutch painter throws in everything but the kitchen sink in visualizing Van Gogh's overheated point of view. Schnabel's excesses suit Van Gogh's ecstatic breakdowns perfectly, and Dafoe further cements his reputation — in the wake of The Florida Project and umpteen other complacency-destroying roles in such films as Platoon, Antichrist, Shadow of the Vampire, and Streets of Fire — as one of the world's foremost portrayers of beautiful losers. The screenplay, by veteran cinéaste Jean-Claude Carrière, Louise Kugelberg, and director Schnabel, is every bit as quirky as Dafoe's impersonation. It bears up to repeated viewings.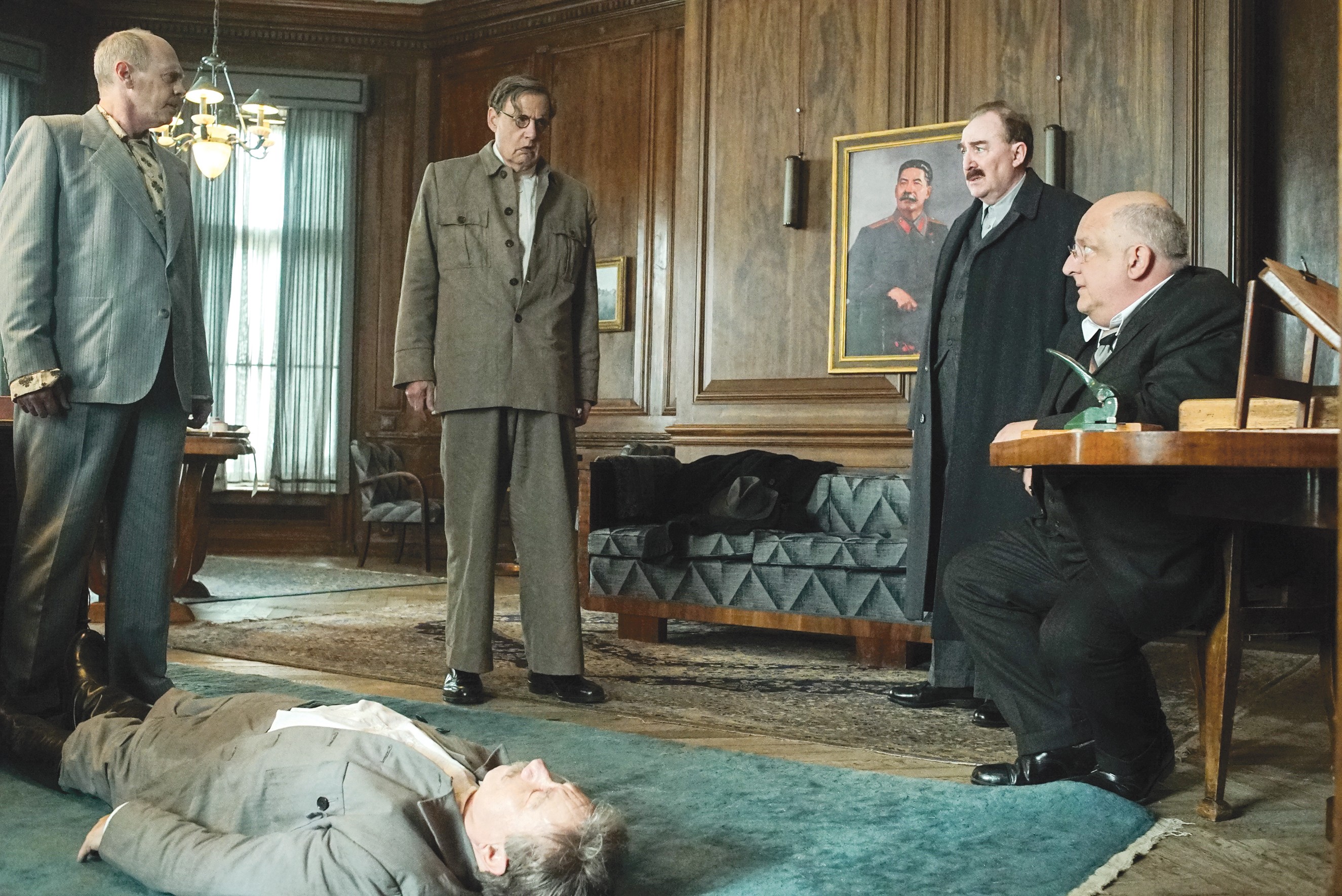 As the only film this year to transform the terror of Joseph Stalin's Soviet Union into a witty sitcom, The Death of Stalin is unique. Thrill to the antics of Stalin's fellow gremlins in the Kremlin. Cringe at the specter of NKVD torturer-in-chief Beria (Simon Russell Beale). Guffaw at the bumbling of Khrushchev (scene-stealing Steve Buscemi) and Malenkov (Jeffrey Tambor). Howl at Michael Palin's way with chicken-hearted bureaucrats like Molotov. Any resemblance between then and there, and now and here, is undoubtedly intentional in the hands of director Armando Iannucci and his crack team of writers, David Schneider, Peter Fellows, and Ian Martin, adapting a French comic book (!). Watching Scotland native and comic genius Iannucci (Veep, The Thick of It) make fun of the world's worst political thugs is an intelligent treat. That's why he's on this list.
Ah, the bad old days! The Coen brothers' The Ballad of Buster Scruggs and Yorgos Lanthimos' The Favourite take us there and make us laugh. Or rather, make us scratch our heads in wonder at the things we're witnessing. The Coens, with the posthumous help of author Jack London (he wrote the short story on which the Tom Waits episode, "All Gold Canyon," is based), take us deeper into the scruffy weirdness of the Old West than their True Grit ever dared. Lanthimos, meanwhile, gets ideal character acting from Olivia Colman, Rachel Weisz, and Emma Stone in order to show just how absurd the 18th-century British Empire was in the court of its monarch, grumpy ditz Queen Anne (Colman). Both films — richly decorated, lit, and photographed, and peopled by large casts of grotesques — somehow make us glad we're safely past all that. Or are we?
Pawel Pawlikowski's Cold War may indeed be the most wonderful film of the year, but we're not going to talk about it now, other than to say it makes us want to dig more deeply into contemporary Polish film, of which Pawlikowski (maker of 2013's Ida) is a leading talent. We'll review Cold War when it opens here, Jan. 18.
But enough of this "Top 10" stuff. As previously hinted, this year there were so many good films we needed a Best Movies, Part 2. Here they are, in alphabetical order:
The aforementioned Coogler's Black Panther, for comic book superhero fans who always felt something was missing. Lee Chang-dong's Burning, a treacherous South Korean love triangle drenched in style. Tillman's previously cited The Hate U Give, because it can never be stated enough that Black lives matter. Debra Granik's Leave No Trace, a story for our times, about a father and daughter living off the grid. The aforementioned Green's Monsters and Men, a necessary dramatic gloss on the meaning of Ferguson.
Also: Matthew Heineman's A Private War, the true-ish story of a war correspondent, with actor Rosamund Pike in one of her strongest performances. Chloé Zhao's The Rider, a near-documentary narrative profile of a South Dakota rodeo rider at a turning point. Hirokazu Kore-eda's Shoplifters, yet another empathetic Kore-eda portrait of the Japanese people most films don't show us. The previously discussed Sorry to Bother You, this year's trippiest, most scaldingly satirical portrait of African-American life, set in an Oakland one step away from the present. Paul Greengrass' 22 July, a dramatization of a horrendous Norwegian terrorist incident by the veteran political thriller maker who gave us Captain Phillips, United 93, The Bourne Supremacy, and Bloody Sunday. (Burning, A Private War, The Rider, Shoplifters, and Sorry to Bother You were all long-reviewed in this newspaper.)
The following documentaries stood out for their audacity and sheer entertainment value, as well as for their shared contrarian conscience: Heather Lenz's Kusama – Infinity, an impressionistic profile of Japanese avant-garde artist Yayoi Kusama, whose visions literally drove her crazy. Nathaniel Kahn's in-depth study of the state of contemporary art, The Price of Everything, a pull-no-punches investigation of the economic and societal forces behind today's astronomical art prices. And the third in this "art and artists" trio (all previously reviewed in these pages), filmmaker Sasha Waters Freyer's Garry Winogrand: All Things Are Photographable, a zesty profile of the late street photographer and his lasting influence.
Two hard-hitting docs for news junkies: Kimberly Reed's Dark Money, a sobering study of rightwing political dirty tricks in the state of Montana, and Jack Bryan's Active Measures, which spells out for all time the connection between Donald Trump and Vladimir Putin's Russia in the 2016 presidential election. Plus two more for history lovers: German writer-director Rüdiger Suchsland's eye-opening illustrated cinematic essay on the propaganda films of the Third Reich, Hitler's Hollywood; and They Shall Not Grow Old, the ground-level story of the British Army experience in the muddy, bloody trenches of World War I's Western Front, with remarkable original footage. It's directed by Peter Jackson (Lord of the Rings).
Someday, there will be no distinction made between theatrical movies, streaming, or any other delivery method. All screened entertainment will be equal — to exhibitors, award-granting academies, information outlets, and advertisers, as well as to the folks who put their butts in the seats. Until that day, we'll have to put up with categorizing and qualifying a piece of work such as Babylon Berlin, a 17-part German TV production — created by Tom Tykwer (Run Lola Run), Volker Bruch, and Peter Kurth — that shows what happens to a Weimar-era police detective who learns too much, too late in history's most tantalizing sin city. Babylon Berlin is on Netflix. It's a masterpiece. You should see all the films listed above, in any order you want, but save room for the ones that try to slip by, under-advertised, obscure, hard-to-pigeon-hole. That's where the flavor is. Happy New Year!

---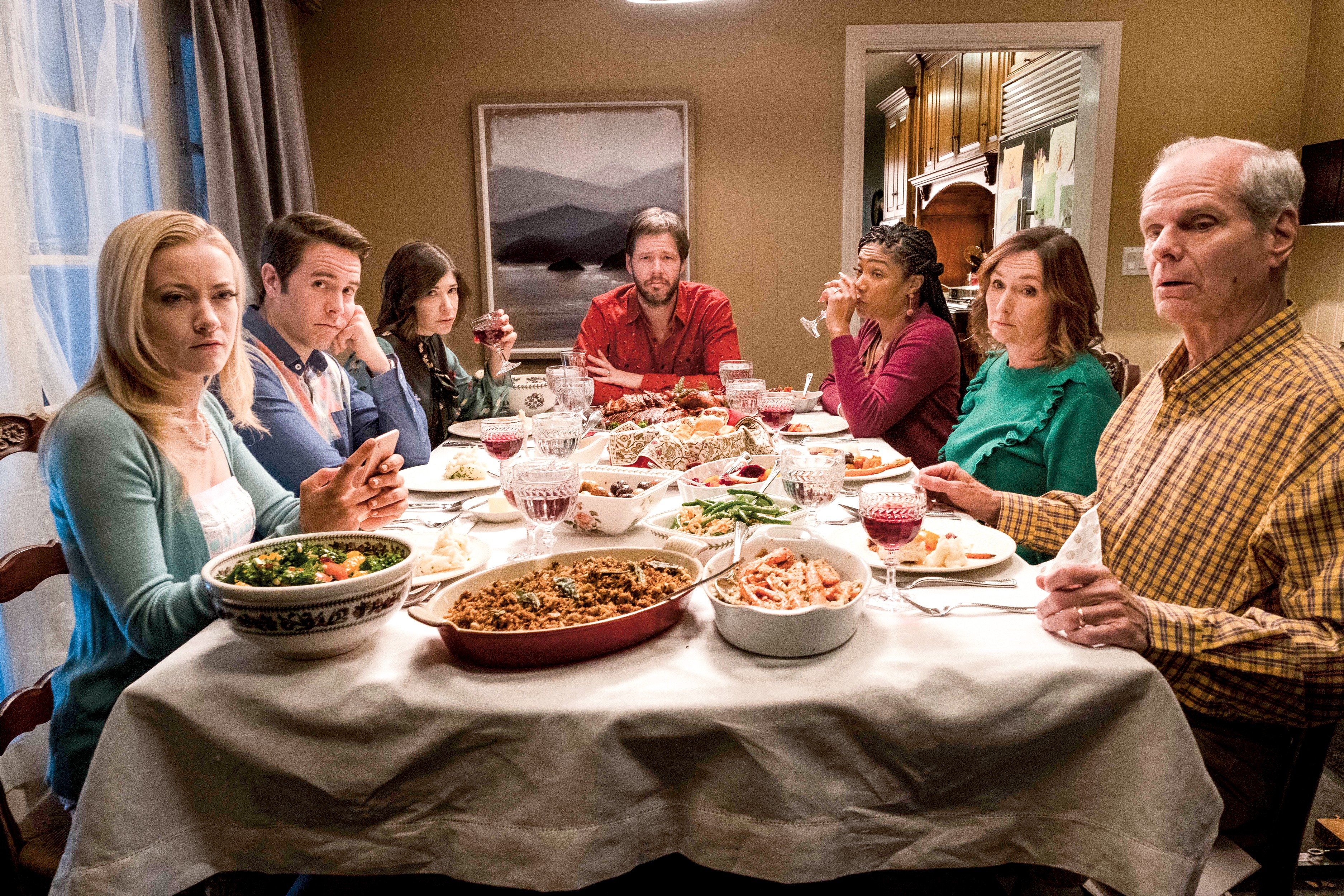 Honorable Indie Mentions
Bitter Melon
: San Francisco's H.P. Mendoza, the poet of the fog belt (
Colma: The Musical
;
Fruit Fly
;
I Am a Ghost
), obviously had this Filipino-American family melodrama in him, and it had to come out. A strong contender — alongside The Oath — for honors in the Most Hideous Family Holiday Dinner category.
Chained for Life
: Writer-director Aaron Schimberg's thought-provoking movie-people drama shows the effect a disfigured leading man (played by British actor Adam Pearson) has on a low-budget film company's location shoot. Lots more here than meets the eye.
Destroyer
: Karyn Kusama's (
Girl Fight
) 2018 crime thriller is still awaiting its theatrical release in the Bay Area (it's scheduled for a Jan. 18 opening here), but Nicole Kidman's role as a bent cop with a dirty past is already the stuff of legend. Wait for our review.
El Angel
: This true-crime yarn coolly, unflappably depicts the career of a baby-faced thief and home invader named Carlos Robledo Puch, whose exploits in 1970s Buenos Aires earned him the nickname the Angel of Death. It's as neat and brutal as we could ever hope for in a neo-noir, with a startling performance by Lorenzo Ferro, under the stylish direction of Luis Ortega.
Mid90s
: In his feature film debut, Jonah Hill — yes,
that
Jonah Hill — writes and directs his fool head off in the story of a shrimpy 13-year-old Los Angeles boy and his trusty skateboard coming of age in the title era, which looks and feels like about 200 years ago. Young actor Sunny Suljic himself is an enigma — he appears to be a true untrained "natural," but
Mid90s
is his 10th screen appearance.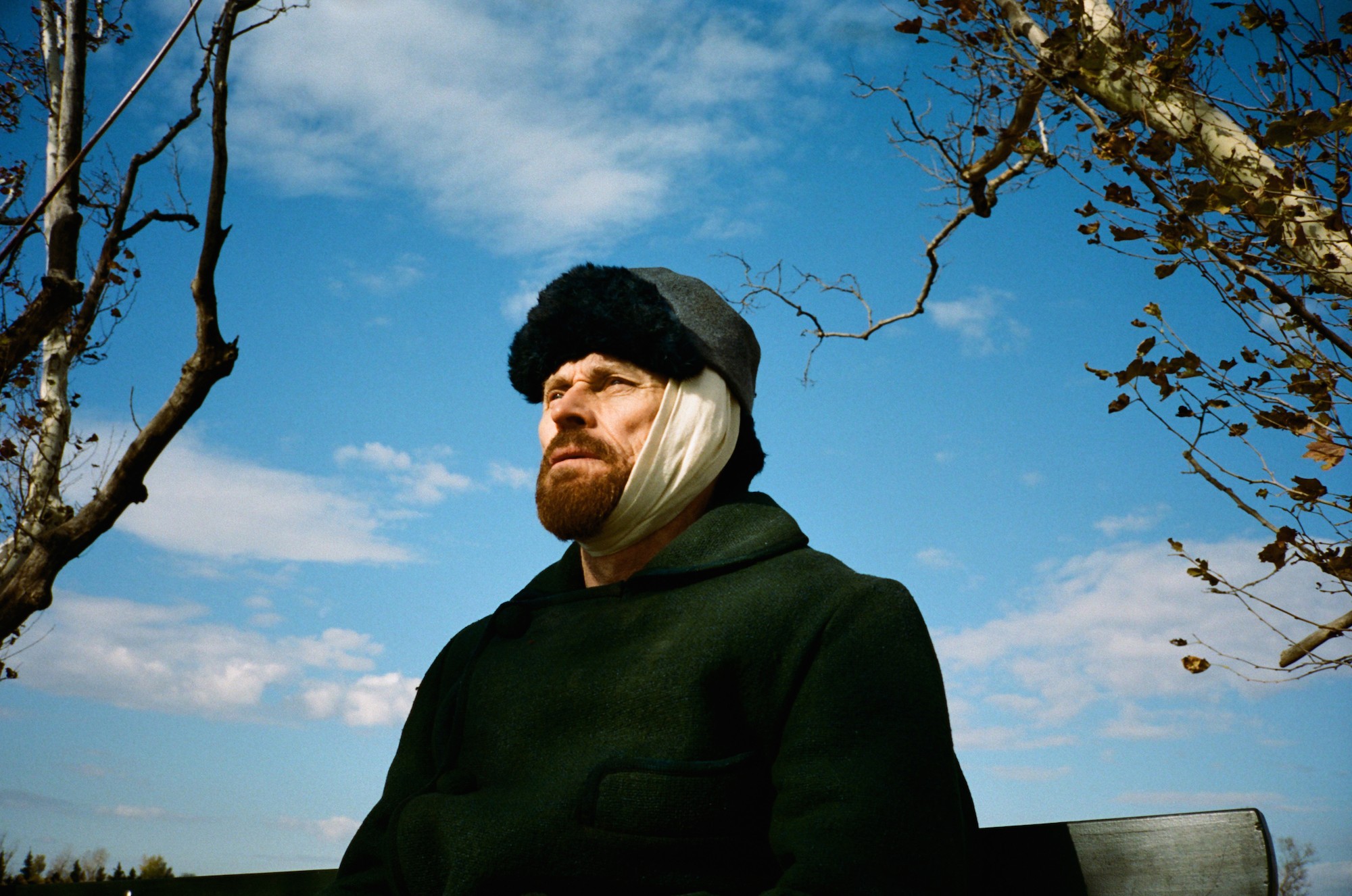 The Oath
: As reviewed in an earlier issue of the Express, actor-turned filmmaker Ike Barinholtz's energetic political satire starts off as a harmless family sitcom, then zig-zags into a no-holds-barred dispatch from the epicenter of America's culture wars. Barinholtz and Tiffany Haddish lead a spirited cast into the eye of the Trump-era home-front hurricane.
Suspiria
: Surrealist grand-daddy André Breton once declared: "Beauty will be convulsive or not at all." Director Luca Guadagnino (
Call Me by Your Name
) takes that advice seriously in the twisted tale of a young ballerina (Dakota Johnson) and her hellish debut in a Berlin dance troupe, adapted from Dario Argento's 1977 horror pic of the same name. The all-grotesque supporting cast includes Tilda Swinton, Chloë Grace Moretz, Mia Goth, Angela Winkler, Ingrid Caven, 1977's leading lady Jessica Harper, Sylvie Testud, and Renée Soutendijk. A genuine mindbender.
White Boy Rick
: First-time actor Richie Merritt burns a hole in the screen as the title character, a Detroit teenager up to his eyeballs in the dope trade, circa late 1980s. And that's changeling thesp Matthew McConaughey right behind him as Rick's none-too-law-abiding dad. It's a peppy, ultra-violent actioner, courtesy of writers Andy Weiss, Noah and Logan Miller, and director Yann Demange, who knows his way around tough neighborhoods (he made the Belfast "troubles" thriller '71).