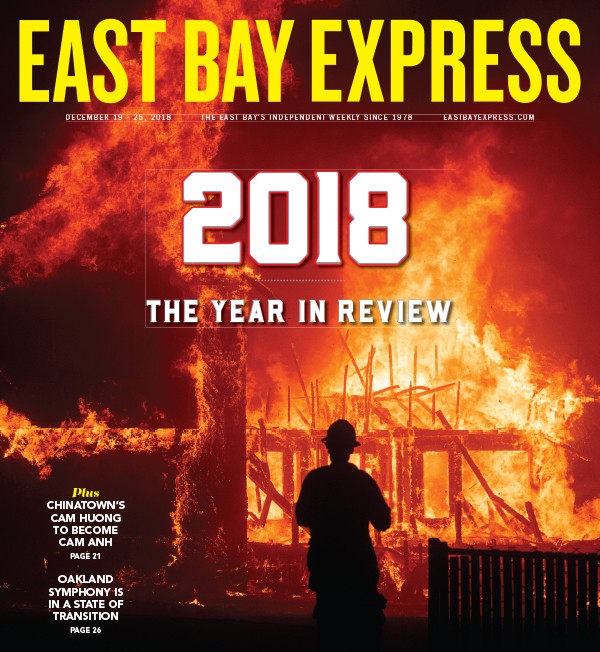 "Where's the Affordable Housing?" Year in Review, 12/19
Yes to More Homes!
Everywhere we turn, people are talking about California's housing crisis. And it's not hard to see why: With Bay Area job growth outpacing housing growth by 7-1 since the recession, Bay Area rents and home prices have skyrocketed.
Too many of us know the struggle of searching and searching for an affordable place to live or watching our friends move farther and farther away. Our local governments seem unable to rise to this challenge.
Fortunately, our own state senator, Nancy Skinner, is supporting some great solutions at the state level. Her Senate Bill 18 would help tenants across the state avoid eviction through access to legal counsel. And she's supporting SB 50, the More HOMES Act, to facilitate the creation of millions of new homes where we need them most: near quality transit and good jobs.
It's time we took action that matched the scale of our crisis by saying yes to more homes!
Aaron Eckhouse
"Oakland Goes Hollywood," Year in Review, 12/19
Overlooked Bugs
Ant Man and the Wasp was set in San Francisco, and it looked like a couple of scenes were shot or set in downtown Oakland — anyone else notice this?
Alan Lopez
"The Town's Gem," Feature, 12/12
Not a One-Stop Shop
I agree, Fruitvale is a gem. It's a great place to eat delicious Mexican food, enjoy joyful festivals like Día de lxs Muertxs and Cinco de Mayo, buy weaving threads and maybe a huipil from one of the Guatemalan Mayan-owned stores, stroll down E. 14th Street, see friends, and have a great time. I adore Fruitvale (which, BTW, used to be its own city before it was swallowed up by Oakland) .
There is one problem with the article though: the author states, "Fruitvale is a one-stop shop, a neighborhood where you can find everything you need." Not true. Yes, you can buy quinceañera dresses, auto parts, shoes, cellphones, cosmetics, jewelry, cigarettes, alcohol, pirated DVDs (on the street), housewares, diapers, clothing (including handwoven traditional Mayan-wear at the aforementioned Mayan stores), food every which way you turn, etc. But there is one thing you cannot buy here: books.
Try putting "bookstores" in Fruitvale on Yelp.com. You'll come up with stores in Alameda, the Laurel district, downtown, even San Francisco. But nary a one in Fruitvale. Sad but true, bookstores don't make it down here. A young Mexican immigrant tried some years ago. He opened a bookstore called Coyoacán, named for the neighborhood where Frida Kahlo was born. Sales were so low he couldn't make the rent. He moved in with a hair salon, renting a tiny corner of it, to save costs. I used to go there to check out the books in Spanish and support him, and I found some great stuff. But alas, the unfortunate truth is that this barrio just didn't go for a bookstore, and sadly, he had to close down even the little corner he'd settled for.
I'm afraid you can't get photocopies, printer cartridges, or iPads in this area either. It's simply not on the horizon. People in Fruitvale who need these things have to drive some other place to get them.
Otherwise, thumbs up for a great article. I agree, gentrification is a huge problem, and it's a good thing we have groups like Causa Justa to inform folks about rent and eviction control.
Lynnda Ohama
"Can the State Help Oakland's Equity Program?," Legalization Nation, 12/12
Perfect
Taxpayer money … used to help people taxpayer money targeted for selling weed?! Why not?
Karen Denise
"Unpacking Music Festivals," Music 12/12
Classics
Remembering the antipathy, I re-read some of Gina Arnold's columns. I know why I held on to them.
Phil Allen
Correction
The Dec. 12 music story "Bardo Lounge & Supper Club Makes Music a Key Part of Its Vibe" erroneously stated that Oakland piano bar Oscar's closed after a fire in 1954. Oscar's reopened after the fire and didn't close until the 1980s.