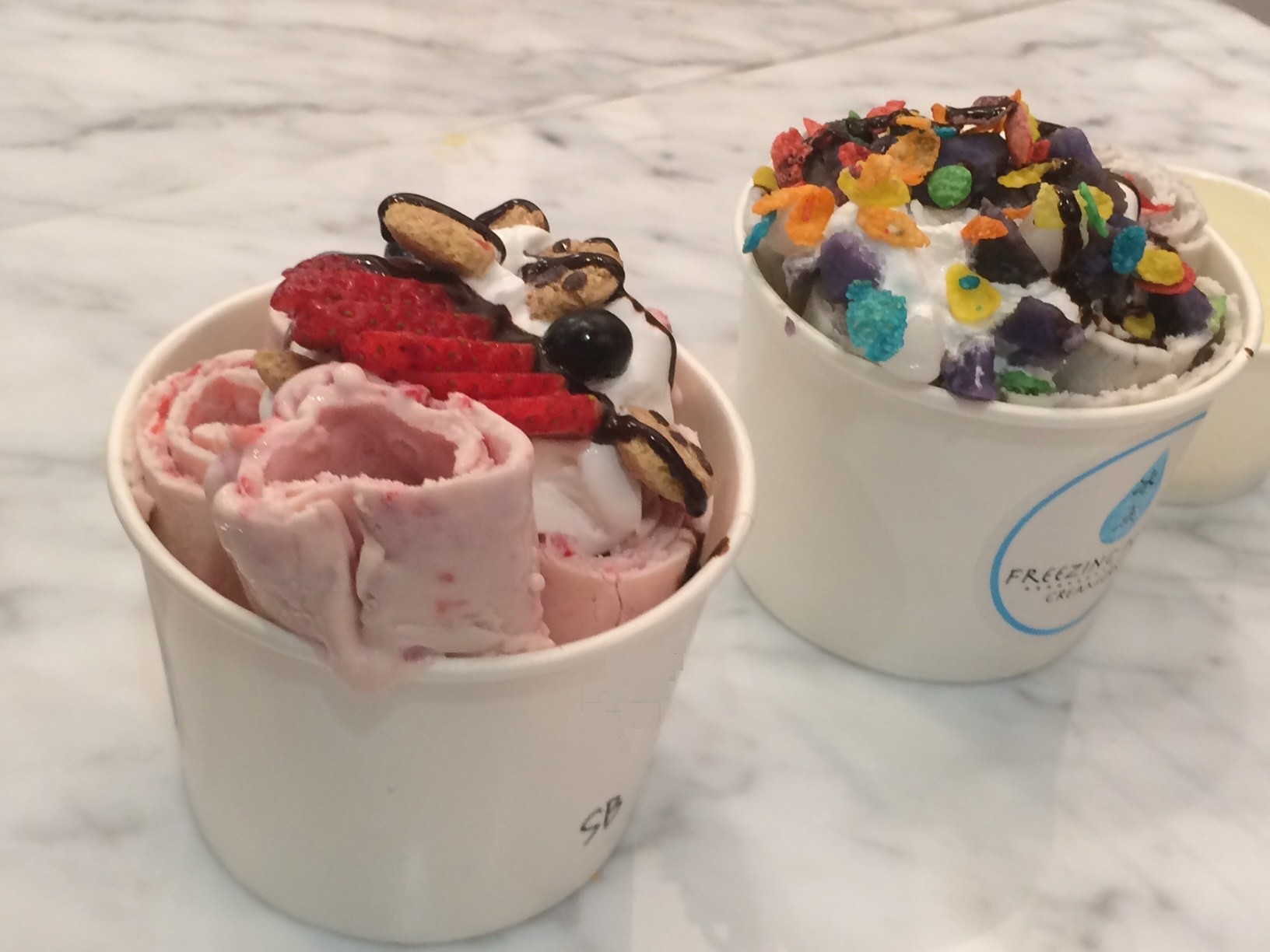 Japan has mochi ice cream. Taiwan has ice cream "burritos" (crepes topped with cilantro and peanut-candy shavings). And in Thailand, street vendors hawk something called the ice cream "roll" — a thin layer of ice cream that gets scraped up in a way that forms tight coils roughly the size and shape of a Fruit Roll-Up. 
[jump] The ice cream rolls, aka "stir-fried" ice cream, also happen to be the latest Asian ice cream sensation to hit the East Bay, thanks to
Freezing Point Creamery
(349 7th St.), a new ice cream shop that
opened last week
in Oakland Chinatown.
The crowds have already descended. The wait at around 7 p.m. on a Saturday night was well over twenty minutes, in part due to the fact that an order takes at least two or three minutes to prepare — and sometimes quite a bit longer, it seemed, perhaps due to the fact that the store's employees are still getting trained.
Still, the entertainment value of watching the staff make the ice cream rolls is half of what you're paying for. Here's how it works: The person making the rolls pours the liquid ice cream base onto a very cold metal pan, which immediately starts to freeze the ice cream. Then, the primary topping you've picked — say, fresh strawberries or an Oreo cookie — gets placed on top and mashed in very finely, the steel scrapers deployed here in a vigorous double-handed chopping motion. The entire mixture gets smoothed out, spread thin, and, finally, scraped into rolls. The whole process is like a cross between making a griddle-chopped cheesesteak (or Japanese teppanyaki) and Cold Stone Creamery. Frankly, it looks exhausting.
[embed-1]
The verdict? The rolls are worth trying at least once for the novelty, but the ice cream itself was just okay. It's a textural thing more than anything else. One of the main reasons that traditional ice cream is churned while it's freezing is to add air to the mix, which helps make the end product creamy, but also somewhat fluffy and light. Because rolled ice cream removes that part of the process from the equation, you wind up with ice cream that's dense and oddly sticky.
That said, there is good reason to make a special trip to Freezing Point: to try their regular, non-rolled ice cream — specifically the house-made Asian flavors, which constituted two out of the eight or so total on offer during my visit. For now, the shop is making an avocado flavor and, most notably, a durian flavor that was easily one of the most memorable scoops of ice cream I've eaten this year.
Are you familiar with durian? The spiky, famously pungent tropical fruit has such a strong odor — which haters liken to rotting flesh or hot trash — that people are forbidden from carrying it on public transportation in many Asian cities. But proponents wax poetic about the fruit's custardy texture and its buttery, cheese-like flavor. Made with fresh durian, Freezing Point's ice cream captures those qualities better than any other durian dessert I've tried. (It also has the telltale smell. Consider yourself forewarned!)
If you head over to Freezing Point during its grand-opening period between now and October 15, you'll get a dollar off each roll or scoop. (The regular prices are $7 and $3, respectively.) Or, if you have the patience, wait a few weeks until the hype, and corresponding lines, die down a little bit.