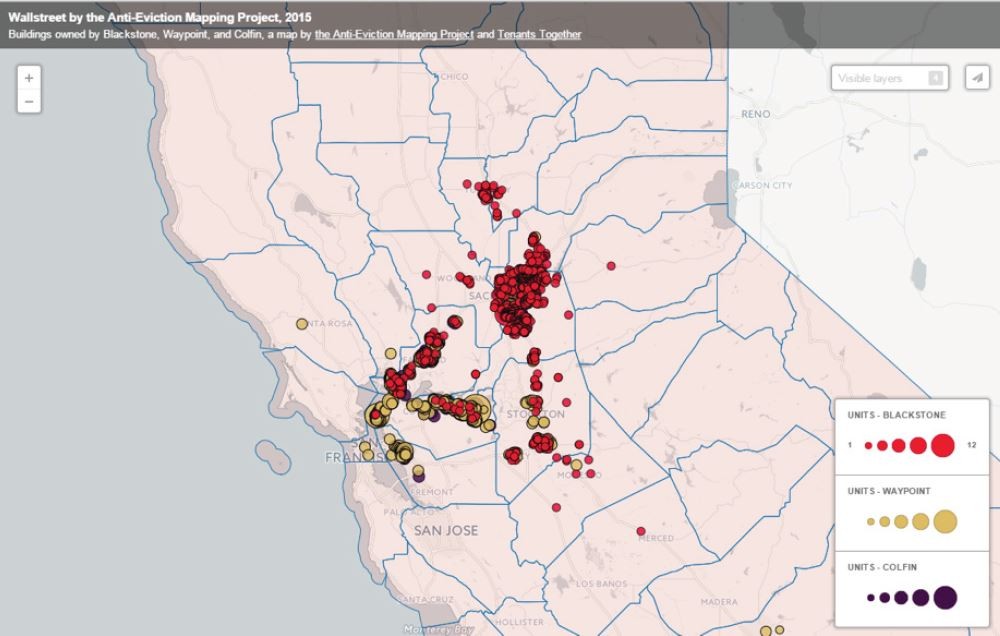 According to a report released today by a California tenant advocacy group, Wall Street-backed corporations, which bought up thousands of foreclosed single family homes in California between 2009 and 2013, are charging renters above-market rents while making shoddy, minimal investments to maintain the vast inventories of homes they control in the greater San Francisco Bay Area.
The report, produced by
Tenants Together
, is based on questionnaires mailed to 5,200 tenants in California homes owned and rented out by Invitation Homes, Colony American Homes, and Waypoint Homes, three of the largest so-called Wall Street landlords.
See also:
The Rise of the New Landlords
[jump] The survey found that most respondents are paying higher rents than tenants who rent similar housing in the same metropolitan areas. The survey also found that 20 percent of tenants feel their landlord is making only minimal repairs, and is unresponsive to requests for service. Thirteen percent of tenants said their housing conditions included mold, rats, lack of insulation, electrical problems, bad plumbing, and other serious issues. And while African Americans account for only 6.6 percent of California's population, they made up 26 percent of survey respondents living in Wall Street landlord housing.
One potential shortcoming of the Tenants Together survey, however, is the low response rate. Although it was mailed to 5,200 tenants, only 72 households responded.
Even so, the report, one of the most significant independent efforts to gather data on the subject, raises serious questions about the business practices of Wall Street's foreclosure-to-rental industry. The foreclosure-to-rental industry sprouted up during the fire sales of foreclosed homes at county auctions between 2009 and 2013. Buying up these inventories of foreclosed, mostly bank-owned single family homes, and renting them out has become a multibillion-dollar gamble for wealthy investors and private equity firms, such as Blackstone and Colony Capital. Some state pension funds have also invested in the industry.
The report concludes that amending the Costa Hawkins Act to allow cities and counties to institute rent control on single-family homes may be necessary. Currently, landlords who rent out single-family homes and condos do not have to abide by rent control measures. The authors of the report also call for greater transparency and regulation of the new industry.
Invitation Homes, Colony American Homes, and Waypoint Homes did not immediately respond to requests for comment.