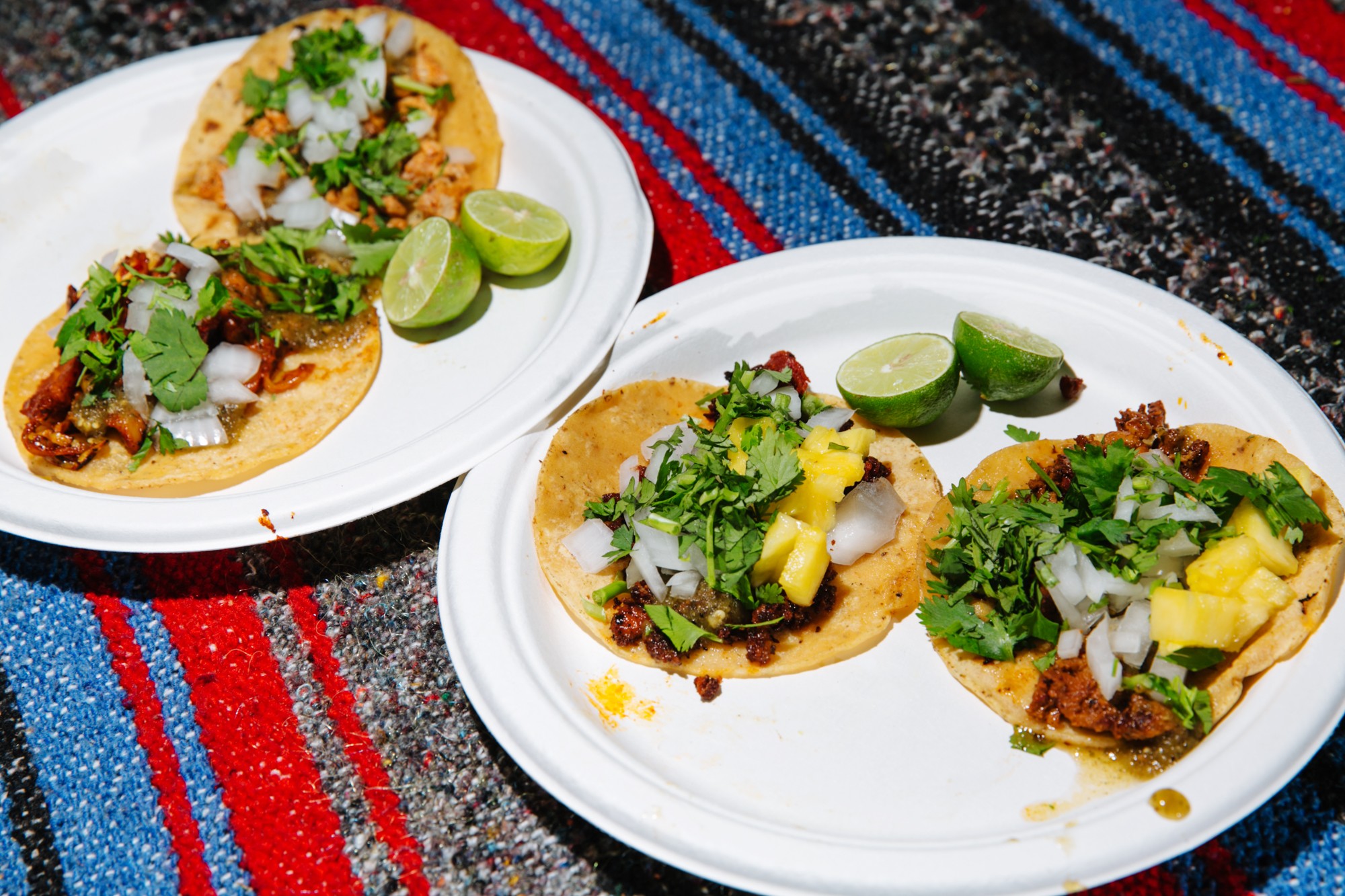 Dominic Prado is no ordinary taco slinger. Originally from the Central Valley, he was incarcerated as a teenager and spent a few years in and out of prison until he was 26. When he got out, he enrolled in a community college and transferred to UC Santa Cruz, and he recognizes that many formerly incarcerated don't have the chance to go to college. "My story is so different," he told the
Express
.
Prado has used his tenacity and entrepreneurial spirit to grow his taco business, which is currently one of the top food stops in the busy Uptown neighborhood. Before starting it, he held short stints at McDonald's, Burger King, and later at farmers' markets, selling organic produce. In Oakland, he's worked at the now shuttered Uptown Juice and at Red Bay Coffee near The Hive.
Through his experiences in the service industry, he discovered that restaurants were his thing. "I like to interact and connect with people," he explained.
And Prado always knew that he wanted to venture out on his own. "In college, I sold vegan burritos at the co-op on campus. I always had entrepreneurial ideas."
He and his friends pooled some money to purchase a grill and, just over a year ago, he opened Tacos El Último Baile, a catering company and taco stand outside The Legionnaire Saloon, which pops up on Friday and Saturday evenings. He remains open until 1:30 a.m., feeding the hungry nighttime crowd.
There is a lot of charm to the stand. When you walk up to the corner of 23rd Street and Telegraph Avenue, you'll first be greeted with a waft of cooking meat and spices. Prado grills the meats to order, and slaps down small corn tortillas at the same time. You can buy the tacos and bring them inside The Legionnaire, a bar and venue, and enjoy hot tacos with some cold beer, or just eat them outside on the sidewalk.
The tacos are flavorful, the meat marinated in a variety of spice. The tortillas are from La Finca, a tortilleria in Oakland. The hand-sized tortillas have just the right amount of moisture. There are typically four styles of tacos each night: al pastor, made from marinated pork; carne asada, marinated steak; chicken, seasoned with Ethiopian berbere spice blend; and a chorizo taco. Prado has also experimented with vegetarian tacos, including an al pastor jackfruit taco made from a freshly opened jackfruit.
Each taco comes with a healthy portion of grilled meat. The toppings, which you add yourself, include two kinds of salsas that Prado makes himself, plus fresh pineapples, onions, cilantro, and tiny limes.
The chicken taco is marinated in Ethiopian spices, which are similar to Mexican spices, including fenugreek and cardamom, Prado explained. "It's an Oakland kind of thing, and it just gives it seasoning. It's a mix of people here."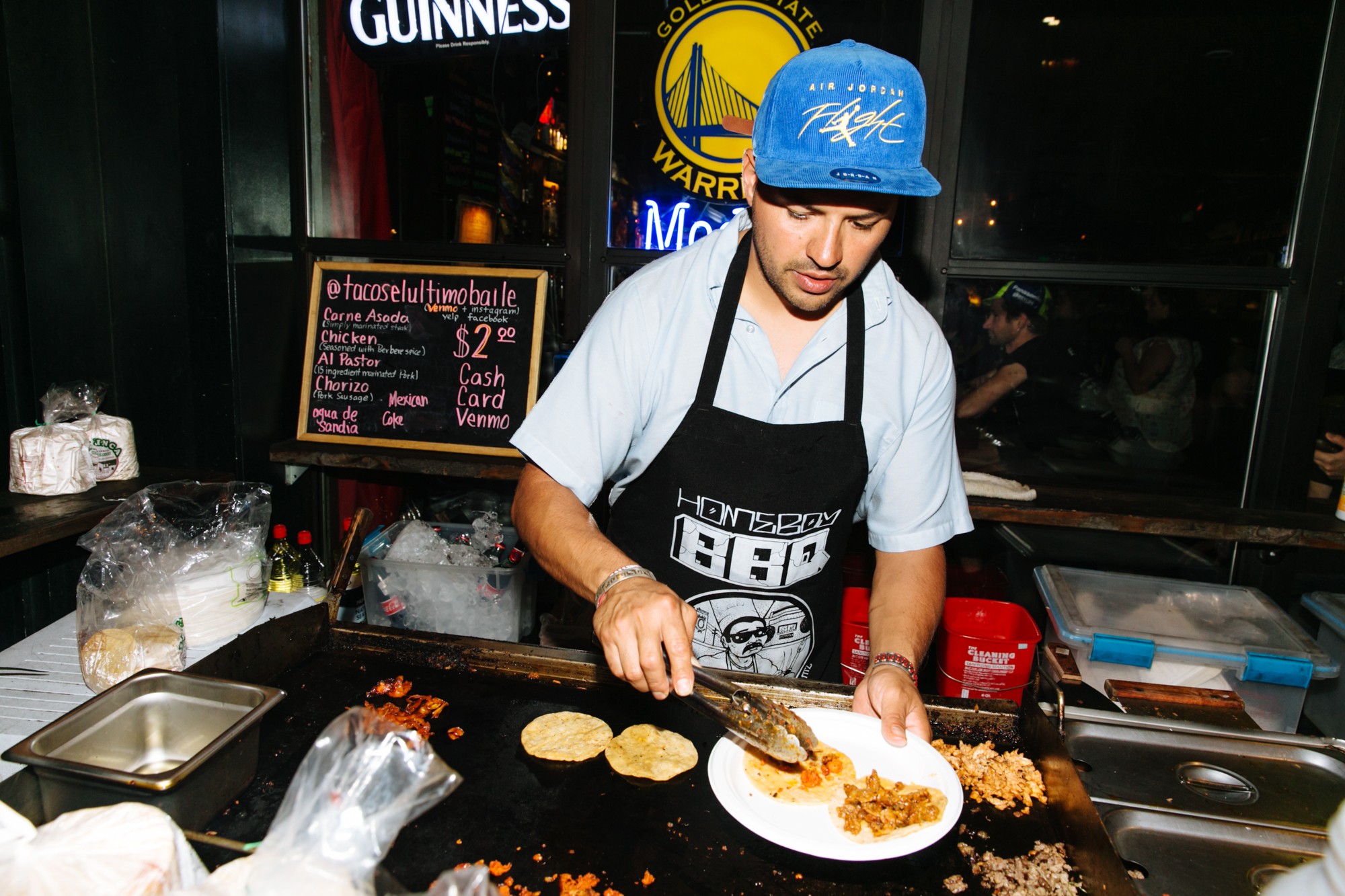 His al pastor uses fifteen different spices and ingredients, including thyme, coriander seed, cumin, and guajillo chiles — plus some chocolate — in the marinade. When asked if this is a recipe from his family, he explained that he learned how "from the internet," but added that this is a traditional al pastor recipe. Pineapples add a refreshing bright and sweet taste to the full flavored meat. "Pineapple is traditional with al pastor," Prado said, but it's not often seen in restaurants.
The carne asada tacos are marinated in a simpler blend of onions, cilantro, garlic, lemon, and salt. Prado also experiments with different vegetarian tacos, from roasted cauliflower to soyrizo to jackfruit al pastor, using the same marinade as the pork tacos.
The two salsas, a spicy red and mild, are made by roasting tomatillos and tomatoes. He said he doesn't like the "gooey green sauce" that comes in cans, so he makes his own.
Tacos are $2 each, which can easily be consumed in three bites or less. Flavorful, juicy, and spicy, they hit the spot after a beer or a night out in Oakland.
Prado's family is fifth generation Mexican-American; his grandfather fought in World War II. Prado is proud of his heritage, and hopes to translate that identity into future projects. He would like to restore an old Airstream trailer and start a food-truck business, and later open his own taco restaurant, all with a Mexican-Americana theme. Music, dance, and food is the spirit he's going for.
Tacos El Último Baile means "last dance of the night," and is named in honor of his grandmother, who loved to dance. The name also refers to the final years of his grandmother's life, who passed away in recent months. "That's my way to memorialize her."
For the general public, he sees it as "the last dance of the night, if you're drinking and you're out. The last song is the best song. It reminds you to live your life like it's the last dance."
Follow and learn about pop-ups at Instagram.com/TacosElUltimoBaile.