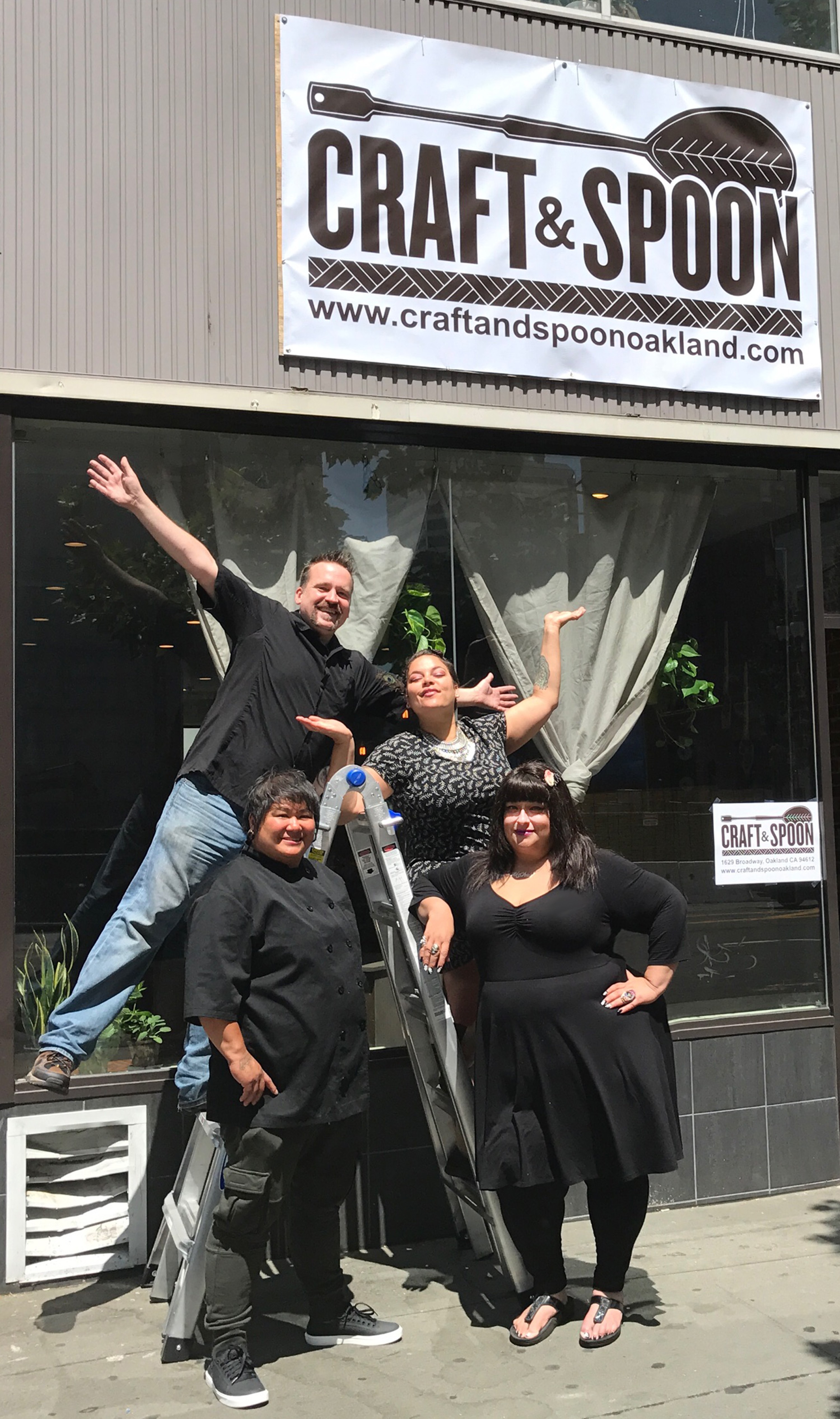 When Charleen Caabay won Food Network's
Chopped
, she put her popular Filipino comfort-food restaurant Kainbigan on hiatus and took off for the Philippines.
"Going to the Philippines was like a little reset to get my creative juices again, see what I want to be doing with restaurants," Caabay told the Express.


Somewhat surprisingly, that inspiration didn't lead to a new Filipino restaurant.


Next week, chef Caabay will open her second restaurant, Craft & Spoon, with partners Christine De La Rosa (also of Kainbigan), Aima Paule, and Michael Schlieker. Formerly Uptown Juice, Craft & Spoon will have two entrances at 1629 Broadway and 1634 Telegraph in Oakland.


During soft openings earlier this month, folks came in expecting Filipino food and were instead met with panini and kale salad. Where was the lumpia? Where were the garlic noodles?


"I know it may be a shock to some, but it is a different restaurant," Caabay explained.


Craft & Spoon's menu is a full collaboration with Paule, who also owns Hey Bü Kombucha. And while there are some Filipino hints on the menu — there's a grain bowl with yellow adobo and Filipino-style cured chicken tucked into a panini — the goals for Craft & Spoon are decidedly separate from Kainbigan.

Simply put, the queer-owned restaurant wants to serve the Uptown community. That means local artists showcased on the walls, a food incubator model, and, primarily, affordable lunch offerings in an area where there are surprisingly few.

You can take a look at the soft opening menu here, though Caabay promises more additions with the grand opening. In addition to lunch, Craft & Spoon will dabble in late-night eats and, eventually, add breakfast, and maybe even dinner.


Those food-incubator efforts are still in development. In addition to being a home for Paule's kombucha, Caabay imagines opening the kitchen up to fellow chefs and sharing resources with local vendors.


Meanwhile, Caabay already has plans for a third restaurant, at 3000 San Pablo Avenue. However, unlike other reports have suggested, it probably won't be another Kainbigan.

And as for the original Kainbigan, Caabay also isn't sure when she'll reopen it. For now, she's just excited about the possibilities with Craft & Spoon.


"Closing was a big sacrifice but it made for a bigger reward," she says.
Craft & Spoon, 1629 Broadway and 1634 Telegraph, Oakland, CraftAndSpoonOakland.com.

Editor's Note: An earlier version of this story stated Craft & Spoon would open on Saturday, July 15. The opening has been slightly delayed, but Caabay hopes it will still happen within a week of the originally planned date.