The Sunday Supper — a prix-fixe meal served on what is traditionally a slow night in the restaurant business — is seeing somewhat of a revival in the East Bay. Charlie Hallowell (Pizzaiolo, Boot and Shoe Service, Penrose) is the latest restaurateur to launch a Sunday Suppers series — one with a philanthropic slant.
The idea is simple: For the next year, on the third Sunday of every month (except December), a prominent East Bay restaurant will host a $100 multi-course, prix-fixe dinner. Two-thirds of the proceeds from each dinner will go to a selected local nonprofit organization. So, with two 75-person seatings, each sold-out event represents a $10,000 donation.
[jump]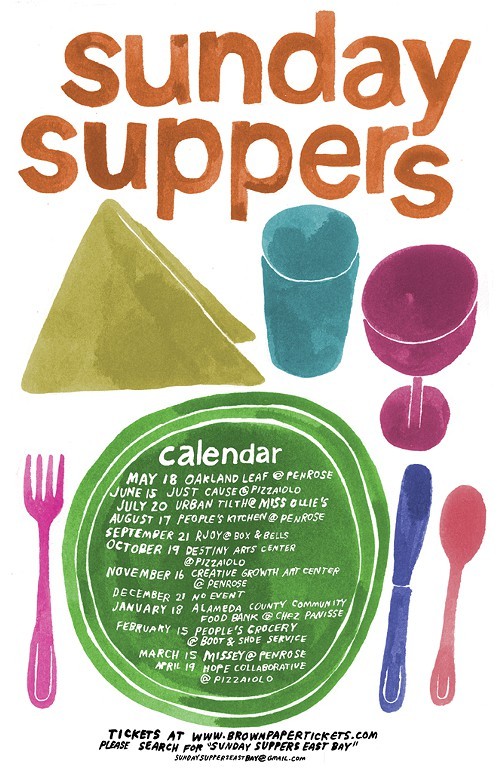 Hallowell's Sunday Suppers series will kick off at Penrose (3311 Grand Ave., Oakland) on Sunday, May 18, with seatings at 5:30 and 8 p.m. Proceeds from that dinner will benefit Oakland Leaf, which runs educational programs that "[embolden] youth and families to be creative leaders who actualize a more loving, just, and vibrant Oakland," according to the organization's mission statement.
Hallowell told What the Fork that his hope is that these Sunday Suppers will become something that people can count on. "On the third Sunday of every month, if you wanted a delicious meal, you could go to a certain restaurant in the East Bay where it would be less formal," he said. "And also you would know that you were doing something good."
The menu for next Sunday's dinner at Penrose is still a work in progress ("I haven't written the menu for tomorrow yet," Hallowell quipped), but the basic format will be a three-course family-style meal. The first course will consist of three big salads — a fancier composed salad, a leafy green salad, and a hot grilled salad. The second course will be a slow-braised meat, served with polenta and some kind of cooked spring vegetable. And then there will be something for dessert.
A house wine, likely donated by a local winemaker or wine shop, will also be included in the cost of the ticket. Some of the meat and produce for the dinners is also being donated by local farms, and each restaurant will create a special cocktail available for purchase a la carte, with 100-percent of those proceeds going to the partner nonprofit.
Lauren Greis, an event coordinator who is helping to organize the Sunday Suppers, said that she and Hallowell picked the eleven nonprofit beneficiaries (which also include the Alameda County Community Food Bank, Urban Tilth, and People's Grocery) this first time around. And for the project's pilot year, Hallowell's three Oakland restaurants will see the bulk of the action, with a handful of others — Miss Ollie's, Box & Bells, and Chez Panisse — hosting dinners as well.
In the future, though, Hallowell would like to involve a greater number of restaurants and nonprofits. His dream, he said, is to get six restaurants to each host two dinners over the course of a given year. "As a collective, those restaurants are raising $120,000, and it's just so painless," Hallowell said. "It's basically no effort for a lot of payoff."
Tickets are available through Brown Paper Tickets (search for "Sunday Suppers East Bay").