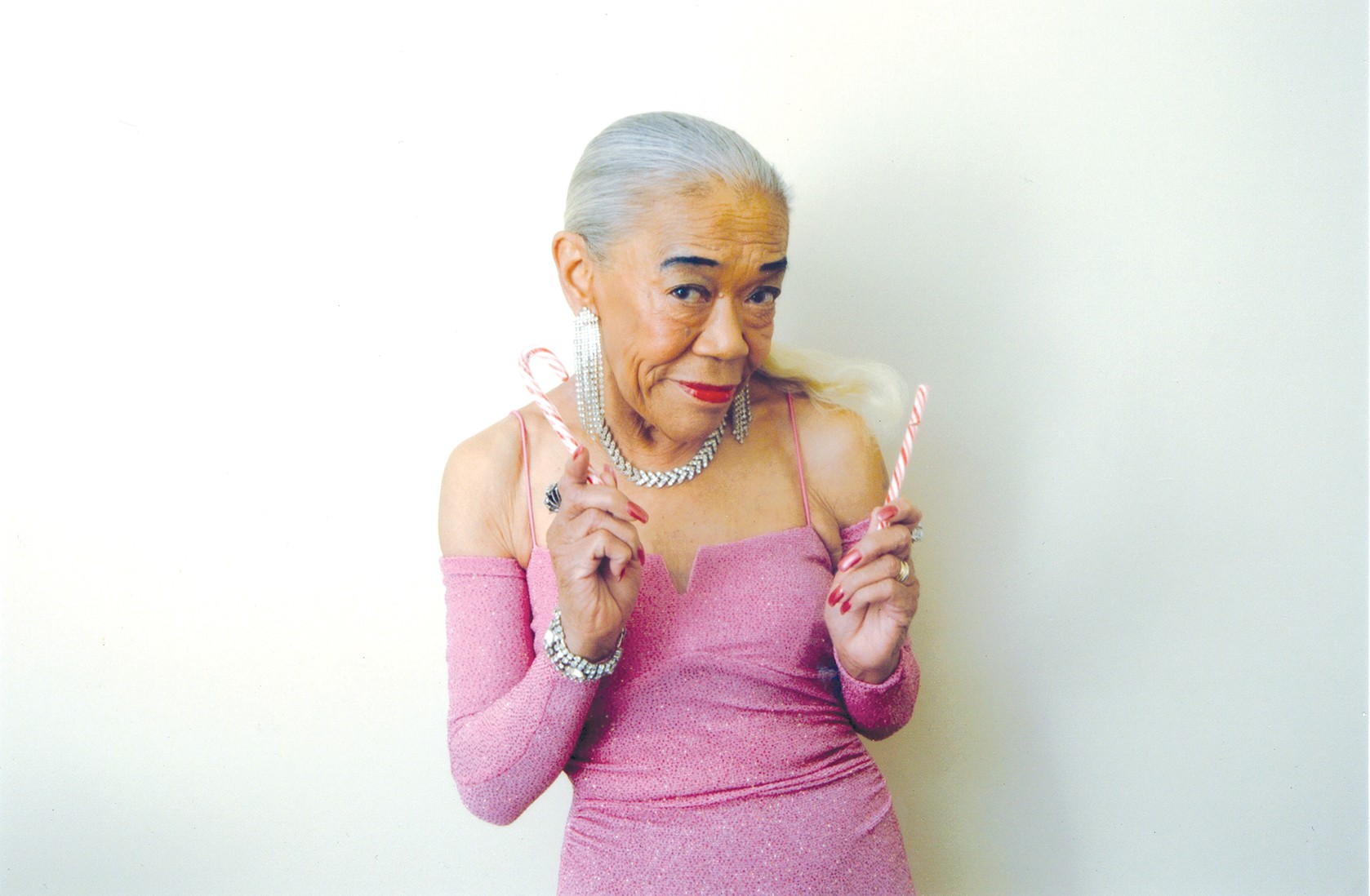 Imagine a performer who combined the brazen sexuality of Nicki Minaj and soulful swagger of Amy Winehouse with the fierce, gymnastic energy of Janelle Monáe. Now imagine that volatile cocktail in a 4-feet 11-inch tall frame and you're beginning to get an idea of how Sugar Pie DeSanto earned the nickname "lady James Brown."
On July 6, the longtime Oakland resident will be hitting the stage for the first time in more than a year at Berkeley's Redwood Grove amphitheater. DeSanto, 82, who has been stunning audiences with her flamboyant performances since the early 1950s, has a warning for the audience: "When I hit this sucka, they better watch out. I just hope I don't have a heart attack."
DeSanto was raised in San Francisco's Fillmore district during its heyday as "the Harlem of the West." Growing up in a working-class household with nine other siblings, she raised hell in the streets as part of a "girl gang" called Seven of Diamonds with her cousin, the future soul sensation Etta James. As a teenager, the aspiring singer would stuff socks into her bra in order to sneak into Fillmore's legendary jazz venues, where she persuaded club owners to give her stage time — and whiskey. Her budding career was almost cut short by her father, who disapproved of her suggestive performances. "He only saw me one time," DeSanto said, "and he dragged me out by my ear. He didn't like me shaking my butt up there."
Fortunately, her mother was sympathetic to DeSanto's creative urges and assisted her daughter in slipping out to perform at local talent shows, where she was discovered by Johnny "Godfather of Rhythm and Blues" Otis, who signed her to a recording contract in 1954. Otis didn't think her birth name – Ampalaya Balinton – was marketable, so he dubbed her "Sugar Pie." Initially skeptical, she eventually embraced the unusual moniker. "At first, I thought it was kind of weird," she shrugged. "But I've worn it all my life."
Soon after, she married guitarist Pee Wee Kingsley and moved near the corner of 7th and Wood streets to immerse herself in the heart of West Oakland's thriving nightclub scene. During World War II, a flood of African Americans had poured into the East Bay to work in shipyards and they brought Southern-style blues music with them. Slim Jenkins Supper Club, Esther's Orbit Room and the Continental Club were just a few of the famous hot spots from this era — Ms. DeSanto played them all, and quite a few after-hours dives, too. "It was rowdy," she recalled. "We was tearing up the town."
As her reputation grew, she got to share the stage with national stars such a Jackie Wilson at clubs owned by former Boston Celtic Don Barksdale, the NBA's first African American All-Star. In 1959, pioneering Oakland blues producer Bob Geddins, Sr. recorded DeSanto's first hit single "I Want to Know," which catapulted her onto the charts and resulted in a deal with Chicago's Chess Records. As part of her contract negotiation, she convinced the influential label buy her a tan Cadillac ("with the big wings") and she purchased a dog, which she dyed tan, to match.
[pullquote-1]Despite her street-hardened fearlessness, DeSanto's first trip to New York's Apollo Theater rattled the rising star. After seeing the notoriously merciless crowd pelt sub-par performers with eggs, she got her first case of stage fright. "I ain't never scared to go on, but I was frightened," she said. "I thought they were gonna kill me!" Within seconds of taking the stage, she'd won the audience over. No eggs were tossed — and she was invited back to the Apollo about 20 more times.
She lived on the road for several years in the early 1960s, touring with James Brown at theaters throughout the country. Although Brown was known as "the hardest working man in showbiz," DeSanto said that her habit of doing back-flips and other wildly spontaneous dance moves during her opening sets left him exasperated. In a perfect impression of Brown's rumbling voice, she recalled how he would plead with her before concerts: "Don't jump from the piano tonight, Sugar Pie! You're gonna make me work too hard!"
She never backed down and the two performers would sometimes even end up jumping off the piano together, landing in the splits. "If I feel like I wanna jump on the floor and roll over, or toot my butt up in the air, that's what I'm gonna do," she laughed.
During these touring years, her marriage to Pee Wee Kingsley ended due to the guitarist's gambling addiction. After Kingsley snuck away with DeSanto's suitcase packed with $10,000 cash and lost it all, she told him to hit the road. "I sent him back home because he pissed me off," she said, and then added the kind of jaw-dropping twist prevalent in so many of her stories. "He came back [to the Bay Area] and tried to rob a bank."
[embed-1]Over the following decades, Ms. DeSanto experienced a roller-coaster ride of highs and lows. She toured Europe as the only female in a lineup of blues legends that included Lightnin' Hopkins and Howlin' Wolf, and wrote more than 100 songs that were recorded by stars such as Minnie Riperton and Fontella Bass. But she also had to rebuild her life several times. The Oakland Hills fire of 1991 destroyed many of her master recordings and other musical memorabilia when her longtime manager Jim Moore's house went up in flames. Even more tragically, she lost her husband Jesse Earl Davis when the couple's Telegraph Avenue apartment burned in 2006.
She refuses to give up, though, and is even planning to put out another album on Jasman Records in the near future. "Show business ain't over for me," DeSanto said. "Not until God says so. I love it."

Sugar Pie performs Thursday, July 6, at the UC Botanical Garden's Redwood Grove (BotanicalGarden.Berkeley.edu). She is also headlining the free Redwood City Blues Festival on July 22 (RedwoodCityPal.com/blues).