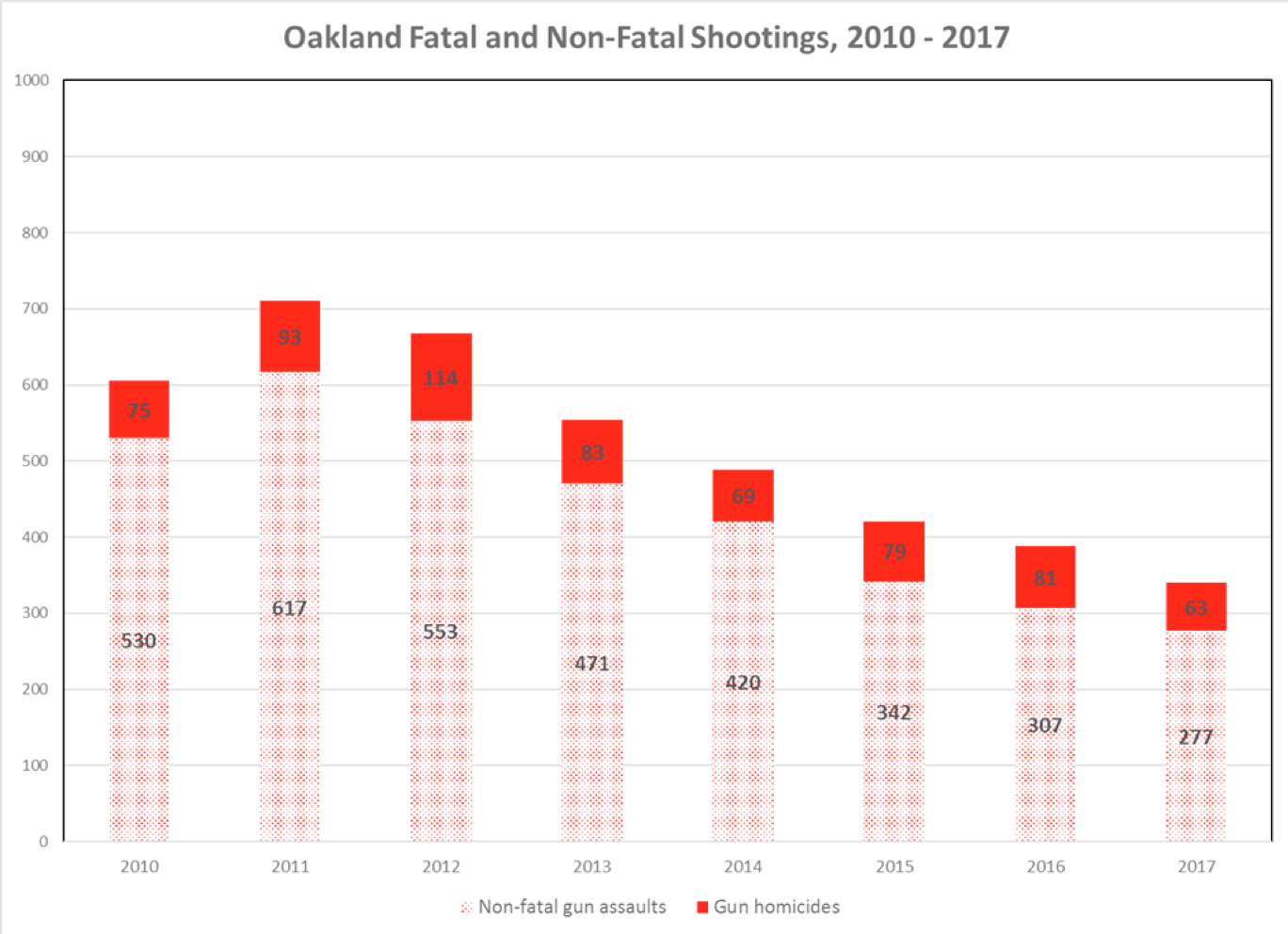 Academic researchers say there's now statistical proof that Oakland's Ceasefire program is working. 
Yesterday, a research team led by Anthony Braga of Northeastern University released a new study that attributes a 31.5 percent drop in gun homicides in the city since 2013 to Ceasefire. Furthermore, the researchers measured a 20 percent reduction in shootings in Oakland neighborhoods where the police focused the Ceasefire strategy compared to other parts of the city that did not receive the same treatment.
The research team presented their findings to Oakland's community policing oversight board, which oversees Measure Z revenues, part of which pay for Ceasefire.
Braga said his team's study was designed to control for broader trends such as the overall drop in violent crime across California, population trends within Oakland, and other possible variables that affect crime rates.
"While there are noticeable decreases, there is still much work that can be done," said Rod Brunson of Rutgers University, another member of the evaluation team.
The study is
yet another piece of evidence
that OPD's violence reduction strategies are working.
Ceasefire is a strategy that targets a small number of individuals who are identified as being most likely to be perpetrators and victims of gun violence. According to OPD, these are mainly young Black and Latino men living in Oakland's poorest neighborhoods who make up less than 1 percent of the city's population.
This population group experiences a high rate of unemployment and housing and food insecurity, is provided with inadequate educational opportunities, and is harmed by other forms of institutional racism. They are also exposed to violence at an early age and carry a great deal of trauma.
Through Ceasefire, the police conduct "call ins" of these individuals by sitting them down, usually in a church or community center, and communicating the potential consequences — physical harm, death, incarceration — of engaging in street conflicts. In essence, the police offer them a choice: change your ways and survive, or continue on this path and end up in prison or dead.
Braga called it a "focused deterrence strategy."
"It's not about dropping enforcement bombs," he said, using a war metaphor. "It's only as harsh as it needs to be."
Ceasefire in Oakland grew out of community activism. Groups like Oakland Community Organizations advocated for a more focused method of addressing gun violence. Ceasefire was fully implemented in 2013 under Mayor Jean Quan. Measure Z, the city's parcel tax to fund violence reduction strategies both inside and outside the police department, is used to pay for Ceasefire.
The program has not been without criticism. Part of the research project to evaluate Ceasefire includes gathering feedback from the community and individuals who have been subjected to Ceasefire through its call ins.
Among other things, some question Ceasefire's sustainability and ability to reach deeper reductions in violence. The program is a deterrent, but it doesn't address the deeply ingrained social conditions that are highly correlated with violence: poverty, joblessness, environmental racism, lack of funding for education, and racial segregation.
In other words, it offers a choice to people who, in reality, have very little social and economic power with which to actually make meaningful choices.
Some also feel that Ceasefire's net is often spread too wide and that people on the periphery of networks engaged in group violence are "called in" or otherwise potentially criminalized.
Researchers were also told by participants that the call ins are "not always conducted in a respectful manner (e.g., they tend to feel coercive and exploitative), deepening clients' distrust of the police and the overall criminal justice system."
Reygan Cunningham, one of the architects of Oakland's Ceasefire program, said the police have made adjustments based on this feedback. For example, they have changed the locations of call ins and they allow participants to speak to the police about their needs and concerns rather just being lectured at.
Cunningham said the means of contacting participants have also changed. Some expressed concern that multiple police officers have shown up at their homes to ask them to attend a call in. In at least one case, a man's landlord tried to kick him out simply because the police knocked on his family's door. "As a result, we stopped doing that," said Cunningham.
Letitia Henderson Watts, a member of the community policing oversight board, mostly praised Ceasefire and the observed reductions in gun violence measured by the research team. But she asked the department and city officials, "Are we doing enough?"
Henderson Watts, a 1998 graduate of McClymonds High School, said that many of her classmates from 20 years ago were traumatized by the violence they lived through. Some of them didn't survive, including 16-year-old LoEshe Lacy who was shot and killed by a 16-year-old boy who police said fired on Lacy and two of her friends as part of a petty relationship feud.
Henderson Watts made several constructive recommendations to OPD and city staff, including the need for more diversion programs to keep youngsters out of the criminal justice system, if possible.
OPD Captain Ersie Joyner, who heads up Ceasefire for the department, replied that he was the homicide investigator on the LoEshe Lacy case.
"Things are different now," said Joyner at last night's meeting. "We have a strategy that doesn't just focus on taking people to jail."
[pdf-1]