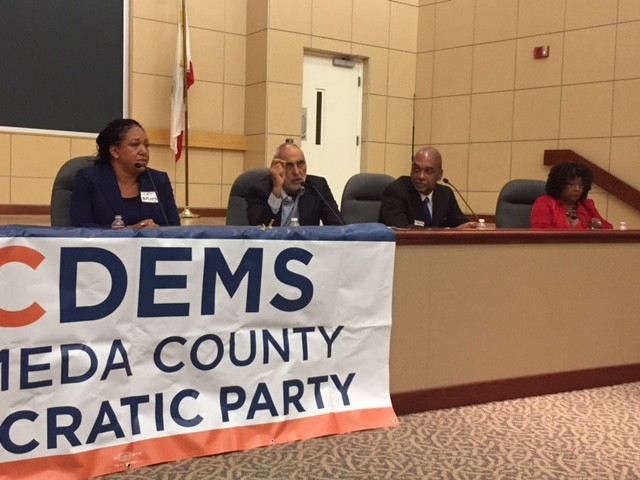 Oakland Mayor Libby Schaaf is endorsed by many of the East Bay's prominent Democratic Party officials. In fact, in her closing statement at last night's Alameda County Democratic Party candidates forum, she rattled off the names of over a dozen well-known supporters.
But the mood yesterday appeared to reveal a split within the party's ranks. Many in the audience cheered challengers Cat Brooks and Pamela Price, and at one point, Schaaf was even booed by some who believe that her approach to Oakland's homelessness crisis is lacking. Other candidates won applause by attacking some of Schaaf's major initiatives or by generally criticizing the state of the city.
Even so, Schaaf held firm to her record and was cheered several times, especially when she reminded attendees about her stand against President Donald Trump's attacks against immigrants. Asked if she had any regrets about warning undocumented immigrants about an impending ICE raid earlier this year, Schaaf said "absolutely not."
[embed-1]
Schaaf said that in the past four years her administration has managed to reduce gun violence, address displacement by building thousands of new housing units, and invest in crumbling roads. But the mayor said she is most proud of the Oakland Promise, her initiative to fund college for low-income students.
In her comments, Cat Brooks referred to the recently published
Oakland Equity Indicators report
, which revealed stark divides between the city's rich and poor, between white residents and communities of color. She described her campaign as a "people's" movement to correct the widening inequality in the city, and she said the current election will decide the fate of Oakland for years to come.
"We're failing across the board at providing quality of life opportunities for all Oaklanders," said Brooks.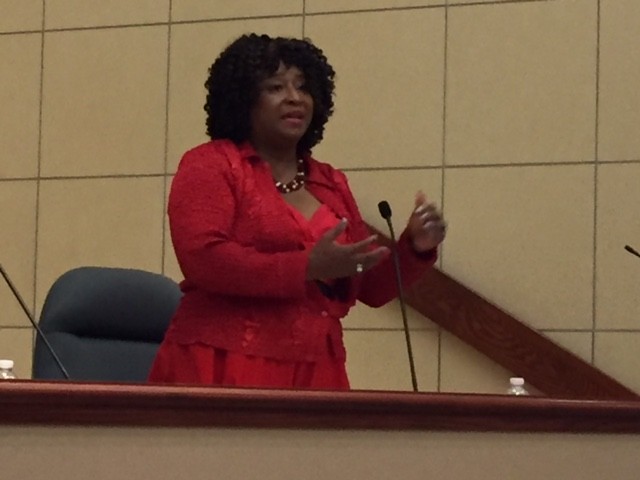 That theme was also invoked by Pamela Price. Price spoke about Oakland being at a "crossroads," experiencing unprecedented economic growth, but that prosperity isn't benefitting everyone.
"We want to move forward, but we can't leave people behind," said Price. "We have to protect and preserve the Oakland that we love."
Price and Brooks both emphasized the need for greater police accountability. Price said that the 41 percent of general fund expenditures Oakland spends on its police is "unacceptable."
Brooks said the police department's "unauthorized" overtime spending, amounting to millions per year, needs to be cut back and redirected to other programs.
Schaaf countered that Berkeley actually proportionately spends more on its police than Oakland, and that Oakland has fewer officers per capita than many other places.
Price insisted that the results of the recent district attorney's election show that she can win the mayor's seat. She said she garnered 55 percent of the vote for DA in Oakland, with enormous support in the city's flatlands. But she then advised people to use ranked choice voting and also select Brooks on their ballot. Together, the two candidates appear to be mounting a major challenge to Schaaf.
Candidate Nancy Sidebotham expressed the most support for Oakland's police, saying that more needs to be done to reign in the "mayhem" in Oakland, including sideshows. Sidebotham also said she's frustrated by what she described as corruption in city hall and the neglect of many neighborhoods.
Candidates Saed Karamooz and Cedric Troupe both spoke in terms of being business owners and the need for Oakland to support its small and local entrepreneurs, including immigrants. But both were also clear about their support for labor unions.
Karamooz said the city's use of temporary and part-time workers is a "disgrace," and more should be done to ensure city jobs can sustain workers and their families.
Former Oakland Mayor Elihu Harris, who was moderating the panel, called them "one of the best groups of candidates" he's seen in Oakland's recent history.
Not all the candidates for mayor were invited to the forum. Only members of the Democratic Party were.
But Harris also tempered the promises made by the mayoral candidates. "No one person – mayor, city council, or school board – is going to solve these problems," Harris said about the economic and social forces that have radically transformed Oakland in recent years.