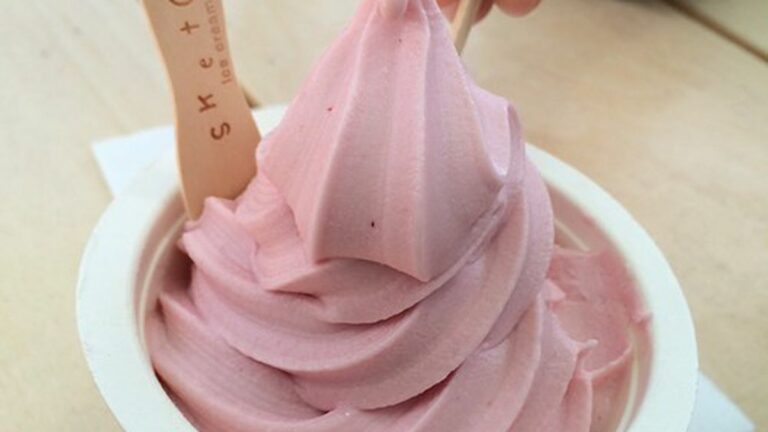 The long slog of the winter fruit season is finally coming to an end, and as much I love a good apple or orange, enough is enough. Thankfully, May and June are peak strawberry season in the Bay Area, and the ruby-red beauties at the local farmers' markets have been getting sweeter and sweeter with each passing week. That also means East Bay restaurants and dessert shops are now serving up strawberry-centric items you won't be able to find during other times of year. Here are five you'll want to check out:

[jump]
Sketch Ice Cream
(2080 Fourth St., Berkeley) is known for its pure, clean flavors, and the shop's seasonal strawberry soft-serve — made with
roasted Swanton Berry Farm berries
— is no exception. There's no reinventing the wheel here; the flavor doesn't stray too far from what you'd find at an old-fashioned ice cream shop, but it's a little less sweet, with tiny flecks of pulp and seed that remind you that, yes, this was made from fresh ripe fruit. As with all of the soft-serve at Sketch, the best part is the smooth texture and how light and refreshing the ice cream is. Call ahead, as the strawberry flavor is only available sporadically during the spring and summer months.
2)
What I love
about Berkeley's
Asha Tea House
(2086 University Ave.) is how there aren't any throwaway items on the menu, whether you're talking a pot of fine Taiwanese high mountain oolong or a simple cup of bubble tea. And when the weather's hot, there's nothing more refreshing than one of the shop's iced fruit teas. Unlike other bubble tea shops, where such drinks tend to be made with powdered mixes or sugar-laden, pre-packaged syrups, Asha uses real tea (brewed from loose leaves) and seasonal house-made fruit purées. Don't miss the highlight of the spring menu, the
strawberry black tea
, which features Asha's house blend of Assam black tea and, best of all, a purée of fresh California strawberries: little bits of pulpy goodness in every sip.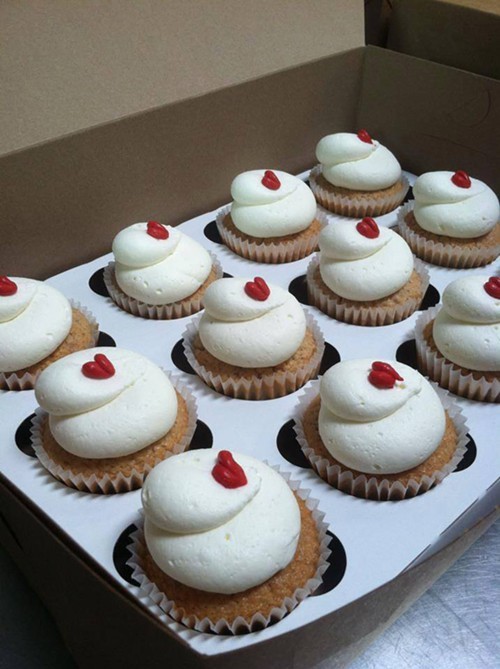 3)
CupKates
is one of the East Bay's longest-running gourmet food trucks — and the maker of some of the best-tasting cupcakes in the Bay Area. Proprietor Kate McEachern's particular genius is for creating superior cupcake versions of classic desserts that somehow don't feel gimmicky (case in point: her signature
tiramisu cupcake
). For the month of May, Cupkates' seasonal special will be a strawberry-rhubarb cupcake: vanilla-strawberry cake that's filled with strawberry-rhubarb compote and topped with a fresh whipped-cream frosting. Also available periodically will be a strawberry-shortcake cupcake, which subtracts the rhubarb but adds a vanilla cookie crust.
4) The
strawberry cream cake
at
Crixa Cakes
(2748 Adeline St., Berkeley) is a worthy splurge for fans of "Old World"-style desserts. The cake — priced at $5.75 a slice (or $27 for a six-inch cake) and available most mornings until it sells out — features two delicate kirsch-soaked vanilla chiffon cake layers that are wonderfully moist and fragrant, and just a little bit boozy. Sandwiched inside is a layer of fresh strawberries and vanilla custard (somewhat akin to a light cream-cheese frosting); on top there's whipped cream and crumbled amaretti cookies. This is the kind of sophisticated dessert that's equally suitable for a fancy birthday party or, if you're like me, a luxurious breakfast.
Nation's Giant Hamburgers
(1800 University Ave., Berkeley, and various other locations), which is kicking off an entire summer's worth of strawberry specials. Skip the generic fast-food menu of hot dogs and burgers, then, and head straight for dessert: say, the individual-portion strawberry tart ($4.95). As far as pies go, this is no artisanal creation, and the pale, bland crust isn't much to remark upon. But if you're nostalgic for the kind of dessert you might have eaten years ago at an old-fashioned diner — a hillock of goopy, syrupy-sweet, Godzilla-sized strawberries (an entire pint's worth, at least) served with a big dollop of marshmallow-y whipped cream — Nation's will scratch that itch.
Honorable Mention:
Lush Gelato
(4184 Piedmont Ave., Oakland; 1511 Shattuck Ave., Berkeley) has had excellent strawberry gelatos and sorbettos in the past, including a take on strawberries and cream made with crème fraîche. The flavors have yet to make an appearance at the gelato shop's two East Bay locations this year, but proprietor Federico Murtagh told What the Fork they'll be in stores sometime in May.