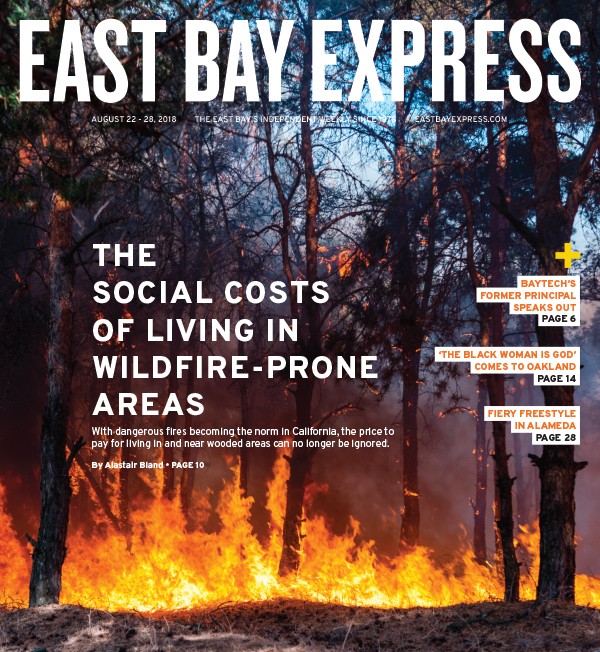 "The Social Costs of Living in Wildfire-Prone Areas," Feature, 8/22
Sad Irony
Thanks for this timely, thoughtful, and thorough examination of the various forces at play at the interface between wildlands and our urban homes in the East Bay hills. The sad irony is this: Humans won't change course until catastrophe strikes so hard it feels like we have no other choice … and yet when it does strike we are lulled back into complacency by the very social mechanisms (e.g., insurance and fire-fighting services) meant to protect us in the first place. As the author points out, it's one thing to argue for more discipline with respect to reckless construction and maintenance of property in and around wildlands; it's quite another thing for residents to fund their local governments to take prudent action. What will it take for the fire next time to grab our attention? Another 25 dead and 3,000 homes up in flames? How about 100 dead? A thousand?
David Livingstone Fore
Sick and Tired
The rich and well off should shoulder the entire financial burden if they want to live in the WUI. I'm sick and tired of the current status quo that requires us all to subsidize the reckless behavior of rich property owners. If it costs more for government-funded fire departments to provide protection in woodland areas, then the residents of those areas should foot the bill. Cities across the state are passing soda taxes in recognition of the public health costs sugary drink pose. Don't like it? Then don't buy that Coke. Don't like the extra fees and taxes associated with building in woodland areas? Then don't live there. You've got the money — move.
Lenard Jones Jr.
Good Luck
When are we going to use our (supposed) intelligence/flexibility and adapt to the obvious changes we, as humans, have caused worldwide? Everybody huffs and puffs, then it's biz as usual when the weekend's over and the SUV is parked back in the two-car garage. Good luck to you and your children.
Isaac Mizrahi
"Study Finds Significant Reduction in Gun Homicides in Oakland Via Ceasefire Strategy," Blog, 8/22
Good for Everyone
Clearly, Ceasefire has been and continues to be a good thing for all of Oakland. None of the criticisms mentioned in the article seem to contradict that. Can improvements in how it is implemented always be made? Of course. Are there systemic social ills that also need to addressed simultaneously in broader ways? Of course. But less shootings, less violence and death are clearly positive in the immediate. What this represents is direct and effective outreach to the most likely to be affected by violence, as shooters and those shot, offering them a choice to move out of that life or face the legal consequences. As the article notes, it's a such a small fraction of the overall population.
As noted in his book outlining the Ceasefire strategy, David Kennedy (brilliant criminologist from John Jay College in NYC) makes clear that it has to become an overarching way that a community reacts to the violence in its midst to remain effective.
If anything, even more resources are required to have the effects made even greater. This is what we as caring citizens of Oakland should have the moral courage to take on and provide as part of addressing the woes of our fellow community members that are suffering the most. Obviously, this has far-ranging impact on improving the lives of all of us.
Chris Vernon
"Oakland Mayor Libby Schaaf Defends Record Against Five Challengers," Blog, 8/24
Unqualified Candidates
If you evaluate each of the candidates as if you were considering hiring them for a job, none of them have either the experience or training to do the job. Many of them make great activists. But CEOs?
Goals/vision is very important but implementation will be extraordinarily difficult if a mayor is going to use her/his vision to actually influence Oakland's future. Leadership is a large part of that, but even a total replacement by the next mayor of key people in powerful positions such as the port commission and the planning commission can only make micro changes of direction forced by massive worldwide economic forces and a national political climate where Oakland will get substantially less federal funding in years to come.
Schaaf, for all her faults, sincerely tries to bridge the vast differences in income, wealth, economic opportunity, education, and race that exist here. That she's not very effective at it is as much a result of the vast differences in Oakland as it is her own background and abilities.
Len Raphael