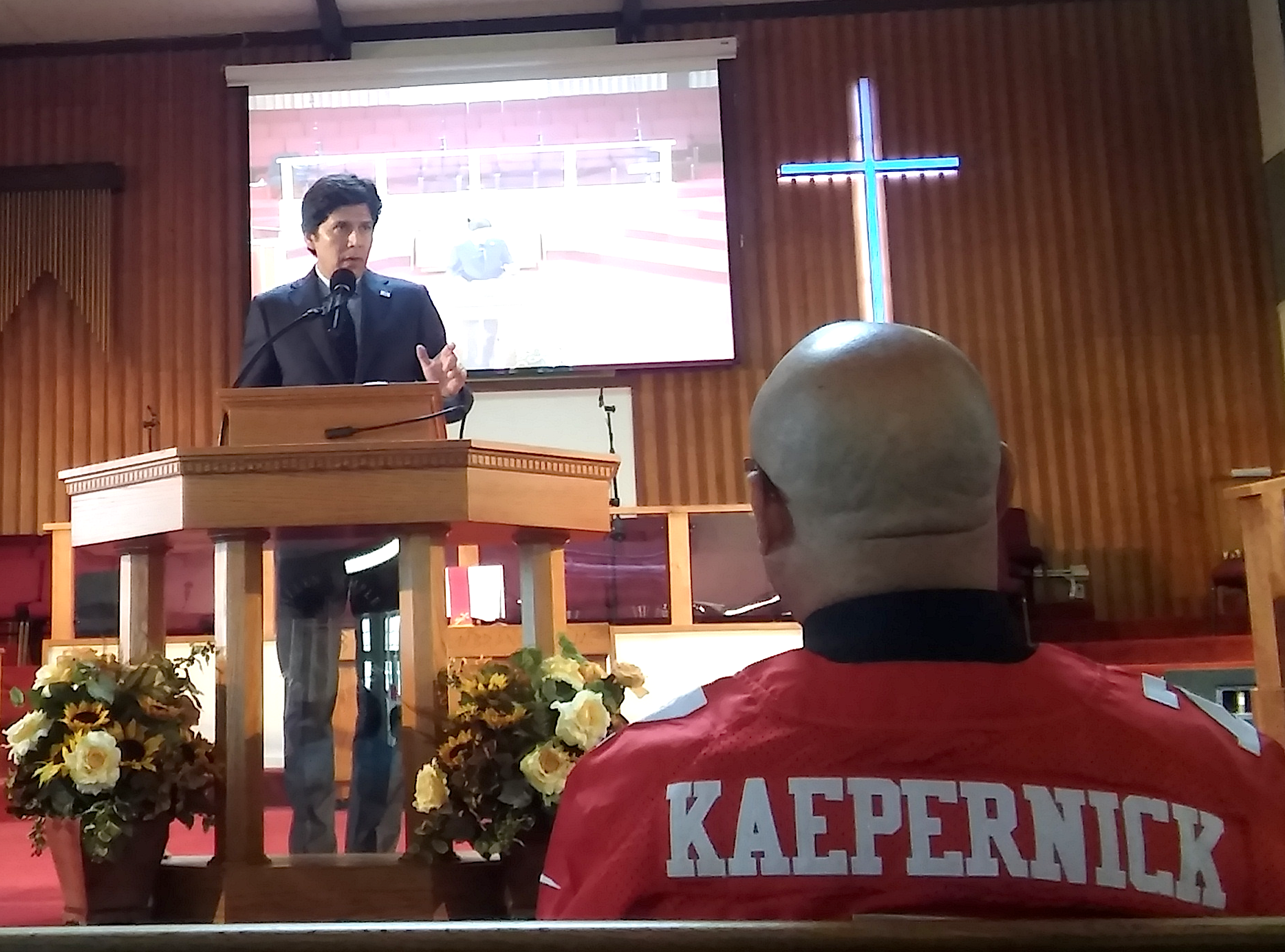 Wearing a Colin Kaepernick jersey and preaching an immigrants' rights message — Leviticus 19:34: "you shall love the alien as yourself, for you were aliens in the land of Egypt" — the Reverend J. Alfred Smith, Jr., welcomed state Senate President Pro Tempore Kevin de León to Oakland's Allen Temple Baptist Church on Sunday.
De León is the author of SB 54
, the California Values Act. Also known as the state sanctuary bill, it firms up California's rules preventing local law enforcement agencies from helping the federal government enforce immigration laws.
In introducing de León, Smith railed against what he called "misinformation" from the religious right that has promoted anti-immigrant policies, including President Donald Trump's efforts to build a massive border wall and dismantle popular programs like DACA. And Smith told his congregation not to fall for "efforts to divide us," preaching instead a message of Black and Latino unity.
The Trump administration strongly opposed SB 54, even threatening to cut off funding to California. Inside the state, groups like the California State Sheriffs Association also opposed the bill. But de León said it was the right thing to do, and he's confident it can withstand legal efforts by the Trump administration to invalidate it.
He also believes it will protect California's economic prosperity. De León, who recently announced that he's running for U.S. Senate against Dianne Feinstein, D-Calif., made a point that the state's economy is now the sixth largest in the world, and he said newcomers have helped to fuel growth with innovation and hard work.
De León also went further in his defense of SB 54. When asked by a member of the congregation if it's possible some sheriffs offices and police departments might violate the law by working closely with ICE to report and arrest undocumented immigrants, de León said, "if folks are not enforcing the law, please let us know. You can be the eyes and ears."
He also weighed in on the issue of misinformation spread by the Immigration and Customs Enforcement agency's director Thomas Homan about the cause of the disastrous North Bay fires.
Homan claimed
in several statements last week that the Sonoma County Sheriff's Office had allowed an undocumented immigrant to go free, instead of turning the man over to ICE, and that the man later ignited the deadly blazes.
In fact, as the Sonoma County Sheriff Robert Giordano stated last week, the man lit a fire in a park one week after the deadly blazes erupted, and he hasn't been linked to the disastrous fires. He is, however, in custody and facing felony charges.
De León accused Homan and the Trump administration of using the disaster to push a political agenda.
"They've politicized everything," said the senator.
De León told those gathered at Allen Temple yesterday that his appearance wasn't a campaign stop. This was echoed by Smith, who said de León's presence was instead a celebration of SB 54 and other legislative accomplishments.
From the floor, one congregant celebrated by telling de León, "Si se puede, my brother."
Correction: the original version of this story mis-identified the un-named congregant's race as African American. The
Express
did not confirm with that person if they identify as African American and so has removed this reference from the story.