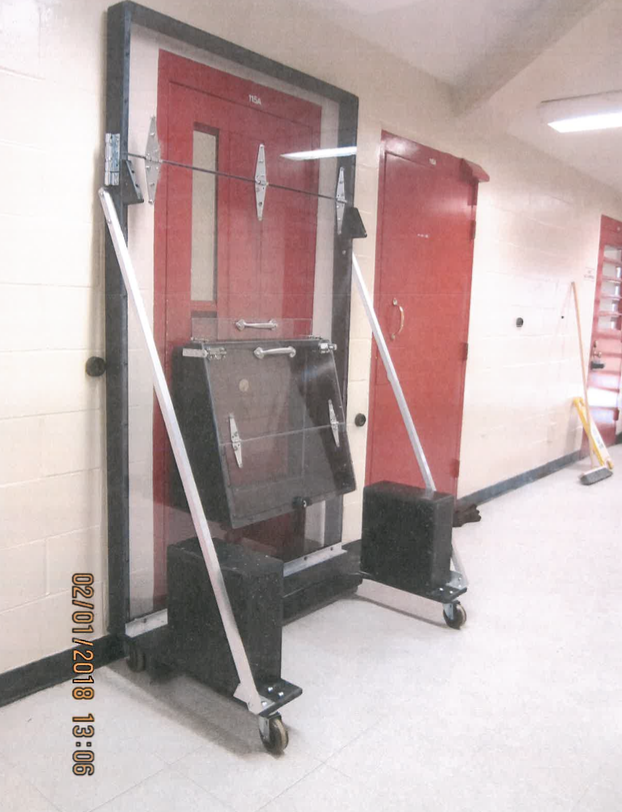 It's called "gassing," and it's gotten a lot worse over the past several years inside Alameda County's Santa Rita Jail. Gassing is prison slang for using feces, urine, bile, and other forms of excrement, as biological projectile weapons. Inmates collect waste matter in bags, trays, or just their hands, and fling it at guards or other detainees.
Gassing can result in the transmission of dangerous diseases like Hepatitis. It's gotten so bad in Santa Rita Jail that staffers have to use a large plexiglass shield to protect themselves against known gassers.
Now the state auditor's office is studying the problem. In January, Assemblymember Freddie Rodriguez (Chino) asked the auditor to examine how jail staff in Alameda and Los Angeles counties handle gassing attacks and whether there are prevention methods.
[pullquote-1] In a letter to the auditor's office, Rodriguez called gassing "a phenomenon that plagues both state prisons and county jails."
"We have always had gassing incident in my 22 years here," Sgt. Ray Kelly of the Alameda Sheriff's Office explained in an email. "But they were very random and sporadic. Maybe 1-2 a year. In the more recent 1-2 years, there has been a dramatic increase."
According to Rodriguez, since 2011, numerous state prison inmates have been transferred into county jails to serve out their sentences under the California's realignment policy. One question he wants to the auditor to answer is whether this influx of prisoners from state penitentiaries into county custody has correlated with the increased number of gassing attacks in jails.
Sgt. Kelly said several Santa Rita Jail staffers have already been gassed this year. In addition to the plexiglass shield, which can be wheeled in front of doors to shield staff, guards are also outfitted with protective face shields and special clothing when interacting with inmates known to carry out the attacks.
"It's a very disgusting type of assault that in many ways is more dangerous than a typical physical assault," wrote Kelly.
Rodriguez also wants to the auditor to study whether jail designs, overcrowding, or other factors are helping facilitate gassing attacks.
In a small number of cases, jail guards have been complicit in the gassing of inmates. Last year, the Alameda Sheriff's office arrested four of its own deputies — Erik McDermott, Justin Linn, Stephen Sarcos, and Sarah Krause — for helping inmates gain access to other inmates' cells to throw urine and feces on them. The four former-deputies appeared in court last week and are being charged with multiple felonies, including assaulting inmates, threatening witnesses, and conspiracy.
The inmates who carry out gassing attacks also face felony assault charges, but it's unclear just how many of these incidents have happened in recent years at Santa Rita Jail. The auditor is tasked with counting the number of gassing incidents in Santa Rita Jail since 2009, including the number that were charged as a crime. The auditor's office will also examine what kinds of aftercare jail staff receive following an assault.