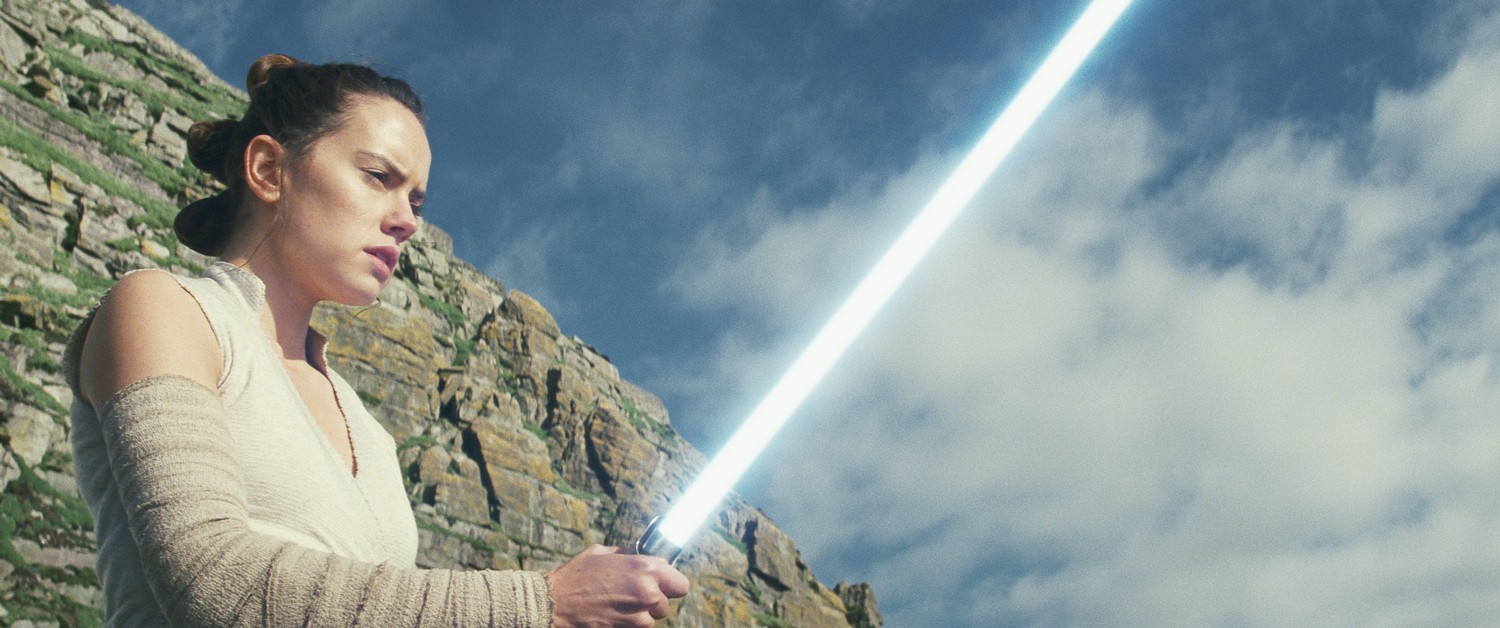 Armed with intelligent dialogue, fully dimensional characters, and the requisite wowie-zowie audio-visual effects, the Rian Johnson-Walt Disney Pictures-Lucasfilm-Ram Bergman Productions of Star Wars: The Last Jedi is pretty darned good. In fact, the 40-year-old franchise is looking quite healthy in its middle age, especially since it's joined earth-bound cultural discussions. As in 2015's Star Wars: The Force Awakens, assertive women in leadership roles and the ongoing rebellion against the First Order dictatorship get just as much screen time as cute robots and light-saber duels.
The chief seeker of justice is Rey (English actress Daisy Ridley), a rebel warrior whose sojourn with Luke Skywalker (series veteran Mark Hamill), studying the Original Jedi Texts and absorbing the Force, is the basis for much of the action. Rey is the last Jedi, at least for the moment. She's not the only female raging against the machine, either. Maintenance worker-turned-Resistance fighter Rose Tico (Kelly Marie Tran) quickly joins forces with trooper Finn (John Boyega) and pilot Poe Dameron (Oscar Isaac) for aerial dogfights with the bad guys. Laura Dern, in her smart uniform, takes a command position as the rebel Vice Admiral Holdo, and Lupita Nyong'o appears as Maz Kanata, a pirate also gone over to the Resistance.
But it's the late Carrie Fisher, in her final screen role as original cast member Princess/General Leia, who gives the eighth Star Wars installment its bittersweet tinge. Worried mother Leia is plainly devastated to be relegated to the sidelines after being injured. Fisher died during the film's production. Her performance has a curious valedictory feel to it, almost as if the actress knew the end was near.
The current-events tilt of the screenplay — written by director Johnson (Brick, episodes of Breaking Bad) — is unmistakable. The First Order is a brutal plutocratic oligarchy, with neo-Nazi uniforms, in which rich folks cavort in a ridiculously gaudy casino while the hideous Supreme Leader Snoke (busy character hand Andy Serkis) lords over the galaxy with the help of General Hux (Domhnall Gleeson) and the usual fleet of warships. That particular form of government may seem eerily familiar to present-day Americans. No wonder Luke and Leia decided to resist.
The situation of Kylo Ren, né Ben Solo (Adam Driver), is a little more complicated. It was Kylo who went over to the dark side despite his righteous parentage, and now the entire Star Wars sequel trilogy hangs upon which way he decides to swing. Will he snap out of it and remember he's the son of Han Solo and Princess Leia and rejoin Luke and the rebels, or allow himself to become the "new Vader"? Driver has the brooding presence of a Harry Potter villain, but at times lapses into his Joe Schmo routine left over from Paterson and Logan Lucky.
Character flaws such as Kylo's are part of the franchise's mystique. Unfortunately, so are tone-deaf acting and dialogue. Despite his proven showmanship, original boss George Lucas proved to be neither J.R.R. Tolkien nor Akira Kurosawa, and Mark Hamill will never replace Toshiro Mifune. Generally, the Star Wars nameplate is notorious for its great imagination and wide narrative scope, but hampered by its limited ambition — other than at the box office. Happily, Johnson fixes most of those complaints in this outing.
Whatever his other faults, the bearded Hamill radiates a certain guarded integrity as the ascetic Jedi leader. Fisher, Ridley, Isaac, Serkis, Gleeson, Tran, Boyega, and Dern also do their part to raise the energy level of what might have become, after all this time, a grandfatherly institution dedicated to meaningless firefights. The irreplaceable ingredient is character, as proven by Benicio del Toro — his stretched-out cameo as the codebreaker DJ, with his sleepy eyes doing the work, is one of the movie's surprise highlights. Humans naturally relate more easily to other humans than to robots (sorry, R2-D2 and C-3PO). Even a Wookiee knows that.
Star Wars: The Last Jedi
Written and directed by Rian Johnson. With Daisy Ridley and Mark Hamill. Now playing.