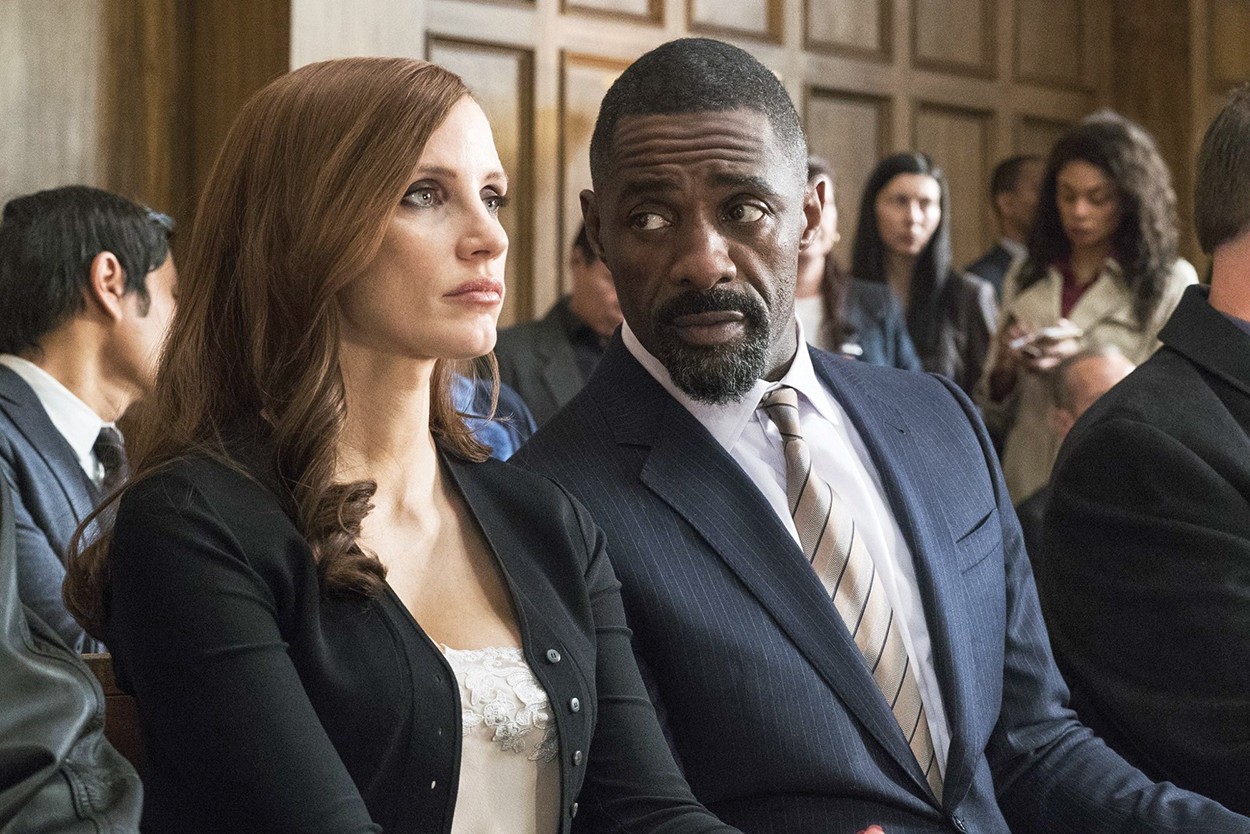 This must be the week for troubled winter athletes. First up was the ice skating scandal I, Tonya, and now it's time for a disappointed downhill ski racer. As based on the book by Molly Bloom, Molly's Game shows what happens to Molly (played by Jessica Chastain), a fiercely competitive skier, when she gets sidelined by injuries and then channels her energy into a dangerous new game: high-stakes poker.
Fascinating as Molly's new career is — running $10,000-buy-in Texas Hold 'Em tournaments, staffed by sexy models, in hotel suites for a select clientele of macho big-shots — the big selling point for the movie is that it is written and directed by Aaron Sorkin, the screenwriting whiz who created The Social Network and Moneyball. And there is a certain amount of real-world thrills in Molly's risky line of business, alongside a large amount of dialogue. Sorkin likes his stories intricate and talky, with lots of details. We meet nutty guys like "Bad Brad" (Brian d'Arcy James); Harlan the family man (Bill Camp); Douglas Downey (Chris O'Dowd), the loser who introduces Molly to the Russian mob (uh-oh); and Molly's lawyer Charlie Jaffey (Idris Elba), who defends her against a RICO indictment. Rich suckers galore.
Our trip down the rabbit hole is a long one, and the sameness of Molly's predicament — broken up as it is by hop-scotching flashbacks of her dad (Kevin Costner) schooling her in the ways of the athlete — wears on us. After a frantic first two hours, the pic goes into a "finding herself" pattern, which means losing us. Chastain, never a particularly warm, vibrant screen persona, may indeed be the wrong actor to enkindle much sympathy in an audience. The real Molly Bloom is evidently a tough cookie who once declared: "I'm very hard to kill." That may be true, but on the evidence of Sorkin's long, drawn-out investigation of that frustrated athlete's combination rite-of-passage/death wish, it's loads more fun spending time with creeps like Player X (Michael Cera) or Dean Keith (Jeremy Strong) than with poor, misunderstood jock Molly.

Molly's Game
Directed by Aaron Sorkin. With Jessica Chastain and Idris Elba. Now playing.