In the back of E.M. Wolfman General Interest Small Bookstore (410 13th St., Oakland), there are six shelves, all empty besides one object — a pair of shoes that are wrapped in blue ribbon and paper. The shoes once belonged to Lukaza Branfman-Verissimo, but now they are a sculptural homage to her great-great-grandmother, who was born into the slave trade in Brazil, and — according to the stories that Verissimo heard — never had the privilege of owning shoes. 
The shoes are one of few foundational pieces in Branfman-Verissimo's current show in the Wolfman gallery entitled Falamos pra fora — Portuguese for "We speak out." Another, the centerpiece of the show, is a blue muzzle made of crocheted and printed paper. The mask is meant to be a replica of the one that is said to have been used on Escrava Anastacia, an Afro-Brazilian slave remembered for bravely speaking out against her masters.
Branfman-Verissimo wants to test the power of stories and the politics intertwined with telling them: "Whose story is getting told, and whose stories are hidden, and what do we raise above, and what do we write on the wall?" Being of Afro-Brazilian heritage, she started where she felt the desire to dig: her own cultural past. But, eventually, she hopes to build a more varied portrait of the ways in which language can be used as a form of resistance, filling the shelves of the gallery throughout her residency.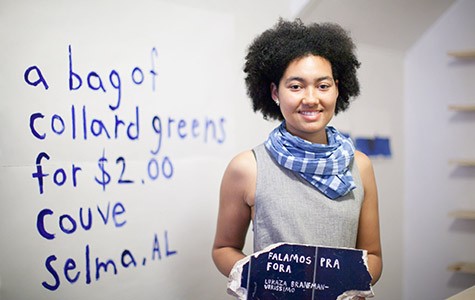 The main component of Branfman-Verissimo's show is a time-based process piece that's an active archiving endeavor. During four sessions of public drop-in story collecting hours segmented throughout the show (Dec. 8, 12, and 19, and Jan. 5), the artist will ask participants to share stories of speaking out, record them, and collaborate with the storyteller to envision a sculptural manifestation of their story. She will then create that sculpture in her own style — often involving raw wood, screen-printing, and indigo textiles. The sculptures will gradually fill the shelves, until storytellers are invited to retrieve the pieces when the show closes on January 15.
The stories don't have to be personal to the storyteller, but simply stand out to them as an exemplification of voice being used as a form of resistance. "It always rings a different bell for different people," said Branfman-Verissimo, "whether that's through resistance in their own history or a story of today or a story that they overheard."
Branfman-Verissimo is originally from Los Angeles, but graduated from California College of the Arts this past spring. Over the summer, she traveled across the country with her mother — a choreographer — doing a "van residency" and conceptual art project called Rooted America. Traveling with a miniature printing press in the back of their car, the two visited historical sites of resistance — from Selma to Detroit — and met with artists and community members, collecting their stories through collaborations in movement and printmaking. Branfman-Verissimo is currently finishing a book about the project featuring prints made along the way, transcriptions of interviews, and personal reflections. The book will be published by E.M. Wolfman and released in February.