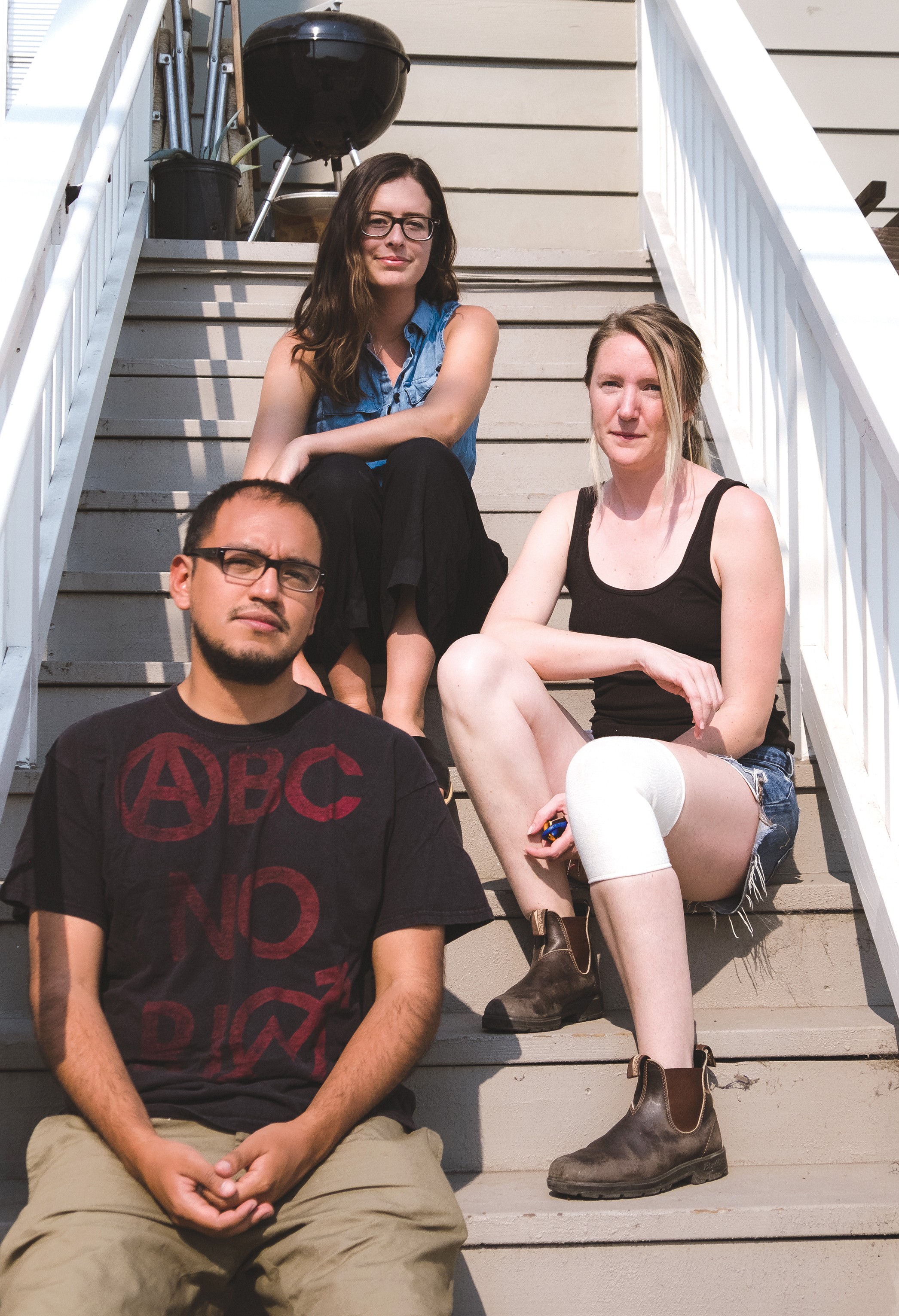 Megan Spurrell and Lauren Riley were having a difficult time finding an apartment last year. At several open houses, they were told by landlords they weren't the most ideal renters because they're young and don't have high incomes.
"We had one tell us, 'You guys are nice, but if someone has a Google paycheck, I'm taking them,'" recalled Spurrell.
So when they found a relatively affordable three-bedroom apartment in a duplex near Broadway and 40th Street, they readily signed a lease. They were also relieved to be covered by Oakland's rent control law because it would protect them against being hit with an unsustainable rent increase.
But in June, they received notices from the city of Oakland that their landlord, JDW Enterprises, was seeking to exempt their building from the city's rent control law using a little-known rule. The rule states that if a landlord "substantially rehabilitates" a building — by improving each apartment unit — he or she can permanently exempt the entire property from rent control. Substantial rehabilitation is defined as spending more than 50 percent of what it would cost to build an equivalent number of new housing units.
Policy experts say this clause in Oakland's rent control law is intended to promote investment in distressed and dangerous housing. If landlords make those properties habitable again, it increases the number of apartments available for rent in the city.
But in Oakland, tenants complain that landlords are using the rule as a loophole to circumvent rent control on buildings that haven't been condemned and are continually inhabited. Instead, landlords add up the costs of routine maintenance and capital improvements from many previous years to apply for certificates of exemption from the city's rent control law. Furthermore, some renters claim their landlords aren't actually rehabilitating their apartments and fixing the problems they have to live with. Tenants complain of vines growing through their walls, leaky plumbing, mold, chipping paint, and other problems — all while their landlord is hoping to nullify rent control.
Spurrell and Riley's apartment is in relatively good shape for a building that was constructed before World War II. It's obvious their landlord spent considerable money refurbishing the kitchen. Building permits filed with the city in 2013 show that JDW worked on the plumbing and electrical system and added a secondary unit in the backyard.
But the building has apparent problems. A rain gutter fell off months ago and hasn't been fixed. The siding is peeling away in places. The exposed rafters facing the street are decaying. There are holes in the sheetrock in one bathroom.
Records also show that the secondary unit in the backyard was conditionally approved by the city as an office — not a living space. Yet JDW rents the small building as a studio unit. The tenants who live in it use the bathroom in the main building to shower.
JDW's owner, Justin Wallway, didn't return several phone calls and emails requesting an interview for this report. But records his company filed with the city's rent adjustment program office show that he claims to have invested more than $300,000 in the property since purchasing it in 2013. To prove he has substantially rehabilitated other properties, Wallway's company has filed receipts for building materials going back as far as 2008.
Spurrell and Riley are contesting JDW's petitions to exempt their building from rent control, and they're not alone. In May, JDW filed petitions to exempt 13 buildings that include 35 units from rent control. Tenants in most of the buildings are objecting, according to city records. They claim that JDW did little to improve their apartments or that the work shouldn't qualify as substantial rehabilitation because it's more akin to maintenance on a continually inhabited property.
Mary Kallock, who shares a four-bedroom apartment in a North Oakland triplex with a backyard cottage that's also owned by JDW and pays a total of $3,500 a month with her roommates, said she's shocked by JDW's actions. "When I moved in, I knew duplexes were under rent control, so I assumed any increases would be that 1 or 2 percent a year," she said. "I can handle a $50 increase per year, but not anything substantial."
After notices arrived in June that JDW filed petitions to nullify rent control, Kallock and her roommates learned that numerous other JDW tenants were facing the same quandary. So they banded together to share information. But figuring out the city's complex rules for how to contest a petition isn't easy. "I don't know who you go to get clarification on what the law is," said Kallock.
Marlon Jones probably has the most to lose if her building is exempted from rent control. Jones moved into her two-bedroom apartment in a brick fourplex on West Street 41 years ago. She came to Oakland when she was just 8 years old and raised two daughters in the same neighborhood. One of her daughters still lives with her.
Since 1976, her rent has only gone up a few times. Her previous landlords, Ida and Doc Johnson, and then Philip and Diane Jackson, lived right down the street. She's known all her neighbors and watched the block change over the years. About seven years ago, Jones said she started to notice a difference: lots of new, younger people were moving in. Rents were rising in nearby apartments and houses.
"I don't know why everybody feels they need to move to Oakland," she said. "But I guess that's what the landlords are doing — if they can get out from under rent control, they can enjoy that high rent from people who move here from San Francisco."
JDW bought her building in 2012, and in July 2014, it doubled her rent from $684 to $1,322, according to a letter from JDW. Her new landlord also tried to make her get rid of her dog, a little Chihuahua-Dachshund mix named Batman. She said she dropped the letter on the floor and cried because it was so upsetting. According to Jones, JDW said the rent increase was necessary because of the repairs it did on the building. Jones didn't challenge the increase; her rent is now $1,371.
Earlier this year, Jones and the three other renters in her building got notices that the building might be completely exempted from rent control because the company claims it has substantially rehabilitated it.
Jones said that from the start it felt like her new landlords were trying to pressure her to move out. If the building is permanently exempted from rent control, it would probably make it impossible for her to stay. "I don't know where we would go," she said.
Although Jones' kitchen has new appliances, and JDW put on a new roof on and paved the backyard with bricks, parts of the building are crumbling, the wooden stairs in back are splintering, and tendrils of jasmine vines are growing through cracks in her back wall into her living space.
Oakland is one of the only rent control jurisdictions in the state that allows landlords to exempt buildings by claiming substantial rehabilitation. San Francisco has much stricter rules. Landlords there can only exempt their property if their investment exceeds 75 percent of the cost of newly constructed residential buildings of the same number of units and type of construction.
"The idea here is you have a building that's completely dilapidated and unfit for human occupancy," said Robert Collins, executive director of San Francisco's Rent Board.
It's also rare for San Francisco properties to become abandoned and so rundown that they can qualify for the substantial rehabilitation exemption. In the past 20 years, the city has only granted 19 exemptions.
But in Oakland, in just in the past six years, the city has exempted 33 buildings from rent control via the substantial rehabilitation rule. They include small buildings and large multi-family properties, according to data provided by Oakland's rent adjustment program office.
"I don't think it's necessary for this outdated exemption to exist," said Leah Simon-Weisberg, an attorney with Centro Legal de la Raza, which provides legal services to low-income renters. "Most jurisdictions have either tightened it so much, or gotten rid of it entirely because it leads to contradictory policy results."