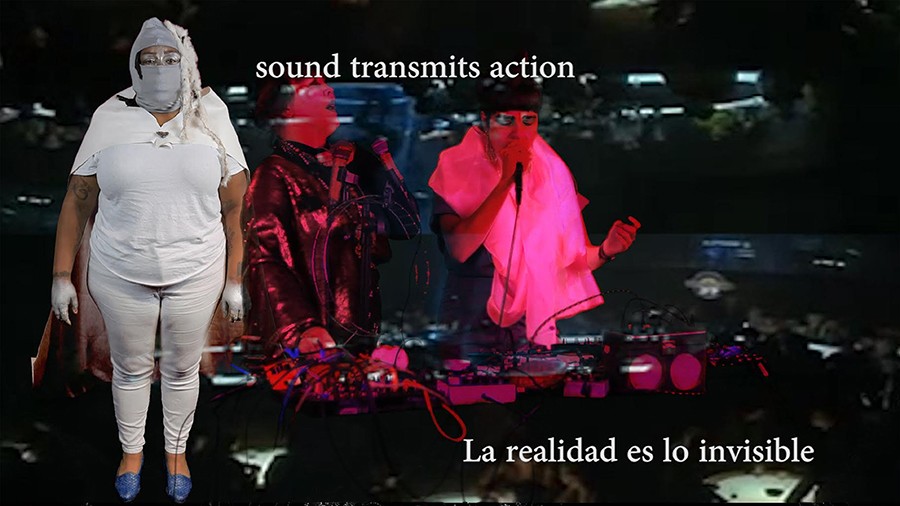 Echoes of a Tumbling Throne
, Sofía Córdova's ongoing performance and video series, imagines a future that's somehow both dystopian and hopeful. For Córdova, ecological catastrophe means a post-apocalyptic world in which social hierarchies haven broken down, leaving space for radical reinvention, and for marginalized bodies and minds to exist, free from all kinds of oppression. Cordóva has been fleshing out her vision around this narrative for a while now, and it's taken on plenty of different shapes, from trippy, surreal performance art videos to synth-driven experimental pop as the project's musical protagonist, Xuxa Santamaria. On Sunday, the Temescal Art Center will host a new iteration of
Echoes
as part of their monthly experimental film series,
Shapeshifters Cinema
. As with past performances, Cordóva will be joined live by Matthew Gonzalez Kirkland, her partner on the Xuxa Santamaria project, in providing a live, semi-improvised score. Expect an audio-visual spectacle that expands your sense of possibility.
Sunday, August 13, 7:30-10pm, Free, 511 48th St, Oakland, ShapeshiftersCinema.com.