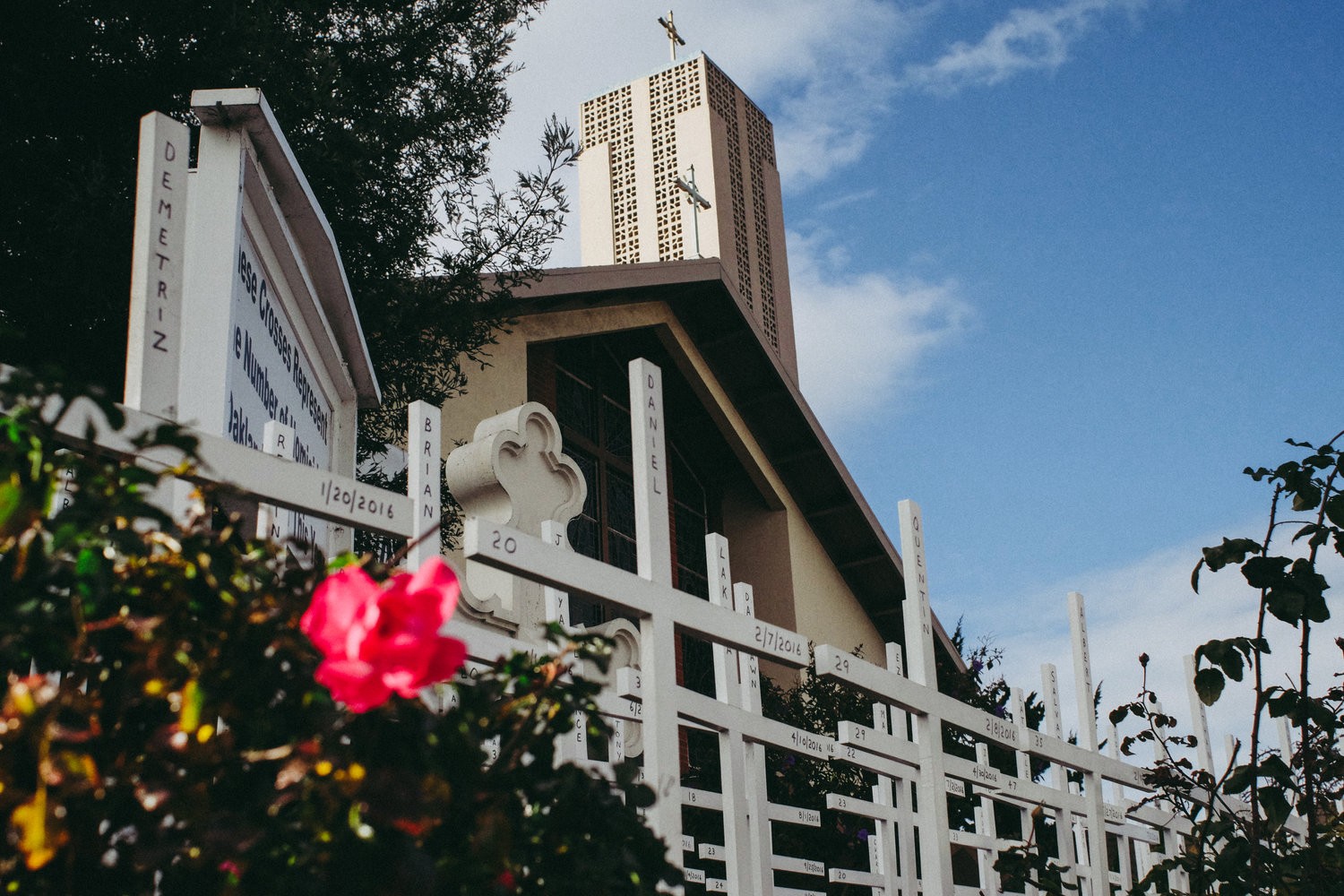 It begins with the description of a sobering image: 80 slim wooden white crosses covering a church lawn, each labeled with a name, an age, and a date of death. Each cross represents an Oakland homicide victim from the past year. On New Year's Eve in 2016, members of St. Columba Catholic Church read each name and pulled the crosses from the lawn as a prayer for a peaceful year.
While Oakland's homicide rate has dropped considerably in recent years — from 147 in 2006 to 85 in 2016 — the producers of the Oakland-based podcast
Snap Judgment
decided they wanted to humanize the statistics.
"So often when we hear about homicides in the news, it's about the number or the statistics," said Adizah Eghan, co-host and producer of the hour-long episode "
Counted: An Oakland Story
." "There's not really much about the names behind the number or the people who they left behind."
Throughout 2017, Eghan and her team investigated the stories of Oakland's homicide victims. One of the first people they met was Daryle Allums, an activist who lost seven friends and family members to homicide in 2016. Known for his dedication to reducing violence in Oakland, Allums can frequently be found standing on the corner of 90th Avenue and MacArthur Boulevard with poster boards picturing locals who have lost their lives.
"He's just doing anything he can to let people know that this is happening and that they should pay attention," said Eghan. Allums quickly became so integral to the story that the podcast featured him as a co-host.
Eghan and her team also spent time with the families and friends of other victims, including 22-year-old Darnell Foster, 18-year-old Sultan Bey, 40-year-old David Deporis, 44-year-old Jason Coleman, and 13-year-old Anibal Andres Ramirez. Each story touches on a different issue affecting the community: homelessness, poverty, immigration.
The episode also examines the rhetoric surrounding these deaths. "When we say this person didn't deserve to die, what are we saying about the other people who lost their lives?" said Eghan. She noted that when someone who's middle-class and seen as a "good kid" dies, people are more shocked and horrified by that death than when someone who is homeless or has a history of trouble with the law dies. As a result, this values some lives more than others.
While the murder rate in the city has continued to decline — there were 72` homicides in 2017 — there's still more work that needs to be done. "Counted: An Oakland Story" presents a possible solution to the issue: holding the community accountable. Allums looks out for the kids in his neighborhood and encourages others to do the same.
Despite the pain present in these stories, Eghan also tried to focus on the moments of hope in the community. "We wanted to show some of that joy and love people had for this city and for one another, in addition to the pain that they felt when they lost someone," she said.
The producers of
Snap Judgment
plan to work on more durational reporting, or audio-documentaries, and Eghan said she'd like to do more local stories.
"This story for us going into it, it wasn't about becoming experts on violence or murder, it was more about telling the story of our neighbors and what they missed out on in life," she said.
More interviews, photos, and illustrations from "Counted" are available at
OaklandStory.org
.