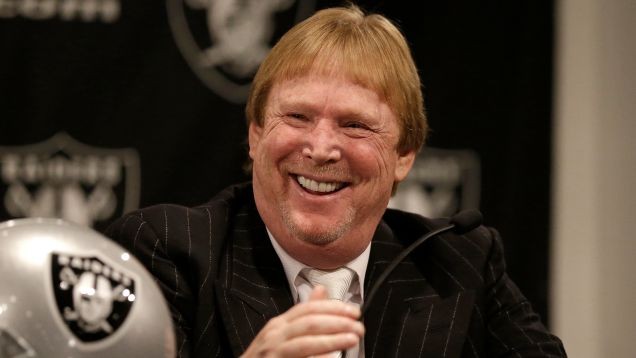 If I told you that, with just one step, the Oakland City Council could recoup hundreds of millions of public dollars, silence longtime critics over the Raiders deal, and erase the Coliseum debt — all while outfoxing a powerful corporation with a history of mistreating Oakland — would you want them to do it?
Of course, you would.
Oakland council members now have that chance. All they have to do is join an antitrust lawsuit being prepared against Mark Davis and the NFL over the Raiders' move to Las Vegas.
Here's why I believe the Oakland City Council should do exactly that.
The seeds of this lawsuit were planted barely a year ago in an Arizona resort hotel, where NFL owners approved Davis' move to Vegas. Davis appeared after the vote at a televised press conference, in which he celebrated moving the Raiders from Oakland for the second time in roughly 35 years. (Perhaps not coincidentally, the Raiders haven't won a Super Bowl in nearly 35 years.)
Moments later, Davis roamed the hotel lobby where he approached Griz Jones — leader of a fan group called Forever Oakland — and offered to shake Jones' hand and talk with him about the Raiders' future. Jones, according to the New York Times, rejected Davis on both offers and replied, "There is no future."
Instead of giving in, members of Forever Oakland and another fan organization, We Stand with Oakland, set their sights on digging in. They quietly began researching law firms with the goal of using legal action to prevent the Vegas move, or to force Davis to leave the Raiders' name and logo in Oakland while taking his team with a new name to Sin City. (Cleveland did the same with the Browns in 1996, when then-owner Art Modell left Ohio and rechristened his former Browns franchise the Baltimore Ravens.)
After months of legwork, the Oakland fan groups chose wisely.
They selected Berg & Androphy of Houston and Weil, Gotshal & Manges of New York — a legal team that includes Jim Quinn, a high-powered Manhattan attorney who's no stranger to defeating the NFL. Quinn's legal victories over the league include litigation on behalf of the North American Soccer League; a lawsuit that hastened the end of the NFL's 2011 lockout; and the so-called "Freeman McNeil case," when a jury verdict found the NFL had violated antitrust laws and paved the way for league free agency.
Some East Bay leaders including state Assemblymember Rob Bonta, D-Alameda, county Supervisor Nate Miley, and Oakland Councilmembers Noel Gallo and Rebecca Kaplan already publicly support the lawsuit. And the list of good reasons why is long.
In fact, there are at least 80 million good reasons, as Oakland and Alameda County still owe around $80 million over stadium renovations done for the Raiders in 1995.
The lawsuit, meanwhile, could yield a settlement of an even larger sum. In fact, its recovery "certainly could be in the range of hundreds of millions of dollars," Quinn told the Express.
Kaplan, Oakland's at-large councilmember, also pointed to a recent ruling from a suit that St. Louis filed after the NFL approved the Rams' return to Los Angeles in 2016. The Missouri Supreme Court last week rejected the NFL's attempt to dismiss a number of parties named in the litigation, including most of the league's 32 owners. To the NFL's chagrin, the suit now will move forward as St. Louis tries to recoup money spent trying to retain the Rams, according to a Law360.com article.
"The progress in the St. Louis lawsuit against the NFL is a positive sign for what we could do to help protect the taxpayers of Oakland and Alameda County," Kaplan said last week on social media. "I believe we should also work to recover financially on this issue."
There are other reasons to support the lawsuit, its backers say.
For one, Oakland would take no financial risk, Quinn said. He and the other attorneys are working on a contingency basis, meaning they'll front all legal fees at no cost to the city or county. If the lawsuit fails, the law firms will cover their tab. The attorneys have to win in order to receive payment, which would be one-third of a judgment or recovery settlement — the industry standard for contingency work.
Also, early concerns that legal action might spur a countersuit have proved untrue. "Just because you get sued, you can't just say, 'I'll sue you back.'" Quinn said. "You have to have basis for a claim to do that, and [the NFL and Davis] have no claim. It would be frivolous, and they could be sanctioned for it."
Third, fears of the legal action "tying up" the 120-acre Coliseum complex are unfounded because, a) the lawsuit and future Coliseum development are unrelated, and b) the A's say they'll be at the Coliseum until 2023, meaning the site will be "tied up" by MLB, anyway, for at least five more years.
Also, the East Bay needn't worry about angering the NFL. The league already has twice betrayed Oakland: First, in 1980, when then-Commissioner Pete Rozelle's hubris led him to persuade Oakland leaders to drop an 11th-hour deal the city had struck with Al Davis, dooming Oakland's last best chance to keep the team. Second, Commissioner Roger Goodell and NFL owners last year could have blocked Mark Davis' Vegas plans or leaned on Sheldon Adelson to reverse the Nevada legislature's vote. They did neither, of course, showing they don't care about Oakland's great fans who loyally supported pro football for a half-century. If Oakland sues the NFL now, what could the league do in revenge to the city that it hasn't already done? There's no relationship left to salvage.
If anything, the lawsuit gives city and county leaders something we all occasionally pine for: a second chance to right a wrong. The flawed Raiders deal that returned the Silver and Black to Oakland 23 years ago has, unfortunately, led to a mountain of debt, governmental finger pointing, and voter anger. It also put a paralyzing chill on stadium development talks with Oakland's other sports teams. I invite East Bay elected officials to look at the lawsuit as a way to finally wipe that slate clean and to recoup the tax dollars spent on the greedy and disloyal Davis family.
There's never a guarantee of success in this kind of legal action. However, there is always dignity in fighting back. And council members don't need me to remind them about the spirit of Oakland, this beautiful but complicated city where rebellion is practically embedded in its DNA. In fighting against the NFL, Oakland would be swinging above its weight for a righteous cause. Fighting back against a powerful foe while being factually and morally right — it doesn't get more 'Oakland' than that.
To Griz Jones and other fan group leaders, a successful legal battle against the NFL coupled with the A's making real progress on a new Oakland ballpark would boost the spirits of weary East Bay fans in need of a win.
"People want to kick dirt on Oakland's teams but, actually, this could be a great year for Oakland sports," Jones said. "Finally!"
The late broadcaster-journalist Howard Cosell covered the first Raiders relocation in his 1985 best-seller, I Never Played the Game. Cosell blamed both Al Davis and Pete Rozelle for letting their bitter personal feud get in the way of finding a stadium solution in Oakland.
"After all, the citizens of Oakland were the real losers," Cosell wrote. "They're the ones who gave all those years of loyal support and got ripped off for it. Who will protect others like them in the future?"
The Oakland City Council now can emphatically answer Cosell's question. Councilmembers can protect Oakland's taxpayers and fans by voting to start the lawsuit against Mark Davis and the NFL. I urge them to do so as soon as possible. And I urge the county board of supervisors to then follow suit.
Chris De Benedetti writes a regular sports column for the
Express.