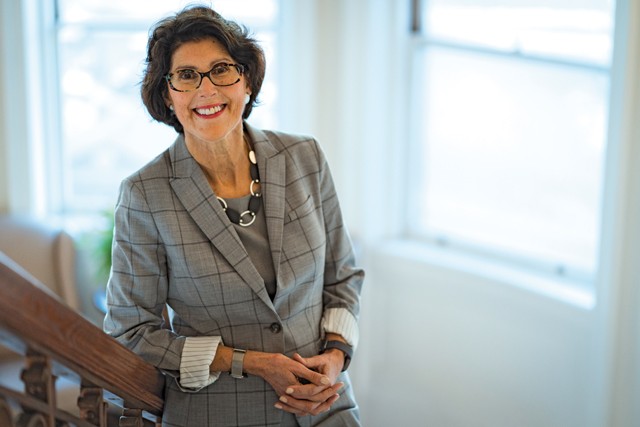 Marilyn Ezzy Ashcraft has dutifully followed the basic track for public service in Alameda. After working on local tax measures and serving stints on hospital and planning boards, she was twice elected to the Alameda City Council. But there's one local office missing from her résumé.
Although she hasn't formerly announced her intention to challenge Alameda Mayor Trish Herrera Spencer in the November 2018 election, her candidacy appears to be a certainty. It's possibly Alameda's worst-kept secret.
"I'm seriously thinking about running for mayor," she said in a recent interview. "I feel like I've got the background. I know the city—six years on the planning board, now five years on the city council. We've got to plan for our future. You can't turn Alameda back into the city it was 50 years ago, but we can grow and get better."
Ezzy Ashcraft can't claim that uniquely Alameda description of counting her family's time on the Island in terms of generations, but her parents, both Arab Americans, first set roots in Alameda when she was just 4 years old. Ezzy Ashcraft's father is Syrian; her mother, Lebanese.
She says the idea of a career in public service was sparked by her father, who was born in Canada but became a naturalized U.S. citizen after serving in the Navy during World War II. "He took his citizenship very seriously because you had to study—take a test," she said. "He could recite the preamble to the U.S. Constitution and loved his country." Her father also was a labor leader in San Francisco, and she said that watching him representing union members at hearings was inspiring to her as a teenager.
The Alameda of Ezzy Ashcraft's youth was idyllic. "Alameda seemed like a magical place in the summer. You go to your swimming lessons at the swim center, go to the library, kiddie matinees at the Alameda Theatre," she said. "I hung out at the old library because I was what would have been called a 'latch-key kid,' except, I don't think we locked our doors in those days."
She attended Edison Elementary and later Alameda High School. In between, she volunteered to work for the city's park and recreation department. Later, after graduating from UC Davis, Ezzy Ashcraft became an attorney specializing in employment law. After having twins, she shifted gears and focused on arbitration, a role she continues to this day. But the switch in career focus also led to her start in public service.
In 1996, Alameda's initial push to modernize its main library via a parcel tax was foundering. "One of my friends called and said, 'Marilyn, you've got to come and phone bank. We're not doing well.'"
It wasn't the best time for Ezzy Ashcraft, she acknowledged, with two young children and a father who was sick. The library parcel tax lost badly. But the old Carnegie Library was too small even when she was in high school, she said. "Something had to be done, so we regrouped and learned how to properly put together a library campaign." Ezzy Ashcraft would eventually help lead a successful bond measure campaign that resulted in the current main library on Oak Street.
Her work on the library bond led to an appointment to the Alameda Hospital Board. And she quickly learned the hospital was struggling to keep its doors open. Acknowledging the funding shortage, administrators began planning a parcel tax ballot measure, and they wanted Ashcraft to run the campaign. '"Really, me?' " she recalled thinking. '"Because I had one campaign?' So, that was stress-inducing because 500 or more people worked at the hospital, and if that parcel tax didn't pass, we would have had to file for bankruptcy."
Alameda's $300-a-year parcel tax also won at the ballot box. "The breadth of Marilyn's involvement in so many issues is impressive," said Kathryn Saenz Duke, a member of the Alameda Point Collaborative and former Alameda Hospital District board member. "And she has done so many things to maintain a diverse community in Alameda and not allow it to be a mono-culture."
Later, then-Mayor Beverley Johnson appointed Ezzy Ashcraft to the planning board where she served for six years. After Ezzy Ashcraft's ill-fated run for city council in 2010, community leaders urged her to give it another try. And in 2012, she finished first in the at-large council race for two open seats and then won re-election four years later. A run for mayor this year appears to be the logical next move for Ezzy Ashcraft, and she isn't shy about critiquing the current mayor. "It's not only the lack of leadership, but it's the extra drama that is using up so much energy just to maintain equilibrium," she said of Spencer. "People are using so much of their energy just to manage her that it's amazing we are even moving forward on a number of things. We could be doing so much better."
It has become clear to many council watchers that Ezzy Ashcraft and Spencer simply do not get along. The two have often sniped each other and have routinely cut each other off during council meetings since Spencer took office in 2015.
Ezzy Ashcraft acknowledged that other councilmembers may also be contemplating a run for mayor, including, most likely, Frank Matarrese and, perhaps, Malia Vella. "I don't discount that others on the council have aspirations," Ezzy Ashcraft said. "I don't that see that as a problem with Frank. At the end of the day, he and I, although we come at issues from different angles, we want what's best for the city. The mayor, from Day One, for whatever reason, cannot stand me."
Last summer, when Spencer was asked about rumors that Ezzy Ashcraft would challenge her in 2018, she said, dismissively, "I would be a better mayor than her any day of the week."
Ezzy Ashcraft scoffed at the assessment, simply saying, "We can do better. That's what I would say." She paused a beat, seemingly weighing whether to say more, before adding, "She's complicated. I'll leave it at that."
Similarly, the issues facing potential Alameda political candidates next fall are complicated and include questions over housing and development and the arrival of medical cannabis to the Island.
Ezzy Ashcraft admitted that she lacked knowledge about cannabis before the council began discussing last year whether to legalize it. So, she sought more information and attended seminars on the industry.
Former Alameda Mayor Marie Gilmore said that's not unusual for Ezzy Ashcraft, who was always well-prepared during their two years together on the council. "She always did her homework and that included more than just reading the agenda packet," said Gilmore. "If she had questions or concerns, she would reach out to people and get other perspectives."
On cannabis, Ezzy Ashcraft heard a common theme: start slow, go small, and avoid clustering of dispensaries. The council's decision to permit two medical pot dispensaries is a good start, she added.
But the biggest issue of the 2018 campaign promises to be housing. Ezzy Ashcraft, a liberal, tends to favor growth, while Spencer, a moderate, often opposes it. In addition, Ezzy Ashcraft took heat from landlords last year after she voted in favor of just cause tenant protections that limit evictions. Landlords are backing a charter amendment to block just cause in either the June or November election. They're also expected to spend heavily to defeat Ezzy Ashcraft if she runs for mayor. "The landlords and the renters, we can be fair to both sides, but we don't need a charter amendment etched in stone, because we will have a better rent ordinance if we can change with changing times," she said.
The need for tenant relocation payments when people are evicted without cause—another point of contention for some landlords—is also important issue for Alameda renters, said Ezzy Ashcraft. "Many people are just a paycheck or a financial disaster away from homelessness. With the landlords, fine, we can understand their objections to certain things, but at the same time, if you're displacing someone for no fault of their own, they do need that assistance just to keep them on their feet. Morally, it's the just thing to do, and financially, it costs all of us if we start increasing our homeless population."
This report was originally published by our sister publication,
Alameda Magazine.