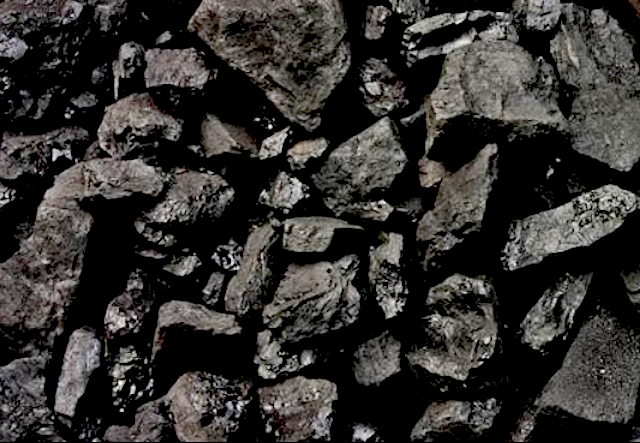 Developer Phil Tagami took the stand in federal court today to defend his company's effort to overturn the city of Oakland's ban on shipping coal.
"We'd be building a facility that's really state of the art, unlike anything that exists anywhere in the world," Tagami told the court. He said city, state, and federal regulations that are already in place are strong enough to ensure coal can safely be shipped through the East Bay.
His company is under contract with the city to build a bulk commodity export terminal on city-owned land in West Oakland. Partnering with Tagami on the project is Bowie Resource Partners, a coal mining company, and Bowie is helping pay for the lawsuit.
Tagami told the court that between one and three million tons of coal per year would be brought via rail through Oakland to the terminal from Bowie's Utah mines. But he maintained that the rail cars would be capped to prevent coal dust emissions and that the facility would have numerous other safety measures.
A single train would be over one mile long and include more than 100 cars packed with western bituminous coal. As many as 200 trains per year could transit through West Oakland to the marine terminal.
But Tagami's lawyers said that the city's elected officials caved to pressure from the Sierra Club and decided to ban coal without actually having evidence that it's bad for the environment.
"It's a big deal for Oakland politicians to alienate the Sierra Club, right?," Meredith Shaw, one of Tagami's lawyers, asked Patrick Cashman, a former city employee who worked on the Army Base redevelopment project. "Sierra Club can make or break you politically?"
Cashman replied that there is an "alignment" between many local politicians and the Sierra Club on environmental policy issues.
Robert Feldman, another of Tagami's attorneys, asked the city's scientific consultants why they chose not to include information that appeared to be favorable to his clients in their report.
"What your client wanted was a report to support a coal ban?" Feldman asked Victoria Evans, a former employee of ESA, the city's consultant.
Feldman characterized the ESA report as "preliminary" and said it was based on limited information that didn't provide the city council a full picture.
The ESA report found that the city had reason to expect negative health impacts if the coal terminal were to be built.
Evans acknowledged that the report did use limited information. ESA's contract with the city was to review the public record that was submitted to the city council during public hearings in 2016. Even so, she said this record still contained about 3,000 pages of materials, and her team was able to find scientific evidence among the many letters and documents contained in it.
"We ruled out those that didn't have scientific data attached to their comment," said Evans. She also said her team performed its own calculations based on this record to reach its conclusions.
Feldman, however, criticized ESA and the city's decision not to study other coal terminals currently operating in California and to not study the possible air pollution that other types of commodities could cause.
Evans answered that the city told her team only to study coal.
Feldman also underscored ESA's decision not to include in its report statements made by an employee of a company that manufactures rail car covers.
"Was there anything in your report that shows Ecofab has shipped millions of miles and no dust has escaped?" Feldman asked, referring to the company that makes the covers.
"No," replied Evans.
But in previous court briefings it was established that rail car covers have actually never been used to ship coal. Tagami also acknowledged this fact at today's hearing.
Feldman also singled out examples of what he alleged were omissions from the ESA report that stacked the deck against coal. One email was from an ESA team member addressing the potential for fires at coal shipping facilities.
"This email was cut and pasted into the ESA report, except for one thing right?" asked Feldman. "Major fires at coal terminals are not common or widespread. It's not in the ESA report is it?"
"That's correct," said Evans.
The city's attorneys countered by asking Evans a lengthy series of questions about how the ESA team came to its conclusions, including the methods they used to estimate potential coal dust emissions from trains.
The ESA report concluded that about six tons of coal dust would blow off train cars each year along one and half mile stretch of track in West Oakland. Evans said this number was obtained by using coal dust emissions measurements taken recently along train tracks in Washington state.
But Judge Vince Chhabria cut in during the city's questioning to ask Evans if anything in the ESA report would allow him to compare the potential coal dust emissions from the proposed export terminal and trains to other existing sources of pollution like the Bay Bridge toll plaza or diesel trucks at the Port of Oakland.
"The answer is no," said Evans. "We did no comparison." But she added it would be possible to measure other pollution sources and compare them to the coal facility's impacts.
Chhabria said at a previous hearing last week that he thinks the city needs some kind of baseline or comparison in order to show that the coal export terminal would significantly increase pollution.
Gregory Aker, an attorney for Oakland, also asked Evans about the possibility that the coal trains or warehouses could erupt in fires.
"The concern here is coal outgases methane and methane is combustable," said Evans. "There have been instances of rail cars arriving smoldering at power plants."
Evans also told Aker that there's been no scientific studies of the effectiveness of using surfactant sprays – another mitigation measure Tagami's team has offered to reduce dust – so her team didn't assume they would be used or have any effect on the escape of coal dust from trains.
As for the overall quality and accuracy of the ESA report, Evans defended it. "There was a lot more scrutiny given to this report than is typical at ESA," she said. "It received a lot more review internally. It was, 'Let's get it right, let's make it clear what we're trying to say.'"
The trial continues tomorrow.