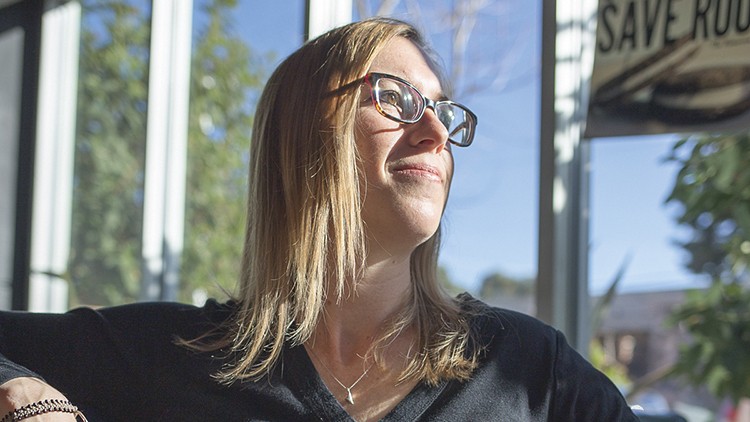 In many ways, predictions about the future of the East Bay's restaurant industry sound totally dystopian: robots, ghost kitchens, and the slow death of the traditional restaurant as we know it.
Erin Wade, owner of the explosively popular mac 'n' cheese restaurant Homeroom, said she thinks the landscape will look nothing like it does today.
"It's going to change more in the next 10 years than it did the 30 years preceding it," she said.
Industry leaders agree that one of the biggest game-changers is the recent rise in food delivery services. While delivery was once relegated to certain types of businesses, third-party apps have made it commonplace across cuisines and service models.
Wade never expected this shift in consumer preference when she first opened her full-service restaurant in 2011, but demand eventually led her to open Homeroom To-Go, a separate spot down the street with a large kitchen and tiny storefront geared toward takeout orders. Now, it's crucial for Homeroom's growing delivery business. According to Wade, Homeroom's delivery is up 65 percent from just a year ago, and she plans to rapidly expand it further in the next two years.
It's not just Homeroom, either. According to Caviar, one of the biggest food delivery services in the Bay Area, its East Bay orders swelled by about 80 percent from 2016 to 2017.
So, in an industry where just about every new restaurant is focused on delivery, what do those restaurants look like? "That has all sorts of implications to not only the back of the house and the front of the house but to the types of food and how that food is packaged," said Katie Daire, an Oakland resident and marketer for Caviar.
Daire predicts that more restaurants will have larger kitchens and reconfigure them specifically with pick-up orders in mind. That means there will likely be smaller dining rooms and fewer tables. And separate entrances will be added specifically for delivery drivers as to not distract diners trying to enjoy a traditional experience.
In the short term, Daire assumes the East Bay will see a rise in restaurants specializing in dishes known to travel well. But in 10 years, she expects radical innovation in packaging itself so that's no longer a factor. Taking it even further, Wade thinks the delivery model itself will become more creative and experiential.
"Right now, it's like, plunk, bags of food show up at your door," she said. "I think a lot more could show up at your door."
Wade also predicts a new type of business model will emerge: commercial kitchens specifically designed to facilitate deliveries. Existing restaurants might contract out with these kitchens, or they'll house multiple delivery-only restaurants. She calls them "ghost kitchens."
"Delivery is going to become so ubiquitous that you're going to have ghost kitchens all over the place," she said. "You're going to have the ability to have food after not 20 minutes but five to 10."
Iso Rabins opened Forage Kitchen, a commercial kitchen and food business incubator, in 2016. Already, it's become a regular host to delivery-only pop-up restaurants, and he expects delivery-only restaurants to flourish in the future, functioning as an entry point for hopeful restaurateurs, like food trucks do now. And overall, with the East Bay's limited space, more food businesses like his that are focused on sharing resources will emerge.
"I think people are realizing they can have a restaurant without going through the hassles of a brick-and-mortar," he said. "You can run a business without having a million dollars to build out a kitchen."
We also might start to see far more technology in restaurants. Wade envisions automated cars making deliveries. Will food delivered by droids follow?
Daire thinks predictive analytics will be strong enough in 10 years to help restaurants anticipate their volume and, in turn, food costs.
In China and even Southern California, fast food restaurants have rolled out facial recognition technology, pulling up a regular's favorite order before they open their mouths. "It's a virtual version of what people have always done in restaurants," Wade said. "Already today, computers have that capacity. I think it's just a question of if we as humans react positively or are creeped out by it…
"I think you're going to see more automation, more experimenting with ways to service so you can have a human touch in the places people still enjoy having them," Wade continued. "It's an interesting element of human psychology. Where do we still want people to be? Where do we enjoy connecting with people such that it's worth dealing with their personalities or time lags?"
Even though Rabins is philosophically opposed to human-less restaurants, he does expect robots to enter local mainstream restaurants in a big way. "It's inevitable that there will be a segment of restaurants that are totally automated," he said. "The tipping point will be when it's way cheaper to get good food at those restaurants than a restaurant where someone is serving you."
With a rise in quick-service models, delivery, and automation, will traditional, full-service restaurants remain? Rabins likes to think there will always be a space for them. Amy Hillyard, owner of Farley's and founder of small business owners' group the Oakland Indie Alliance, isn't so sure. East Bay restaurateurs already find it challenging to keep up with rising costs and maintain staff amid the housing crisis. If those trends continue, Hillyard doesn't see how local folks will be able to launch small restaurants in the future. "Less family establishments will open because the people who can really survive will be either automated, fast-casual with as few humans working as possible and high volume, or the super high-end, where people with privilege can sit down," she said. While the East Bay has few fine dining restaurants now, she expects that will change as wealthy tech workers continue to move here.
If locally owned eateries close rapidly and few have the financial means to enter the industry, developers and landlords won't have too many choices for the ground floors of their future high rises. "They're going to want to fill their stores, so they'll fill them with chains," Hillyard said.
A lot of new chains exude the same sort of "eat local" mentality as many East Bay restaurants. And some are already here, such as Tender Greens, Sweetgreen, and Urban Remedy. "Can these models that in some ways seem independent really have an independent feel? I think the current Oakland customer base has a nose for authenticity, and they will bypass it," Hillyard said.
But that's changing quickly, as more longtime Oakland residents get pushed out, and Hillyard fears future residents of the East Bay will opt for convenience, which means chains, delivery, and automation. For Hillyard, it's grim to think about. Daire, though, firmly believes food is too emotional to get too dystopian, especially in the East Bay.
"Food is elemental to the community," she said. "There is always going to need to be a human touch."