Every morning, Sheila Young-Eberhart arrives at the 18,000-square-foot manufacturing facility for Richmond's Rubicon Bakery, punches the clock, and gets to work. She's the bakery's quality assurance manager: one of the last lines of defense in making sure every cupcake, marshmallow, bite-size brownie leaves looking and tasting the way it's supposed to. By all accounts, she is a model employee.

But before Young-Eberhart started her entry-level job in Rubicon's packaging department four years ago, she was a drug addict who'd just completed a four-month stint in jail. She wanted to turn her life around but had few realistic employment prospects.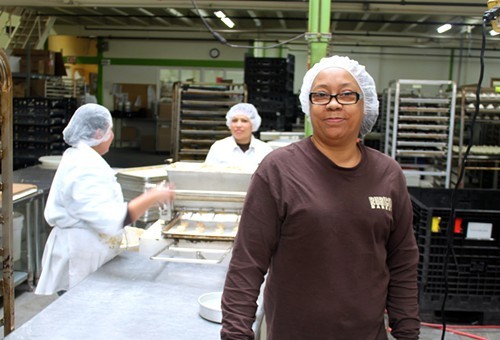 Sheila Young-Eberhart credits Rubicon Bakery with helping her turn her life around.
Rubicon Bakery hired her because that's what it does: Almost all of the company's 85 full-time employees are ex-cons, recovering drug addicts, and the recently homeless. Many of them are funneled in through the job-training services offered by Rubicon Programs, the Richmond-based nonprofit that founded the bakery in 1993. It is a company that has staked its entire business model on the idea that people deserve a second chance.