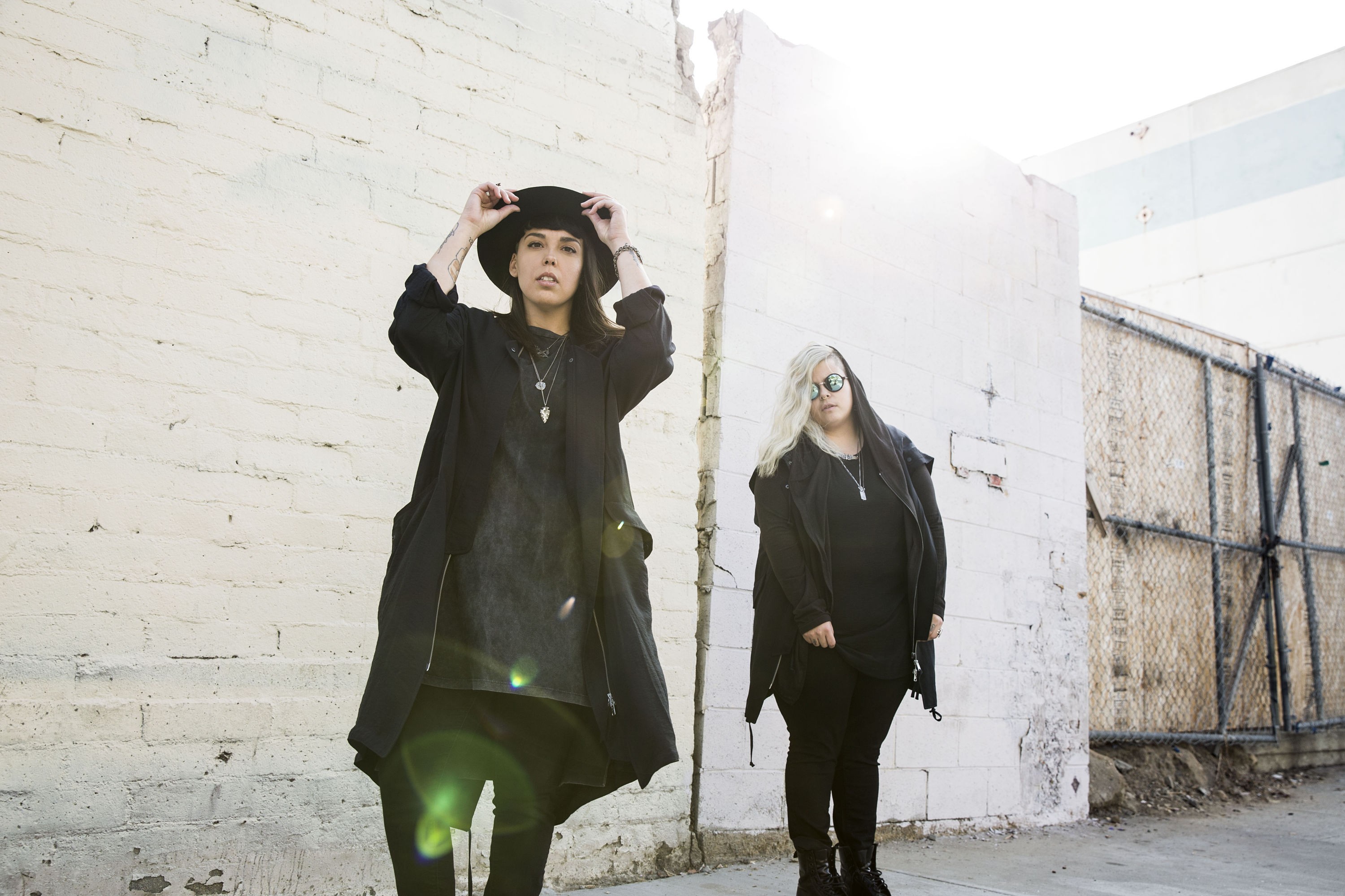 The night Donald Trump swiped the White House, Terra Lopez was in her element, the recording studio, laying down new tracks with her band, Rituals of Mine. And, like most progressive-minded artists with roots in Oakland, she got pretty angry.
"We're two queer women. We are also two Hispanic women. So, on many levels, it's pretty heavy," she explained, describing how she and bandmate Dani Fernandez feel about making music in this time of Trump.
"It's pretty suffocating."
To that end, new tracks on Rituals of Mine's next record, which is due in late 2017, will be more socio-politically charged. In a way, this is nothing new for Lopez: Her group (formerly Sister Crayon) makes at once brooding and alluring electronic songs, but packaged in an almost metal-rock shell — music that is passionate, vulnerable, fiery.
At the same time, the band is not overtly political. Just real. Or, in the parlance of our times, "woke." And that's why, in advance of the group's appearance in Berkeley on March 29 at the UC Theatre, the
Express
called up Lopez to talk news.
For instance, Lopez is no stranger to the housing-affordability crisis, which is strangling cities throughout California, including her hometown, Sacramento, and her home-away-from-home in Los Angeles. When she lived in Oakland, Lopez actually rented a space on a porch, which was repurposed into a bedroom. It cost in the high three-figures each month. "And I could hardly afford it. And I put myself in some sketchy situations just to stay in the city," she remembered.
Now, she worries that so many of her friends here in the Bay, artists or otherwise, are making so many sacrifices to live in Oakland. "I don't really understand how artists can sustain these prices. I don't really get it." It's no secret, then, that artists and musicians in the Bay often take on multiple jobs — "side hustles," as she put it — to get by. Even Rituals of Mine members, who inked a contract with Warner Bros. in 2016, still have regular gigs when they're not on tour. A hustle that can take its toll.
[pullquote-1]Meanwhile, on the heels of the Ghost Ship tragedy, another crucial issue in the music world is the crackdown against safe spaces and DIY music-art spots. Lopez says she's seeing this in her hometown, and in Southern California. And Rituals of Mine actually got its start in these very spaces: Living rooms in overlooked Sacramento neighborhoods, or cramped warehouse spots in that city's urban core — many of them now vanished.
"When cities crack down on these DIY spaces, that's so incredibly sad to me," Lopez said. "This is nothing new, but we need to have these spaces, where we can charge like five bucks for a show." Her band put its money where its mouth is earlier this year, hosting a sold-out fundraiser for Ghost Ship victims, and displaced artists and musicians, at Starline Social Club.
Now that Rituals of Mine is a major-label touring band, Lopez and Fernandez find themselves in the unique position of being minority women in a world that, surprisingly, is still very much dominated by men. "I don't think about it. But there are times where I'm forced to think about it. 'Oh, right, this is still a boy's club very much,'" Lopez explained. "So, I think it's badass that more women are using their voices on new platforms" in this era of President Trump.
Lopez herself is speaking out more about gender-equity and queer-trans issues. Specifically, she debuted her first art installation last month in Sacramento. Titled "This Is What It Feels Like," the interactive, multimedia install placed gallery attendees in the shoes of victims of sexual harassment. Visitors put on headphones, then walked through a dark hallway with painted-black walls while listening to cat-calling and other horrifying intimidations. Thousands of visitors waited in very long lines to experience her show, which also received national attention from the likes of HuffingtonPost.com and Bustle.com.
Lopez says she intends to work on more art projects in the future. But, in the meantime, she is thrilled simply to return to the Bay, again, and share her music.
"As soon as I enter Oakland, I just feel the most creative there," she explained, "the most able to express what I want to express."
Rituals of Mine opens for Why? on Wednesday, March 29, at the UC Theatre, 2036 University Ave, Berkeley. 7pm, $25-75, TheUCTheatre.org