Last Friday brought news that Plum (2214 Broadway), Daniel Patterson's restaurant in Uptown Oakland, has closed after three-and-a-half somewhat tumultuous years that saw numerous chef changes and a handful of minor conceptual tweaks. In its place, a new restaurant called Ume (after the Japanese plum varietal) will open tonight with a Japanese-inspired, significantly less expensive menu developed by Patterson and a new chef: Brett Cooper, formerly of San Francisco's Outerlands.
[jump]
But there will be plenty of time to talk about that. For now, let's pay our respects to Plum, an esoteric, highly ambitious, and occasionally brilliant restaurant that, after a series of often-sudden chef shuffles, never quite seemed to regain the packed dining rooms of its early days.
"I don't think the concept of fine dining is right for the area," Patterson told Inside Scoop. "The chef hasn't made any difference. … I had an idea. I tried it and it didn't work."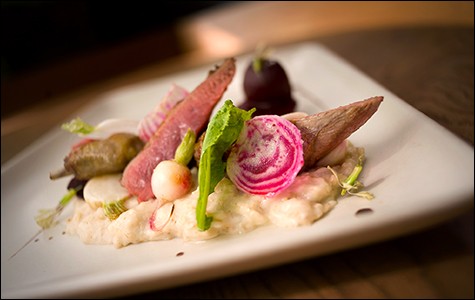 Squab two ways from the tasting menu at Plum
Patterson's original intent with Plum was revolutionary in its way: to serve the kind of precise, labor-intensive, gorgeously plated, high-concept dishes ("tweezer food," if you will) that you'd find at restaurants like Commis or Coi, Patterson's own San Francisco flagship — but to do it at lower prices, and in a more casual setting.
But in the end, perhaps the prices still weren't low enough. And as high as the food soared (especially under Charlie Parker at the beginning and Kim Alter at the end), the dining room always felt slightly austere in its decor and ambience. Here's to hoping that Ume can add a bit of warmth to the proceedings, to go along with the lower prices. (This has always been the particular genius of State Bird Provisions, San Francisco's brash, dim-sum-cart-wielding hot spot.)
As for Alter, Patterson told Inside Scoop that the chef will take a well-deserved break, spend some time helping fellow Patterson acolyte Charlie Parker at Haven (Plum/Ume's sister restaurant in Jack London Square), and eventually — with the Patterson restaurant group's support and funding — open a restaurant of her own in San Francisco, where she lives.
"We tried a bunch of stuff, but it just wasn't financially working," Alter said when reached by phone on Monday, regarding Plum's demise. Her short-term plan? To walk around her favorite San Francisco neighborhoods looking for the perfect spot. Alter said she hopes she'll have her new place — the first restaurant in which she'll have an ownership stake — up and running in six to eight months.