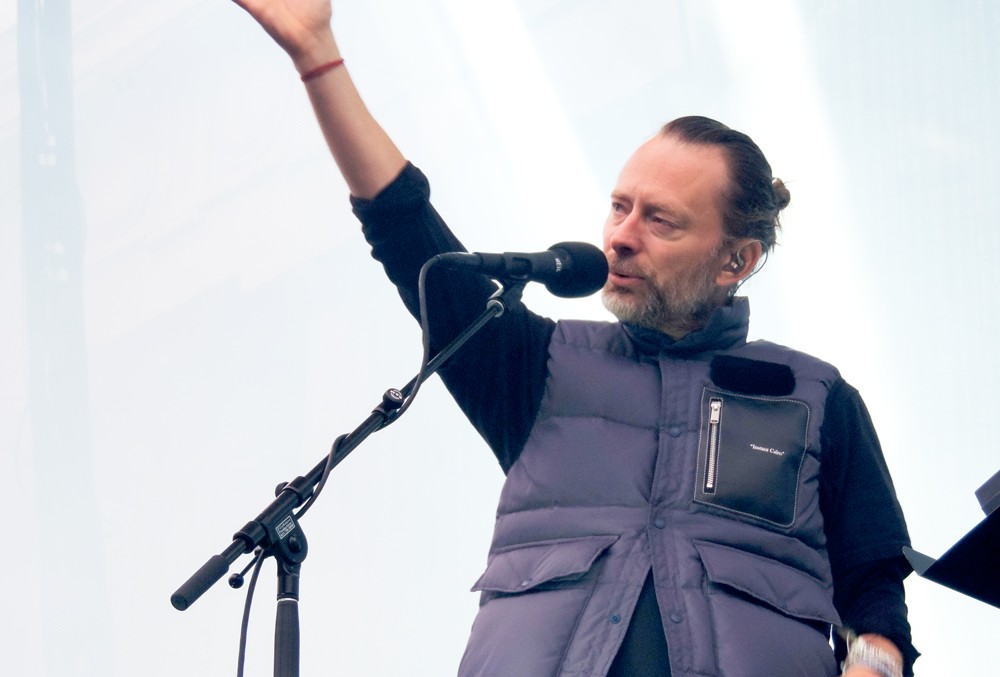 If the spate of think pieces that came with the twentieth anniversary of Radiohead's landmark 1997 release
OK Computer
 taught us anything, it's how willingly so many music writers succumb to exploring the band's legacy via introspection. And so, on my way to last night's Radiohead show at Berkeley's Greek Theatre, I resolved to not submit to such low-hanging nostalgia. You're welcome.
Monday's gig was the first of two successive sold-out nights in the Bay. The Greek was packed elbow-to-elbow with fans, many sporting multicolored, thin-plastic ponchos. It was so busy that security wasn't letting anyone into the lower bowl even two hours before the show's start. A drizzle threatened the entire set, but never broke into full-on downpour. Radiohead took the stage at 7:30 p.m., as the sun set.
Fans in the front row, pressed up against the pit rail, said they arrived to wait in line at 10 a.m. Another woman in the front said she was going to all 11 shows on this current leg of the band's tour, and that the night's gig would be her 31st. The Berkeley appearances are bookended by back-to-back weekends at Coachella, which Radiohead will headline again this Friday night. Scalped tickets for tonight's Berkeley show are going for around $220 on
StubHub
.
It's clear that Radiohead is no longer a young-person's game. Nary a mosh pit went down during the night, even when the guys cut into "My Iron Lung," the 1994 track that always sparked raucous bumping back in the day. But Radiohead in 2017 clearly embraces the chill. "Can we bring you guys to Coachella," frontman Thom Yorke remarked, twice, during the evening — a dig at the band's
disappointment with the technical difficulties during last Friday night's show in the desert
.
The past two Radiohead releases, last year's
Moon Shaped Pool
 and 2011's
The King of Limbs
, were slow-burn records. And that vibe carried over to night one in Berkeley. The first three songs of the evening came from the former record, an at once anti-climactic but welcome kick-off, and very different than the band of two decades ago, which would often jet onto stage, stoic-faced, and rip into tracks like "Airbag" or "Planet Telex." When the guys came out to "Daydreaming," Yorke was all smiles, and Ed O'Brien waved at familiar faces in the front rows.
Yorke was in a playful mood the entire evening (also very different than, say, his pre-
OK Computer
tour gig at The Warfield in '97). He radiated with joy frequently, and taunted the crowd early on, running across the stage with a hand-held keyboard during "Ful Stop," while sporting perhaps the only endearing man bun in the western world. Later, he danced a sort of jig and sang a funny, if awkward, song about the cold and rain.
The stage design for this tour is minimal but engaging. Behind the band hangs a large, panoramic, oval-shaped video screen, which flashed shapes and colors, and also intermittently showed up-close video of the bandmates performing.
"How many alt-right members are there in the audience tonight?" Yorke asked after a few songs in, a nod to the weekend's Berkeley brawl between far-right buffoons and misguided Black Bloc anarchists. To which he followed up, "Because you can fuck right off."
After 20 years, not everything holds up. A song like "Lucky," from
OK Computer
, feels like its missing that grisly desperation a yore. It remains a phenomenal rock song. But it's no longer an anthem sung from the fringes. Now, it's the anti-ballad of a lapsed outsider. Same for "Fake Plastic Trees," which at one point struck that magical balance of anthemic and self-deprecating. Today, it's saccharine.
But those tunes are far-and-away outliers. And a track like "No Surprises," also from '97, resonates more than ever, what with its lullaby snark and prescient political commentary. The crowd roared after the verse "
Bring down the government / They don't speak for us"
— and Radiohead milked the moment, adding an extra couple bars of of the song, without vocals, beckoning continued applause.
In general, the set was unexpectedly lively and upbeat, with spirited interpretations of otherwise "downer" recorded tracks, such as "All I Need" from 2007's
In Rainbows:
 Last night's rendition was soulful, complete with Colin Greenwood's popping bass and Yorke wiggling his hips and rolling his arms. Other highlights included a thrilling live version of "Bloom," "Numbers," and a kinetic closer, "Idioteque."
I've decided that there's no better venue in California to enjoy Radiohead than the Greek — more than Santa Barbara, or the Greek in L.A., or anywhere. After photographing the first-three songs, I climbed to the top of the auditorium, threw down a tarp on the steep, wet grass, and soaked in the 2 hour and 10 minute, 25-song set from a pristine vantage point. I've seen Radiohead all over the world, from the Quincena Musical in San Sebastián, Spain, to Red Rocks in Colorado. And yet the Greek remains an inimitable treat. Magical. Sure, probably not a $230-scalped-ticket treat. But still, very much a live-music parthenon right here in the Bay.
Radiohead plays again tonight, with openers Dudu Tassa & The Kuwaitis, at the Greek Theatre. The show is sold out.