When Maggie Lowrie's son Greg failed to make it to his appointment at a West Oakland health clinic last Tuesday, she knew something was wrong. Greg, who is 25 years old and suffers from a serious heart defect, was supposed to meet his mother after the appointment, but never showed. After Maggie called the West Oakland Health Center and heard that there had been a serious bike accident nearby, she knew it had to be Greg. At Highland Hospital soon after, her fears were confirmed: While biking to his appointment, Greg had been hit by a pickup truck one block away from the center in a crash that sent him flying off of his bike. "I love my son so much," Maggie told me last week. "He needs to get better." 
The horrific accident on 8th and Union streets — which left Greg unconscious in critical condition, with brain damage, a crushed pelvis, and other serious injuries — has since received a lot of media attention, because of another terrible aspect of the incident. Witnesses to the collision, first reported by
ABC7News
, apparently proceeded to rob the 81-year-old truck driver (who stayed on the scene) along with the unconscious cyclist. Now, East Bay residents are
collecting donations to support Maggie and her son
through this difficult time. Their troubles aren't limited to Greg's immediate medical bills. Since Maggie lost her job in 2012 and eventually lost her home in Berkeley, the mother and son have been living out of an RV in West Oakland, and even if Greg recovers smoothly, Maggie said she knows she won't be able to take care of him without a proper home and long-term medical treatment. 
[jump] One 
GoFundMe campaign launched last week
has already collected nearly $7,000 for the family. 
"They don't know how extensive the brain damage is," Maggie told me at Highland Hospital last Thursday, two days after the crash. "When he wakes up, we don't know what's going to be wrong." Greg's chronic heart problems are making his recovery all the more challenging, she said. "They're worried, because his heart isn't functioning well enough to pump a lot of oxygen to his brain and his brain isn't functioning well enough to keep the heart moving. … Neither one of the organs are working properly." 
Maggie said she's doing her best to remain optimistic. "He's going to be fine," she said, noting that her son has recovered from a range of serious medical problems in his life, including a stroke when he was just ten years old. 
It's unclear what exactly caused the crash, but witnesses told Maggie that that after the truck collided with her son, he was thrown off of his bike. It's possible, she said, that the driver turned in front of Greg and clipped him, she said. When Maggie arrived to the scene a few hours after the accident, she saw that Greg's bike was crushed and that his glasses and shoes were lying on the street far from his bike. "The [truck driver] must have been going pretty good," she said.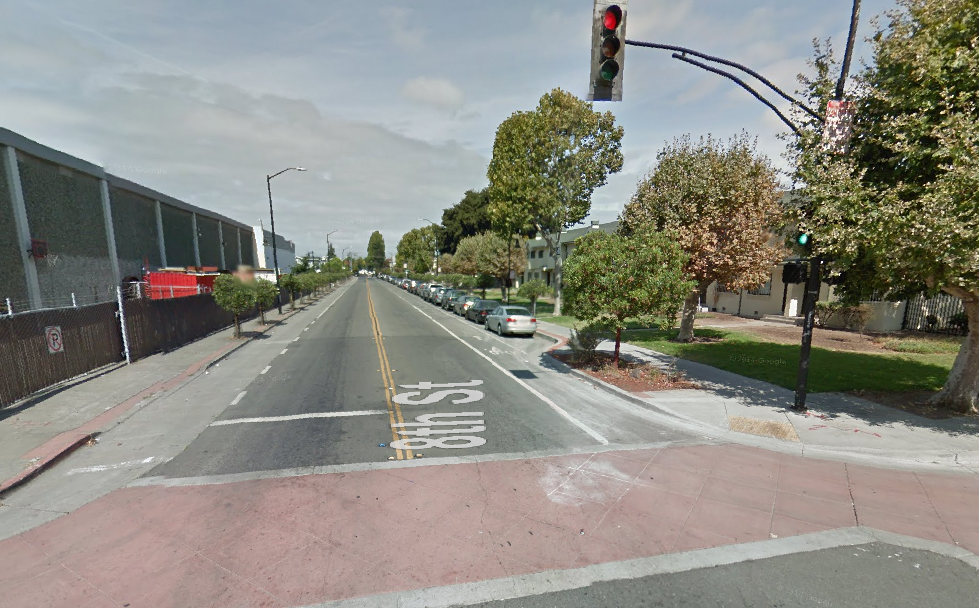 After she visited the scene of the accident, she said it seemed, based on the location of his bike and the truck, that Greg might have been hit while he was in the bike lane on the street, possibly waiting for the light to change. The driver remained on the scene and
cooperated with police
, and as of late last week, there hadn't been any arrests in connection with the thefts. (Oakland Police Department didn't immediately respond to my request for comment today). 
Once Maggie lost her job, she also lost her car, and the two have been riding bikes everywhere since. Her son, she noted, is a very safe cyclist. "We ride that route everyday, and Greg is a very cautious rider." She said when they ride together, Greg often urges her to ride more carefully and be more aware of the cars around them. "I can't imagine him running into a car or being somewhere where a car could run into him." 
Maggie said that the two of them love cycling and that when Greg recovers from the accident, she hopes they can buy him another bike. Greg, who has been in and out of the hospital for his heart condition, eventually wants to become a chef and go to college, she said. Over the weekend, Maggie sent me a text message saying Greg's condition hadn't improved but that she was hopeful he would wake up soon. She added: "I hope this hasn't scared him off bikes." 
Readers who want to support the Lowrie family can donate here via GoFundMe.