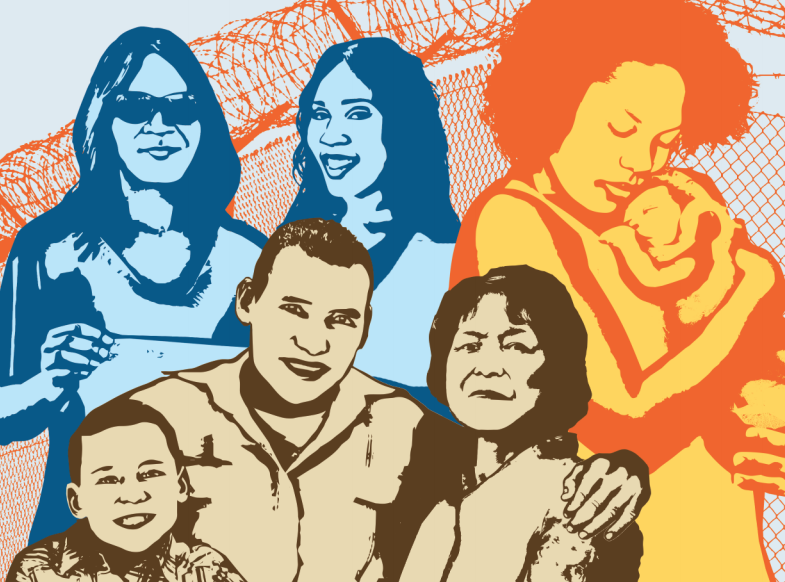 A new report co-authored by the Ella Baker Center for Human Rights details how the harms of mass incarceration extend far beyond prison walls with the criminal justice system trapping inmates' families in poverty with a wide range of fines, fees, and debts. The report, called
Who Pays? The True Cost of Incarceration on Families
, is the result of extensive surveys and focus groups that researchers conducted over the last year across fourteen states with formerly incarcerated people and their families. The project — spearheaded by the Oakland-based
Ella Baker Center
,
Forward Together
, and
Research Action Design
— quantifies the many financial burdens that families face when their loved ones are incarcerated and illustrates the various ways a prison sentence can send family on the outside on a downward spiral. 
The US spends $80 billion each year incarcerating more than 2.4 million people in jails and prisons, but the collateral costs that impact families have largely gone undocumented, according to the report. Working with twenty community-based organizations across the country, the researchers studied the many financial costs inmates' families face, the resulting effects on physical and mental health, and the obstacles families encounter when their loved ones reenter society. The research team completed surveys with 712 formerly incarcerated people, 368 family members, and 27 employers and also conducted 34 focus groups with families of the incarcerated — collecting alarming data and stories on the devastating costs of incarceration on low-income people. 
[jump] For starters, convictions come with a wide range of fines and fees that each inmate must pay in addition to the time he or she is serving behind bars. My March 2014 cover story, "
Unfair Punishment: Sentenced to Poverty
," explored this topic in-depth, illustrating how prisoners in California — including those convicted of low-level offenses — have to pay for all kinds of basic necessities and privileges behind bars, such as soap, deodorant, snacks, and phone calls. At the same time, they have to pay so-called "restitution fines" as part of their sentences, which can saddle formerly incarcerated people with debt for many years even after they are released. 
The
Who Pays?
reports documents how this system of fees ends up directly hurting families at a time when they may already be losing income and economic stability due to the incarceration of a loved one. Of the families the researchers surveyed, 48 percent said they were unable to afford the costs associated with the conviction. And when it comes to low-income families — those making less than $15,000 per year — 58 percent said they couldn't afford these costs. The financial challenges continue after a prisoner is released; the research found that 67 percent of the formerly incarcerated people they surveyed were still unemployed or underemployed five years after they returned home.
See Also:
The High Cost of Driving While Poor

County to Spend More Money on Jails, Not Services
Inmates and their families have to pay a wide range of legal expenses, court fines and fees, and charges for phone privileges and visitations, according to the report. Those costs can add up to one year's total household income for a family, forcing them into significant debt. Across families of all income levels, the average debt incurred for court-related fines and fees was $13,607, the report found. And maintaining basic contact with incarcerated family members carries a hefty price tag as well. More than one in three families surveyed went into debt to pay for phone calls and visits alone. Those who were unable to talk or visit their loved ones regularly also were much more likely to experience negative health impacts related to the incarceration. 
As a result of all these financial burdens combined, 65 percent of families in the survey said they were unable to meet their families' basic needs. Additionally, 49 percent said they struggled with basic food costs, and 48 percent said they struggled to pay housing costs.
The study also uncovered that women are disproportionately impacted by these hidden costs of incarceration. In 63 percent of cases, family members on the outside were primarily responsible for court-related conviction costs. And of those family members paying the costs, 83 percent were women, according to the report. 
"This study confirms what society has ignored for too long — that already vulnerable families and the women who sustain them are being plummeted into greater poverty, stress, and strain when their loved ones are incarcerated," Alicia Walters, movement building director at Forward Together, said in a statement. "Decades of bad policy have torn families apart, typically leaving mothers to make up the difference and bear the brunt of these costs." 
Additionally, because funding for reentry services are so limited, families end up functioning as the primary resource for housing, employment, and health needs when their loved ones are released. The surveys found that 67 percent of families helped formerly incarcerated people find housing, and 18 percent of the families faced eviction, were denied housing, or did not qualify for housing once a formerly incarcerated family member came home. 
The report advocated for a number of solutions, including restructuring jails and prisons so that fewer people spend time behind bars and so that the lengths of sentences are reduced. The resulting financial savings should then be invested in community-based services that make it less likely people will reoffend — including substance abuse programs, stable housing, and job training. Additionally, the organizations advocated for removing the costs and other barriers that prevent families from visiting their loved ones behind bars. Regular contact with people on the outside can increase the likelihood of successful reentry, the report noted.
Ending discriminatory policies that make it hard for people reentering society to turn their lives around — and make it harder for families to support them — could also go a long way in creating a fairer system, according to the report. For example, many former inmates are denied public benefits, such as food stamps, or can't pursue training or education due to their past run-ins with the law. And these restrictions also impact families who can risk losing support due to the criminal records of a loved one. 
You can read the full report at
WhoPaysReport.org
. The organizations are also hosting a launch event for the project tonight at 6:30 pm at Impact Hub Oakland (2323 Broadway, Oakland).
And here are some
graphic highlights
from the report: