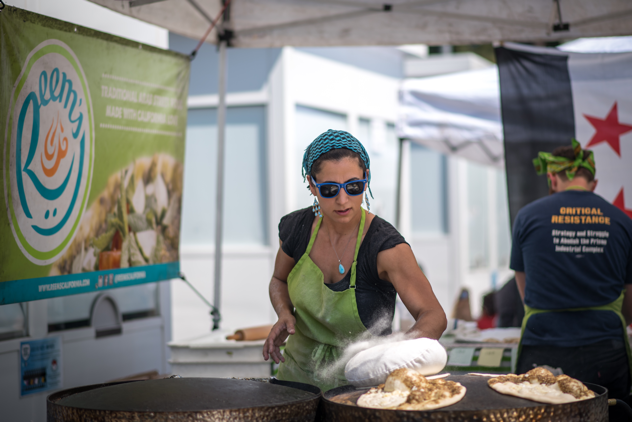 Reem Assil was part way through a soul-searching trip along the coast of Syria and Lebanon when she walked into a corner bakery in Beirut, felt the warmth of the place, and realized that she had finally found what she was looking for.
"I wanted to bring that warmth and hospitality back [to the Bay Area] and show people those Arab traditions," she said.
[jump] Back in Oakland, where she had worked as a community and labor organizer, Assil set about launching a career change. She enrolled in a baking program at Laney College; worked at Arizmendi Bakery to hone her craft; and, finally, with the help of San Francisco's La Cocina kitchen incubator program, set up her own business — Reem's — which allowed her to sell bread at several Bay Area farmers' markets, including the Friday market in Old Oakland.
Now, Assil is getting ready to take her business to the next level: She's finalizing the terms on a lease for what will be a brick-and-mortar bakery in the Fruitvale district.
Reem's California
recently capped off a successful
Kickstarter campaign
that raised roughly $50,000 — well over Assil's original $35,000 goal — that will go toward funding what she estimates will be a $300,000 build-out. If all goes according to plan, the bakery will open at a still-undisclosed location in Fruitvale Village in early 2017.
Assil, who is of Syrian and Palestinian descent, explained the central role of the corner bakery in the Middle East — as a social hub and a place where people could feel a deep connection to their community. Ten years ago, Assil came home from her trip feeling like this was what was missing here in the States — not bakeries per se, though the East Bay has a relative dearth of bakeries that specialize in freshly baked Middle Eastern breads.
Rather, Assil was interested in providing a kind of refuge for the community — a place where, "despite the political turmoil, you could find a sense of calm and a sense of home."
The main specialty at Reem's will be the
man'oushe
, a kind of flatbread that is a popular street food throughout the Levantine region of the Middle East — in Syria, Jordan, Palestine, and Lebanon. Assil and her staff make the breads the traditional way: The slow-leavened dough gets stretched out over pillows before it's slapped onto a
saj
griddle — a traditional domed griddle that Assil likened to an inverted
tandoor
oven. Once the bread puffs up and has finished baking, it gets topped — a
za'atar
spice mix is most traditional — and then rolled up like a sandwich, though diners who eat their
man'oushe
at the bakery can opt to enjoy it open-faced, like a pizza.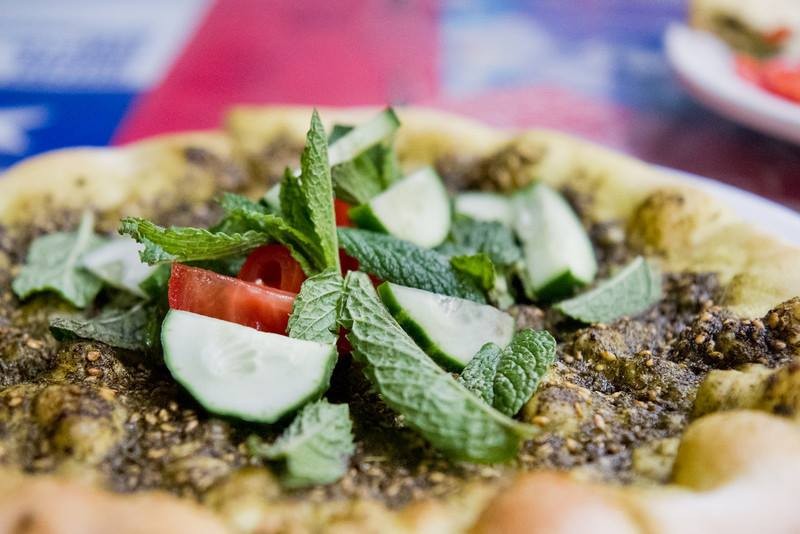 Assil also serves a variety of California-influenced versions of the bread, the most popular of which is the "Pali-Cali." The topping is her homage to the traditional Palestinian dish of roast chicken with sumac and caramelized onions. Another seasonal special: a
man'oushe
topping with eggplant grilled over a tomato-based
shakshuka
sauce.
"We want to strike a familiar nostalgia even in an unfamiliar food," Assil said.
The bakery will feature plenty of seating, and Assil said she also plans to offer good coffee, an array of Middle Eastern pastries, and street food breakfast items such as
fatteh
: a kind of fried pita that's layered like bread pudding, with chickpeas, yogurt, olive oil, and various spices.
When asked how her prior work as a labor organizer would inform the kind of business she wants to run, Assil said she's very conscious of the way that gentrification is playing out in Oakland and wants to do her part to offer a living wage to workers who have existing barriers to employment — refugees and the formerly incarcerated, for example — and to integrate her business into the existing community.
"Fruitvale is one of the last places that really feels connected to community and culture — like what the Mission used to be," Assil said.
As such, she hopes Reem's can help anchor a hub of progressive, community-minded businesses in the neighborhood: She shouted out the nonprofit Restaurant Opportunities Center, which has plans to open a
restaurant and restorative justice center
in Fruitvale, and The Half Orange proprietor Jay Porter as a like-minded business owner.
In many ways, then, Assil feels Fruitvale is the ideal neighborhood for her bakery, in part because of the area's vibrant Middle Eastern population, and because one of her great pleasures has been making connections with Latino customers, with whom she'll chat about how the Mexican
comal
was influenced by things like the
saj
.
As Assil put it, "Bread transcends cultures."