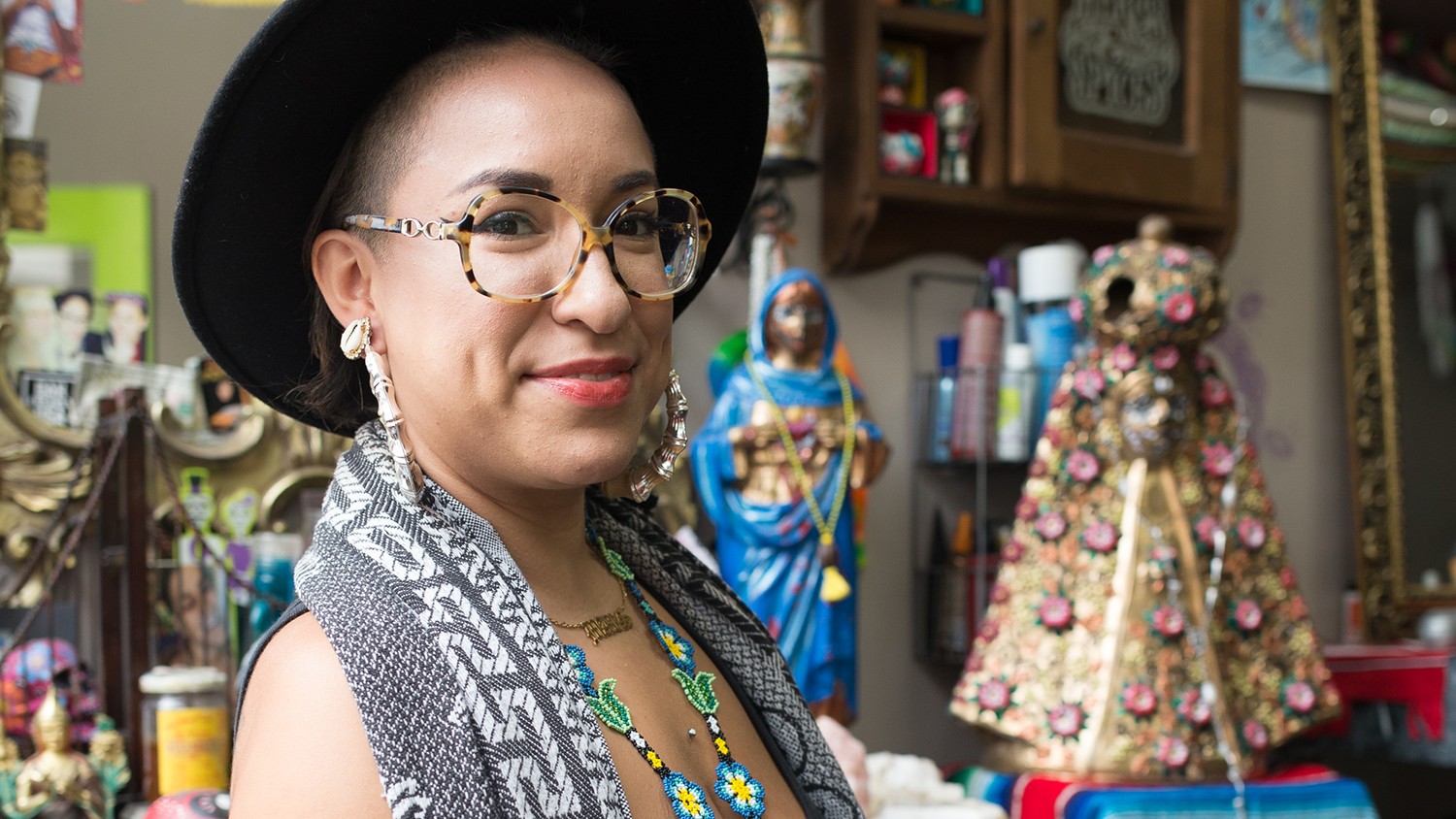 Olivia Bianco-Chaidez has been transforming people's hair for the past 11 years. But for the hair artist, opening her hair salon and botanica hybrid in the ever-changing landscape of downtown Oakland two years ago was also a transformative act — it marked the beginning of her fight to remain in the Town. Born and raised in the Fruitvale neighborhood, she sees Beauty Botanica as a way to represent the Brown and Black community that is being displaced. "I represent what Oakland is," she said. "I deserve to fight for my right to be here."
For Bianco-Chaidez, who defines herself as a "Femme Papi Chula," representing the community in gentrifying downtown Oakland is not only to make recent transplants aware of the community that came before them, but also to serve as a much-needed "safe space" for the LGBTQ folks who call the East Bay home.
Bianco-Chaidez's work to serve the community goes much further than just the clients she serves as a hair artist. People tend to gravitate toward her — perhaps due to her maternal personality or her upbeat outlook on life. "I attract people who want to feel [at] home," Bianco-Chaidez said, adding that many folks who have walked into the space have needed more than a haircut but also someone to talk to when going through a difficult situation. "I'm onto some healing nurturing vibes, and I take that responsibility very seriously," she said.
It's no surprise that her life revolves around helping the community. Bianco-Chaidez grew up attending meetings and events in Fruitvale. Her father was a member of the Unity Council, and his work served as the first taste of what it was like to be involved and informed on issues affecting the community.
"I feel like that is my purpose — community taking care of community," Bianco-Chaidez said.
To that end, she takes pride in helping people feel beautiful not only on the outside but also on a spiritual level. Bianco-Chaidez is heavily involved with the brujas and Santeria community, and she incorporates these traditions into her business. "When a client comes in, I usually have them hold a rose quartz, and I light a palo santo," Bianco-Chaidez said. (A palo santo is a holy wood from the Bursera graveolens tree and has been used by indigenous tribes in Latin America as a sacred incense.) "I want to help them clear their energy so they can feel their most beautiful." Until recently, Bianco-Chaidez also provided limpias, a spiritual cleansing of sorts, free of charge. But the service became so popular that she's now asking people to book it online for an added fee.
Bianco-Chaidez hopes to build a bridge between those who grew up with ancestral rituals and Santeria and second- and third-generation Latinx who may not be as knowledgeable about those traditions, perhaps due to a language barrier.
For Bianco-Chaidez, it's important that her passions are reflected in Beauty Botanica. Inside, it's as if a piece of Fruitvale has been transported to downtown: The walls are adorned with murals and artwork by local artists. It's colorful and inviting, which is precisely what Bianco-Chaidez wants to convey with the space.
When she is not transforming people's hair colors or cleansing their spirit, Bianco-Chaidez is busy continuing her "community taking care of community" purpose. Every First Friday of the month, she hosts her Noche Divina (Divine Night) parties.
"I'm genuinely being me to the core, and holding space for folks," she said. "And, in return, I get so much love from the community. It keeps me on the path to continue holding space."
For the monthly soiree, which she started in December, Bianco-Chaidez recruits DJs she's friends with, and she alters the Botanica so local artists can show their art free of charge. Every Noche Divina aims to showcase local talent and give them space to build connections. Also, it turns into a full-on block party. "[If] a young Black or Brown person wants to throw a stand-up night, and they don't have the money to get it going, they can come and talk to me, and I can help them get it going," she said. DJs such as Lady Ryan, Glo, and Aima the Dreamer, as well as local artists like Hella Crafty and Tu Tienda Azteca have participated in the monthly party.
[pullquote-1]
Noche Divina is, at its core, a safe space for Black and Brown folks — especially those who are LGBTQ — to come together and be free of judgment.
"If you're a queer or trans person, [Beauty Botanica] is definitely a place where you can go and feel comfortable, you can let your walls down, and really have a home," Bianco-Chaidez said. "And a hub where you can get a dope hair color job. You may meet your new best friend or your new lover. We are the queer barbershop where you don't know who is going to walk through the door. We are here, we are visible, and we are loud."