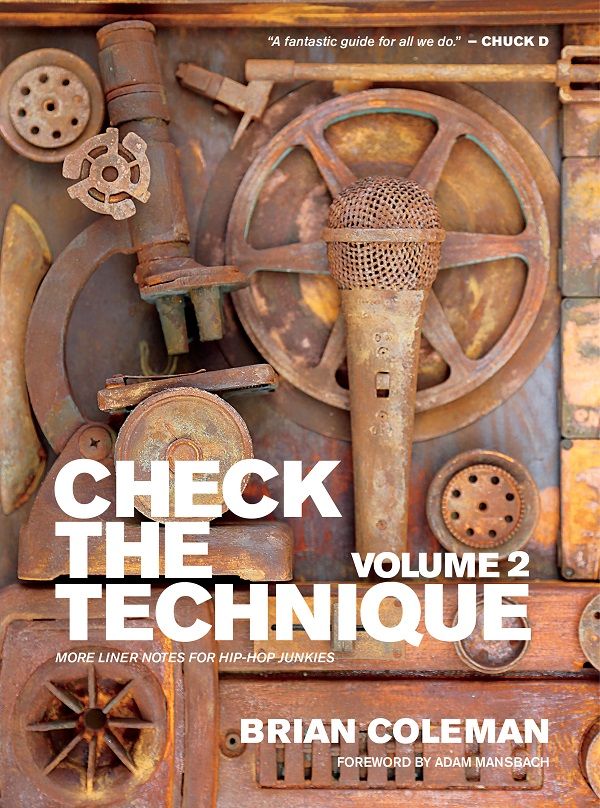 In 2007's
Check the Technique Volume 1
and this year's follow-up edition,
Brian Coleman
set out to correct a glaring mistake: classic hip hop albums, no matter how hyped at the time of release, lacked liner notes. Between the two books, Coleman has compiled over 1000 pages of informative stories and analysis culled from in-depth interviews with artists such as Public Enemy, Ice Cube, Raekwon, and MF Doom. He's from Boston, and acknowledges an East Coast bias in his selections, yet crucial chapters are devoted to Bay Area artists such as Too $hort, Digital Underground, The Coup, and Dan the Automator's formative production work on
Dr. Octagonecologyst
by Dr. Octagon (Kool Keith).
Ahead of Coleman's promotional stops on
Thursday, 11/13 at the Hip Hop Chess Federation in Fremont
, Friday at
Groove Merchant Records
, and Saturday afternoon at
Legionnaire Saloon
, we spoke to him about what makes a classic and how Bay Area hip hop's maverick spirit inspired his publishing enterprise.
[jump]
You said that learning the history of these albums made you like them more, but I'm wondering if the opposite is ever true. Once an album is demystified, does it ever lose some appeal?
That's an interesting question. I don't think you like an album less by knowing more about it. I would go into these interviews already liking an album so the chances are fairly slim – unless the artist turns out to be an asshole – that I'd be like, "Oh fuck that I don't like that album anymore." I've had experiences I won't go on record about where I met people whose music I admired then gone like, "Oh, that guy is a dick." Every album is a journey, and there's no such thing as an album being made that's an easy process. It takes a special person to do it, and that's what the book is about: a behind-the-curtain look at making records.
The book is focused on what people call golden era hip hop, but are there recent albums that you feel will stand the test of time and warrant detailed investigation?
I try to shy away from making those kinds of judgments. The work I do in the book is very specific. It's almost always looking at a record twenty or so years after it's made. I feel strongly that you need time to sit with a record and see if it sounds good ten or fifteen years later before you can call it a classic. I'm fortunate to say a lot of the records I was listening to when I was fifteen two twenty years, old – I'm forty four now – still sound good when I go back and listen. There aren't records I'm ashamed of liking.
Going back ten years, I think Kanye [West's] first record is on the edge of saying, "Yeah, it's going to stand the test of time." People ask me about like Kendrick Lamar's record, which is great, but there's no way I'm about to say in ten or fifteen years that's still going to sound incredible. I understand the impulse but I don't see the point in it. If we're talking about classics, let's stick to shit that has some vintage to it.
What inclusions in the book have surprised people?
A lot of people wouldn't consider the Dr. Octagon record classic, or at least wouldn't put it up next to Ice Cube's
AmeriKKKa's Most Wanted
. These are all personal for me. I consider that record important because I was there when it came out and I remember the feeling I got when I first heard it. I'm not trying to tell people whether or not Ice Cube or Dan the Automator are or are not in the hip hop canon. Most people don't consider those albums part of the pantheon but they're in my pantheon.
It's the same with The Coup, too. They're consistently overlooked but I've always been a huge fan of what Boots [Riley] does, especially after knowing the struggle of what he did to make those records. It's amazing what bullshit he had to put up with.
The Coup are revered in the Bay Area but, with your East Coast perspective, can you speak to how peopled received their work early on?
I wasn't really hearing
Kill My Landlord
when it came out, but I remember hearing
Steal this Album
and then going back. I'm a big fan of three groups I would point to that The Coup are sort of an amalgam of: X Clan, Public Enemy, and Poor Righteous Teachers. Public Enemy clearly had a different outlook on the African-American struggle. They're more Black Nationalist and Boots is clearly coming with a communist perspective. Still, if you like Public Enemy and you like X Clan there's no reason why you wouldn't fuck with The Coup.
As the chapter talks about, it was hard for The Coup because the labels were pushing them inconsistently. The thing about
Steal this Album
is that Boots had established a live band to tour and once you see The Coup live you're crazy not to like it. It's so deep, powerful, intellectual, and funky. They got a salute for having a live band but they deserve even more props. Boots has been doing it for so long and he's had to work ten times harder than other groups. The spot where he's at now, it seems like he's doing better than ever. They've worked harder than almost anybody in the hip hop industry.
Would you say that's indicative of the Bay Area in general, since we don't have the media concentration or the label concentration of New York and LA?
Yeah, I think so. I would draw a parallel, not aesthetically but as far as what you have to deal with, to Boston, where I'm from, and to Philadelphia. Hip hop-wise, they're in the shadow of New York, in the same way LA has overshadowed the Bay. There's a similar rivalry. All three of those towns, the way hip hop artists go about things is very blue collar. They have to hustle harder. Look at Too $hort, who started hustling tapes out of his car. Boots' stuff was self-released at first. It's frustrating, but the harder you have to work, the blood sweat and tears comes out in the music.
[Dan the Automator] borrowed money to make [Dr. Octagon's
Dr. Octagonecologyst
] and it was not a sure thing. With where hip hop was at in 1994 and 1995, I remember listening to that record and thinking it was crazy. I loved it but there was no certainty that it would blow up. I've always liked outlying stuff, and that's the Bay. The Bay has always had a do it yourself thing. They were not counting on anyone handing them a record contract so they worked harder. That's what Boots did. That's what E-40 did.
Perhaps the outlying position of the Bay, industry-wise, contributes to people making outlying hip hop.
Right. I was inspired by that. My first book was called
Rakim Told Me
. I self-published it on a shoestring budget, it didn't look that sexy, and I was nowhere near where I'm at now, but I took inspiration from artists like Too $hort who just said, "Fuck it. I'm not going to wait for anyone's permission to do this shit."